Titus Andronicus, RSC, Barbican review - blood will out |

reviews, news & interviews
Titus Andronicus, RSC, Barbican review - blood will out
Titus Andronicus, RSC, Barbican review - blood will out
A slick and youthful rendering of Shakespeare's goriest drama
Wednesday, 20 December 2017
David Troughton cowed - and often affecting - as Titus
Live theatre, eh? It had to happen. On press night a sound of what seemed to be snoring (the production's really not dull) revealed, in the Barbican stalls, a collapse. About an hour in, a huge amount of blood is smeared over Titus Andronicus's raped and mutilated daughter Lavinia (Hannah Morrish, pictured below with Sean Hart as Demetrius): hands lopped off, tongue cut out.
A bearded man three rows behind me was carried by neighbours from his seat to, one hopes, the onward attentions of St John's Ambulance.
This is a peculiar phenomenon. Shakespeare's sophomoric and not entirely self-scripted Roman gore-fest from the early 1590s was, after its initial popularity in his lifetime, ignored until the mid-20th century. When Peter Brook revolutionarily staged it in Stratford in 1955 with Laurence Olivier and Vivien Leigh, faintings-away in the audience became news. Brook's unrelieved nastiness, and the meltdowns of punters, did a lot to advance the wunderkind's astonishing career, and almost certainly that of the play too.
I saw Lucy Bailey's Globe 2006 version (revived in 2014) twice and witnessed no keelings-over. But the director was understandably proud to report a record 43 during one performance. A decade and a half ago, I reviewed a scintillating production by Hans Neuenfels at Berlin's Deutsches Theater, with the scheming and deadly moor Aaron, played by the brilliant Ingo Hülsmann, sporting a gigantic wobbly cock: when the appalling Chiron's and Demetrius's throats were slit by Titus in the penultimate scene, exactly the same noise as the one reported above shook the stalls. Outside, at the end, an elderly man was being revived by hospital oxygen.
With Shakespeare, and probably only Shakespeare, as much can happen among watchers as actors. This might seem surprising in the 21st century after decades of boundary-breaking screen horror and violence, but in a live context something else is clearly going on. Sarah Kane, who must have learnt from Titus Andronicus, was fascinated by this dynamic, and last year Katie Mitchell's revival of Cleansed – with cries of "excess" and attendant audience blot-outs – was continuing evidence.
Titus nonetheless exerts huge strain on credulity. By the end of Act One two sons, Alarbus and Mutius, progeny respectively of the Goth empress, Tamora (Nia Gwynne), and of Titus (David Troughton), have been crazily despatched. This gives rise to the thought that another play was being planned, possibly by someone else, before Shakespeare took the bull by the horns and devised increasingly stomach-churning ends for the next 10 who die.
It is essentially a wordy, show-off revenge drama: of its time, child of a 30-year-old playwright flexing his technical muscles, not yet wedded to mirroring life. Blanche McIntyre has staged it as a kind of modern dance of conspiracy and murder, tracked by the media: a press spokesman fidgets and flutters, a camera catches the scenes of public and political interaction. Martin Hutson as the emperor Saturninus is a calculating City slicker, Patrick Drury as Titus's brother Marcus lean, thoughtful and sympathetic – the only character in the play apart from Lavinia who is.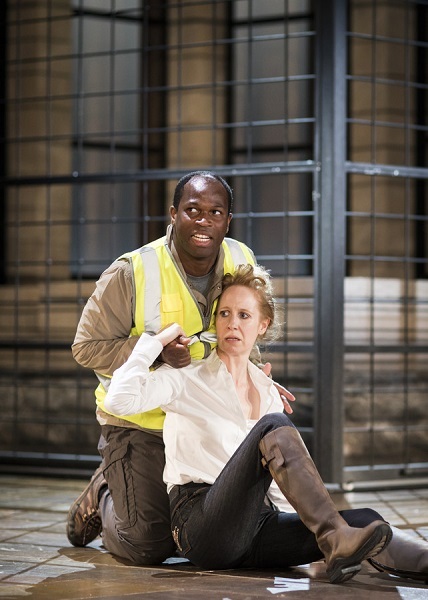 Stefan Adegbola as Aaron (pictured left with Nia Gwynne as Tamora) is an eloquent cross between reassuring newsreader and conscience-less DJ: excellent in one of the play's most substantial roles. The two Goth brothers, Sean Hart (Demetrius) and Luke MacGregor (Chiron), are by turns athletic, bickering urban yobs (Gallaghers, anyone?) and swaggering savages, not entirely distinguishable. The two principal women, Gwynne and Morrish, are alluring, deft and powerful – quite posh – throughout, though of course Morrish has, by dint of an ultimately thankless role, to become a compliant, hopelessly wounded hound.
David Troughton in the lead is stocky, lumbering, bearded, stiff at the knees: appropriately irascible, commandingly pathetic when faced with all the privations and assaults on his affections, mesmerising when – with his daughter maimed, one of his hands chopped off and his two surviving sons beheaded – he's reduced to existential hysterics. He somehow gains in strength and stage presence as he plans and executes his revenge, and is balletically funny in the cannibal feast, or "pasty", scene.
All said, a mad play, a slick and youthful rendering – fine RSC ensemble work – but perhaps, finally, more akin to a gripping two to three hours' TV than truly arresting theatre…
With Shakespeare, and probably only Shakespeare, as much can happen among watchers as actors. This might seem surprising in the 21st century
rating
Explore topics
Share this article