'Tis Pity She's A Whore, Barbican Theatre |

reviews, news & interviews
'Tis Pity She's A Whore, Barbican Theatre
'Tis Pity She's A Whore, Barbican Theatre
Cheek by Jowl's remix of a Jacobean classic is as bloody as it is brilliant
Wednesday, 22 February 2012
Keeping it in the family: Annabella and Giovanni (Lydia Wilson and Jack Gordon) explore their romance
Another week, another tragedy, and another wedding dance routine set to a thumping soundtrack. But while The Changeling buckled under the pressure Joe Hill-Gibbins applied at the Young Vic a few weeks ago, Cheek by Jowl's 'Tis Pity She's A Whore bleeds fresh and glossy under Declan Donnellan's assured touch. This pop-culture remix of a Jacobean classic will pulse long in ears and eyes – a macabre delight that makes a first-rate evening out of a rather second-rate play.
Bringing up the rear of the funeral cortege that is revenge tragedy, John Ford's Tis Pity She's A Whore finds the genre going out with a bang. Not only does incest (hitherto a supporting rather than starring theme) dominate the plot, but all the other traditionally gruesome trappings – poisonings, maimings, betrayals and brutality – are scattered liberally around, with only the smallest justification or gesture towards morality. The trick of any production is to find a world that can make this work, that can give a social scaffolding to such freewheeling horror.
Wilson is mesmerising here – a Lolita whose brutal modernity comes by way of Lisbeth Salander
Donnellan finds his here in the modern teen gothic – the engorged emotional sphere of Twilight, True Blood and The Vampire Diaries, whose posters cover the walls of Annabella's blood-red bedroom. In keeping with the perplexing elisions of the genre our heroine is no uncomplicated innocent; half-drunk wine bottles jostle with stuffed animals and board games in her room, and when the company open the evening with an orgiastic group dance it is her gyrating hips that set the tempo. This may still be a "wretched, woeful woman's tragedy", but it's a rather more emancipated one than Ford perhaps intended.
At the heart (freshly excised from its chest cavity) of the play is the relationship between Annabella (Lydia Wilson) and her brother Giovanni (Jack Gordon). Played for revulsion it can be sourly shocking, but it's an interaction far more interesting if read against the grain. Wilson's Annabella may be dangerously young, Gordon's Giovanni very much the adult, but the incest staged here is far more disturbing for the mutuality of its tender urgency, as though an accident of blood had perverted Cathy and Heathcliff's romance.
Wilson (pictured right) is mesmerising here – a Lolita whose brutal modernity comes by way of Lisbeth Salander. Donnellan's fluid direction keeps the twelve-strong cast onstage much of the time, placing Wilson's tiny (and often semi-naked) frame at the centre of a crowd of men, whose silent gaze is anything but benign. Under their eyes she becomes by turns a goddess of erotic fantasy and the Virgin Mary, held aloft in a series of baroque tableaux while her male suppliants grasp heavenward beneath her.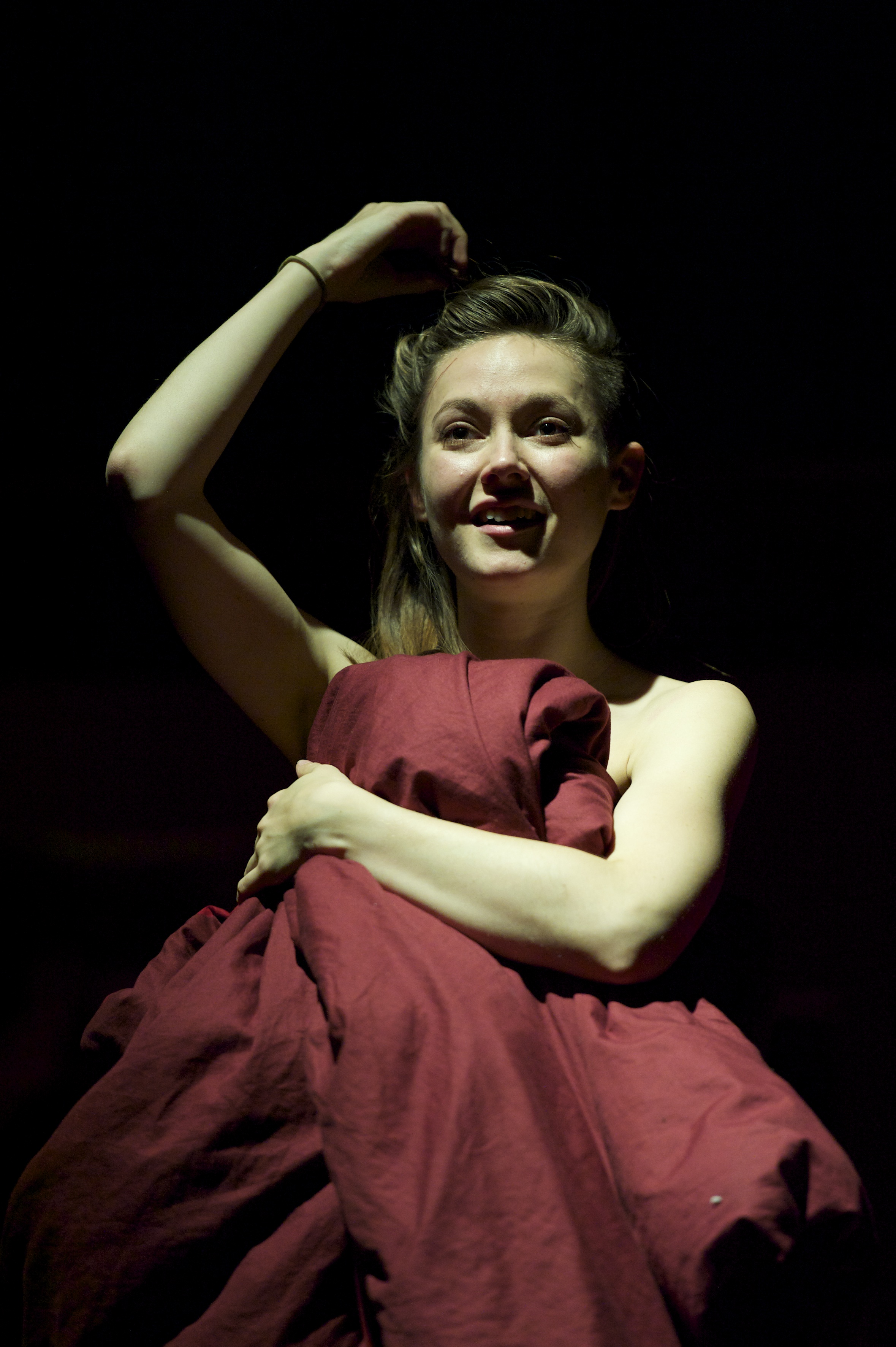 While Jack Hawkins' Soranzo brings just enough menace to the "handsome and wholesome" Soranzo, Laurence Spellman is the complete villain as henchman Vasques, crooning stiltedly through butchered consonants and porn-star moustache. His seductions of Hippolita (a suitably crazed Suzanne Burden, stalking the stage with a raised hockey stick) and Putana (Lizzie Hopley) are horribly plausible, and are silhouetted against the rather more straightforward (if ineffectual) love of Annabella's father Florio (David Collings).
Jane Gibson's movement direction and Donnellan's unfussy staging keep the action pelting forwards through its continuous two-hour run in what feels like contemporary television-drama pacing, leaving the audience in a perpetual struggle to keep up. It's a gamble that works thanks to the clarity of the performances and the production's own coherence. Parallels are never pushed, but the quiet determination with which Donnellan pursues his themes is rewarded in the allusions and echoes that seep from the show. Our gothic-obsessed teen culture of vampires and virgins, where blood is traded as erotic currency, is revealed here as no new phenomenon, but rather the MTV ghost of a routine whose historical beat yet pumps on in Ford's tragedy.
'Tis Pity She's A Whore at the Barbican Theatre until 10 March