Sleepless, Troubadour Wembley Park Theatre review - love from afar in this amiable musical |

reviews, news & interviews
Sleepless, Troubadour Wembley Park Theatre review - love from afar in this amiable musical
Sleepless, Troubadour Wembley Park Theatre review - love from afar in this amiable musical
A standard screen-to-stage transfer, but hugely welcome post-lockdown
Wednesday, 02 September 2020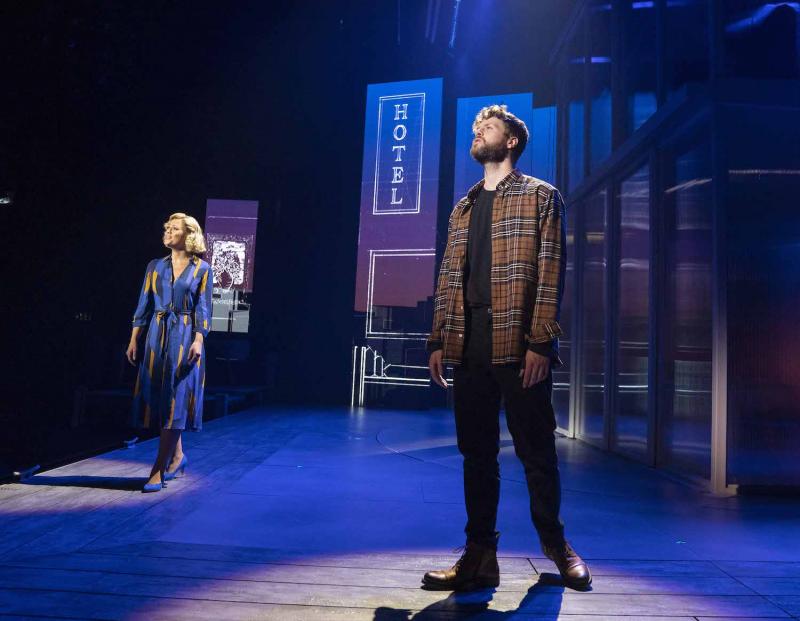 Socially distanced romance: Will Annie (Kimberley Walsh) and Sam (Jay McGuiness) ever meet?
Originally due to premiere back in March, Sleepless – a musical version of the winning 1993 movie Sleepless in Seattle – now acts as a test case for the return of fully staged but socially distanced indoor theatre, AKA Stage 4 of the Government's "roadmap".
Though a musical adaptation premiered in the
States
in 2013, this is billed as a new work, with a fresh book by Michael Burdette and score by Brits Robert Scott and Brendan Cull. Bravo to all involved for bringing audiences back safely and enthusiastically, even if the show itself, contrary to its title, is a tad more somnolent than might be hoped.
The social distancing aspect is handled extremely well, aided by the cavernous surrounds of the Troubadour Wembley Park Theatre. There's plenty of space for everyone to enter, get a temperature check and bag search, show their e-tickets, swing by the spacious bar, and then be directed to their (staggered) seating, all wearing masks – with good-humoured ushers making this feel both natural and reassuring. As for the cast, musicians, crew and staff, they're being tested on a daily basis with "FRANKD", or the Fast, Reliable, Accurate, Nucleic-based Kit for Covid-19 Diagnostic Detection.
The premise of the show also lends itself to the era of social distancing, with a pair of lovers who seldom occupy the same physical space. More resonant, too, is the deep sense of loss: Seattle resident Sam (Jay McGuiness) is paralysed with grief after his wife's death, and 10-year-old son Jonah (Jobe Hart on press night) vacillates between a similar bereavement and wanting to help his father meet someone new. Baltimore-based journalist Annie (Kimberley Walsh, pictured below with Harriet Thorpe) is struck by Sam's emotional candour when Jonah, worried about his dad's insomnia, tricks him into talking to a radio agony aunt – after which Sam is dubbed "Sleepless in Seattle" and besieged with love letters.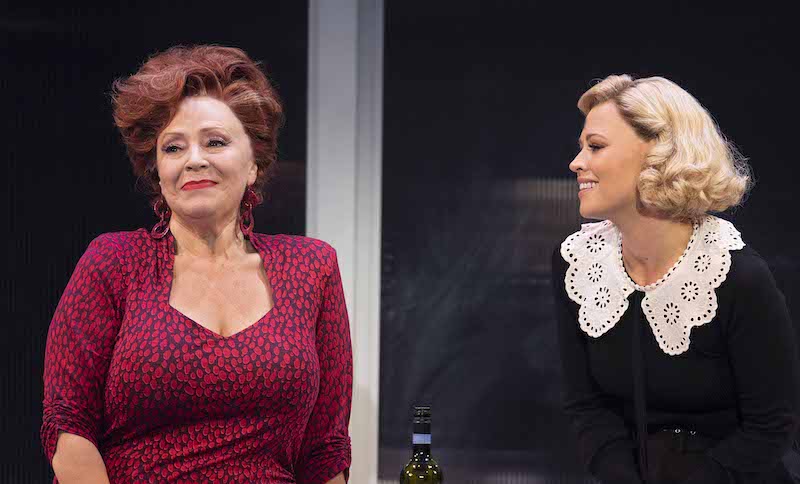 Though the size and layout of the Troubadour means it can easily accommodate a socially distanced audience of 400 (down from 1,300), the flipside is that it's challenging to land the "com" of this romcom. Unfortunately, many jokes fall flat, even though the show doesn't stray too far from Nora Ephron's film. Making it clearer that this is a period piece would help, given the somewhat retrograde gender politics; one of the better gags is Annie's bewilderment when boyfriend Walter suggests she use a new-fangled computer to work from home. Imagine!
It's a big ask for an actress to match that motormouthed, neurotic, daffy yet knowing shtick that is Meg Ryan's stock-in-trade, however Walsh makes awfully hard work of it here. She and McGuiness – who previously co-starred in another Tom Hanks vehicle brought to stage, Big the Musical – need to project much more, in performance and vocals, to fill the space. In their favour: they both have a warm likeability that makes them seem like a good match, even from afar. But, with a sweeping happy ending all but assured, dramatic tension dissipates; it becomes less sleepless, more sedated.
As this pop-star pair are Strictly Come Dancing successes, it's strange that Morgan Young's production is so static – what price a fantasy foxtrot? Oddly, the cast only gets dolled up for the curtain call, with a brief tease of razzamatazz. However, the supporting performers have strong moments: Harriet Thorpe, as Annie's widowed, wisdom-dispensing mother, gives a dynamite rendition of her big torch song; Tania Mathurin is a frequent scene-stealer as Annie's boss; and, in Jonah, there's an undeniably cute kid role, filled ably by Hart. Sam's pal Rob is a grating character, but Cory English gives his all, developing an energetic double act with Jonah.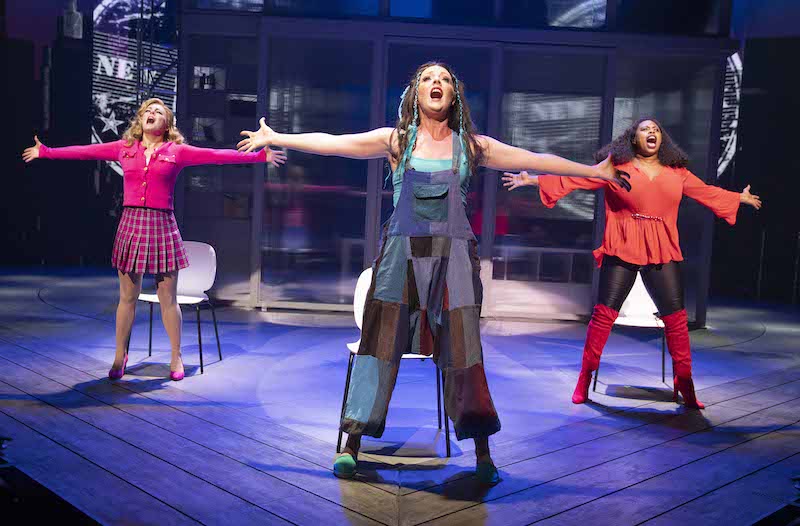 Leanne Garretty, Charlie Bull and in particular Dominique Planter (pictured above), playing letter-writers eager to woo Sam, nail the night's best number, the witty "Dear Sleepless". The easy-breezy jazz score is otherwise all sugary sentiment, lacking the observational specificity of Ephron at her epigrammatic best. The lyrics trot out a parade of clichés (the sun breaks through the clouds, the boys play ball, and, my pet peeve, there is metaphorical mountain climbing), and run into the ground the central idea of fate versus planning. Still, there's pertinent Coronavirus resonance there, as we all come to terms with wrenching disruption. Per the opening number, perhaps our lives aren't ours "to design".
Speaking of which, Morgan Large's efficient house-based set whisks us between scenes with the help of a central revolve, plus nice touches in Ian William Galloway's video projections: the backdrop features architectural drawings, echoing Sam's profession, while a bar above the action is used creatively to clue us into new locations – such as the masthead of the newspaper where Annie works, signs seen in an airport, or an architect's notes on various property projects. The 12-piece orchestra provides sterling support.
While the movie was in amusing, meta conversation with its genre – the characters discussing the fantastical passion of An Affair to Remember, all within another far-fetched romance based around the Empire State Building – this production essentially trades off nostalgic affection for Sleepless in Seattle. Yet there's also nostalgic joy in simply attending an actual fully-fledged musical, in a theatre, with other people: bliss! Treacly it may be, but this feel-good Sleepless does offer sweet dreams.
There's nostalgic joy in simply attending an actual fully-fledged musical, in a theatre, with other people: bliss!
rating
Share this article