The Last Five Years, The Other Palace Digital review - socially distanced heartbreak |

reviews, news & interviews
The Last Five Years, The Other Palace Digital review - socially distanced heartbreak
The Last Five Years, The Other Palace Digital review - socially distanced heartbreak
Jason Robert Brown's chamber musical has new lockdown resonance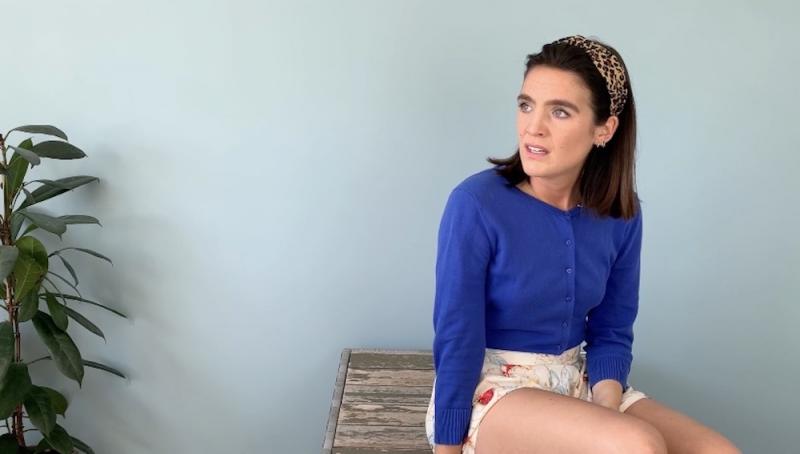 On my own: Cathy (Lauren Samuels) tries to salvage her dying relationship
A musical featuring two people who are physically separated? Jason Robert Brown's work is a shutdown natural – as this new digital theatre version demonstrates.
Lauren Samuels and Danny Becker, who play doomed
lovers
Cathy and Jamie, recorded their parts entirely in isolation, with Samuels (previously starring as Cathy in 2011 at Chiswick Playhouse) also directing.
The result is a piece that firmly retains its theatrical DNA – in contrast to the Anna Kendrick and Jeremy Jordan-starring movie adaptation, which changed up the format to have the characters sharing space. Of course, current social distancing makes that impossible, but here, the separation between Cathy and Jamie (pictured below) becomes richly resonant in a whole new way. How many of us are currently cut off from loved ones, worrying about relationships drifting apart or feeling increasingly out of sync? Zoom and the like can only do so much.
Brown's lovers might have greater freedom of movement, but as their marriage crumbles thanks to communication breakdown and diverging professional success, they might as well be worlds apart. That's the most striking element in this online production, which takes on a heightened, slightly off-kilter reality – a good match for the coronavirus age. It's framed by a MacBook Air screen, adding a kind of theatrical artifice, and we switch between the homes of the two actors, utilising different rooms (plus garden and car) and outfits to introduce variety and conjure multiple time periods and locations. There's invaluable support throughout from MD Joshua Winstone's stirring piano accompaniment.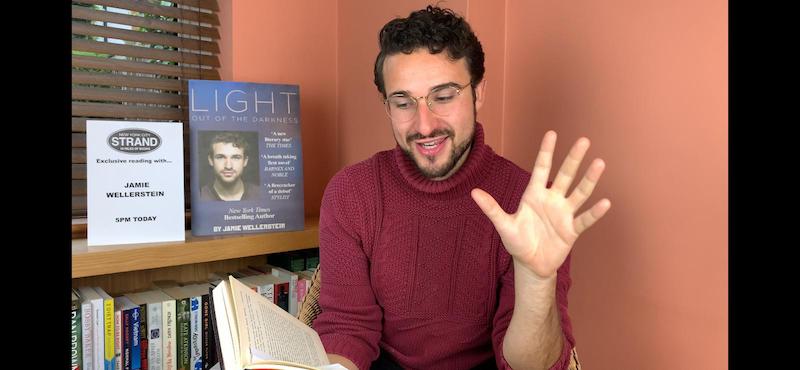 In her directorial debut, Samuels makes some nice choices to place her couple in the same universe. The piece begins with Cathy in a grey room (and mood) contemplating a farewell letter and abandoned wedding ring, and ends with Jamie in a matching space, finishing the letter. We also see the same text messages pop up in the two timelines – Jamie's chronological telling of their five-year relationship, juxtaposed with Cathy's reverse chronology – and Samuels finds a beautifully tender way of presenting the midpoint scene. Here, the duetting pair are overtly connected, but there's still a visible fracture, which works thematically and adds poignancy to their moment of marital bliss (pictured below).
Samuels also has Jamie bursting into Cathy's scenes via an increasingly large shot that literally overwhelms hers – a good visual representation of this eager writer relishing his burgeoning success, but at the expense of their relationship and of his sensitivity to Cathy's acting struggles. There are some thoughtfully framed shots, too: while Jamie schmooses at a party, a lonely Cathy is dominated, in the foreground, by a Champagne flute and by Jamie's hit book. However, there's also the odd moment when the character's point of focus feels unsure, or when props steal the scene – as when Cathy seems to address her complaints to a large plant instead of Jamie. (The plant, to its credit, does start to look abashed.)
Samuels brings tremendous vocals and heartfelt authenticity to Cathy, adept at both the comic sections – her cattle call audition nightmare is a tour de force, as is her "Summer in Ohio" skit – and the wrenching pain of hard-won wisdom that makes her withdraw into herself. Supplying an equally impressive vocal range, Becker is an electrifying opposite, his Jamie ploughing ahead with cavalier confidence (and adding some goofy physical comedy to "Moving Too Fast"), then curdling into obnoxious pouting, pretending his hand is weighed down by his wedding ring, and finally a dark bitterness as he tries to apportion blame.
Both performers dare to show the ugly parts of these characters, but also retain empathy for their passionate creative ambition. The latter element will likely resonate hugely with arts workers right now, along with Cathy's professional crisis and the sense of time becoming some abstract concept. In fact, the most romantic gesture in the piece is Jamie offering Cathy a watch – "unlimited time" to pursue her dreams. Time is running out for theatre. Affecting creative endeavours like this are a reminder of why it must be saved.