Shipwreck, Almeida Theatre review - Trump-inflected fantasia mixes the polemical and the poetic |

reviews, news & interviews
Shipwreck, Almeida Theatre review - Trump-inflected fantasia mixes the polemical and the poetic
Shipwreck, Almeida Theatre review - Trump-inflected fantasia mixes the polemical and the poetic
Anne Washburn's shape-shifting play won't be confined, nor will the man at its thematic centre
Thursday, 21 February 2019
Trump talk: the company of Anne Washburn's 'Fantasia'
Just when you think you may have heard (and seen) enough of Donald J Trump to last a lifetime, along comes Anne Washburn's ceaselessly smart and tantalising Shipwreck to focus renewed attention on the psychic fallout left by 45. How did we get here from there?
Washburn certainly brushes up against the topic that animated a recent, similarly Trump-inflected play,
Sweat.
But Washburn's purposefully baggy, shape-shifting play resists categorisation at every turn: equal measures history play, polemic, and generational saga,
Shipwreck
confounds expectation and may at times confound an audience, too. Expect lengthy post-show debates nightly in the
Almeida
bar.
This playhouse has done well by Washburn, from their knockout 2014 premiere of Washburn's Simpsons-fueled Mr Burns to last year's riff on The Twilight Zone, which transfers to the West End next month. Those who saw the remarkably divisive Mr Burns will note a similar interest here in the nature of storytelling itself; numerous scenes unfold via candlelight only to be interrupted by one or another burst of theatrical invention that brings on to the designer Miriam Buether's circular stage the current American president in various guises, each one more bizarre and less anticipated than the last. (Elliot Cowan does superb double duty on the faux-presidential front, while also forming a seamless part of the play's here-and-now ensemble, as well.)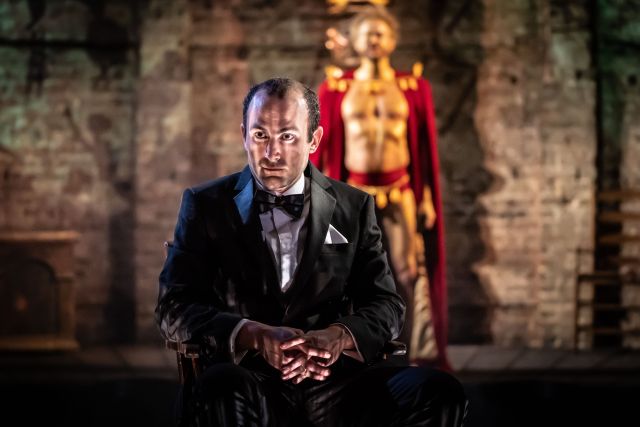 Many a dramatist would settle for simply ceding the floor to the initial community whom we find gathered for a dinner party in a newly purchased farmhouse, the meal hosted by 40somethings Jools (Raquel Cassidy) and Richard (Risteard Cooper) who are happy to show off their boiler even if they don't quite have the requisite food.
Among the guests, Allie (Justine Mitchell, in blazing form) voices the multiple shocks to the system that many of us have felt since Trump's shock election, and her broadside against the Democrats' refusal to raise the roof over the GOP's treatment of Merrick Garland is sure to open many a fresh wound. Washburn has set her play very specifically in the immediate aftermath of James Comey's testimony before the Senate Intelligence Committee, and one is here fully aware of an assemblage of liberal-leaning friends – intelligent people, all – trying to make their own accommodation with the twilight zone into which their (our?) world seems to have tumbled. "When have the rules changed?" is amongst the many questions that hang in the air, the wealthy (and gay) Yusuf (Khalid Abdalla, doubling roles as James Comey and pictured above) pondering how it is that we got to a point where executive-level lying apparently no longer matters.
Houses, though, as with countries have a past, and barely has Washburn dipped into her bag of meta-textual tricks (there's much questioning about the efficacy of political theatre) before we are introduced to the previous inhabitants of Jools' and Richard's home: a white couple – the dad is an avowed Christian – who have adopted the very African child, Mark (an excellent Fisayo Akinade, pictured below), who does the bulk of the play's heavy lifting post-interval. Keen to honour a father who has died and to annihilate him at the same time, Mark drops one of several eleventh-hour revelations into a narrative that will not be confined, and it's to the profound credit of the director Rupert Goold that he keeps the play's numerous cross-currents very much on course.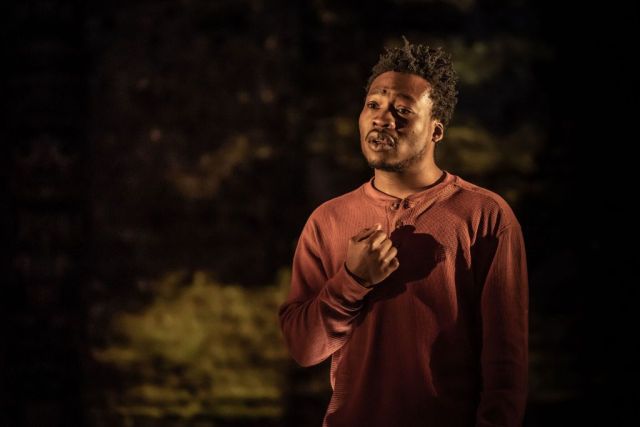 As interested in the mechanics of myth-making as it is in the psychic detritus generated by MTV, Shipwreck pivots on a dime from the kind of political debate and polemic that have beset many a household on either side of the Atlantic in recent times to a sort of exalted reckoning whereby Trump is allowed a (literal) glitter and poetry that one assumes don't come overly easily to the man himself. (He is surely one playgoer who would never have the patience for the three hour-plus curves that Washburn puts in an audience's way.) Just when you think you've got the measure of Shipwreck, it mutates into something still more mysterious, the closing passage as deeply poetic as anything on a London stage in years. Washburn leaves us, and her characters, standing on ice, though whether we will slip through it or not is anyone's guess.
Shipwreck at the Almeida Theatre to March 30