In the Republic of Happiness, Royal Court Theatre |

reviews, news & interviews
In the Republic of Happiness, Royal Court Theatre
In the Republic of Happiness, Royal Court Theatre
Martin Crimp's experimental new play is a fabulously enjoyable anti-Christmas entertainment
Thursday, 13 December 2012
Let's sing this all together: the musical cast of 'In the Republic of Happiness'
Christmas plays are a seasonal curse of British theatre. But there are alternatives to pantos and Dickens monologues. At the Royal Court Theatre, there is a tradition of more edgy Christmas fare, with plays by outstanding writers such as Joe Penhall, whose Haunted Child was here at the end of last year.
This time, the seasonal production — written by the ever-inventive Martin Crimp and directed by the outgoing artistic director Dominic Cooke — can only be described as an anti-Christmas play.
The drama has three sections, each of which has an overtly political name: the first is called "The Destruction of the Family", the second is "The Five Essential Freedoms of the Individual" and the last is "In the Republic of Happiness". But what you see on stage is firstly a family drama, with three generations gathered for a Christmas meal. As they bicker, Uncle Bob arrives unexpectedly, with a message that causes the situation to implode. But is he really a messenger, or just deluded?
The overtly satirical middle section is a dizzy delight
In part two, the play opens out into an experimental piece in which all eight cast members perform an open text similar to Crimp's 1997 masterpiece Attempts on Her Life, except that this time the target of the satire is individualism and its narcissistic attributes: the current obsessions with being the authors of our own lives, about being apolitical, about experiencing trauma, about therapy and the desire to change, and about looking good and living for ever. Much of this is hilarious: under therapy, one of the questions asked is "Why was I angry with my partner's cat?"
The final section is set in some kind of heaven — prompting the retrospective idea that in part one the family is hell and that part two's satire is purgatory — and brings Uncle Bob and his wife Madeleine back on stage. Except that this time, he is not an intrusive relative, but lost ruler who is suffering from dementia. They are a couple near the edge of, to use one of the potent images of the play, a high-tech deletion. "Click on my smiling face," says Madeleine.
The play's experimental and innovative structure has the effect, especially in the overtly satirical middle section, of feeling vertiginous, a dizzy delight. By contrast, the opening scene (pictured below right) is a rather static and chilly account of the misery of family life, where all the characters say out loud the thoughts that many of us have but dare not utter. Here is exposed the vindictiveness of privilege and the smugness of social status. It's cruel and real.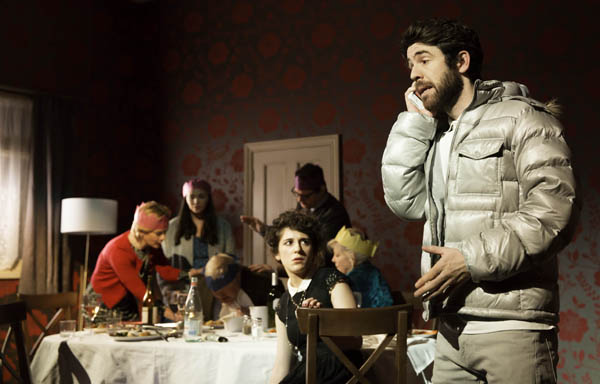 The second section, in Cooke's vivid and highly entertaining production, is lit up by songs brilliantly set to electronic pop music by Roald Van Oosten. The ensemble cast — Anna Calder-Marshall, Emma Fielding, Seline Hizli, Ellie Kendrick, Stuart McQuarrie, Paul Ready, Michelle Terry and Peter Wight — perform this superlative account of the pains of individualism with passion and energy. It feels like we are witnessing a major playwright's most imaginative work — at one heady moment, I felt that all theatre should be like this. And I wanted it to go on for ever.
Finally, the third section is quieter, darker, more disturbing. It feels like we are watching a man's mind on the verge of collapse. It's both an acute glance at one couple's malaise and a metaphor for the disintegration of any populist political system. Taken together, these three different scenes — beautifully designed by Miriam Buether — are a triumphant example of a political play that avoids obvious politics, and a seasonal play that spits on Christmas plays. A truly wonderful experience.
This time the target of the satire is individualism and its narcissistic attributes
rating
Explore topics
Share this article