My Fair Lady, London Coliseum review - tasteful revival powered by stirring performances |

reviews, news & interviews
My Fair Lady, London Coliseum review - tasteful revival powered by stirring performances
My Fair Lady, London Coliseum review - tasteful revival powered by stirring performances
Bartlett Sher's Broadway production comes to London with aplomb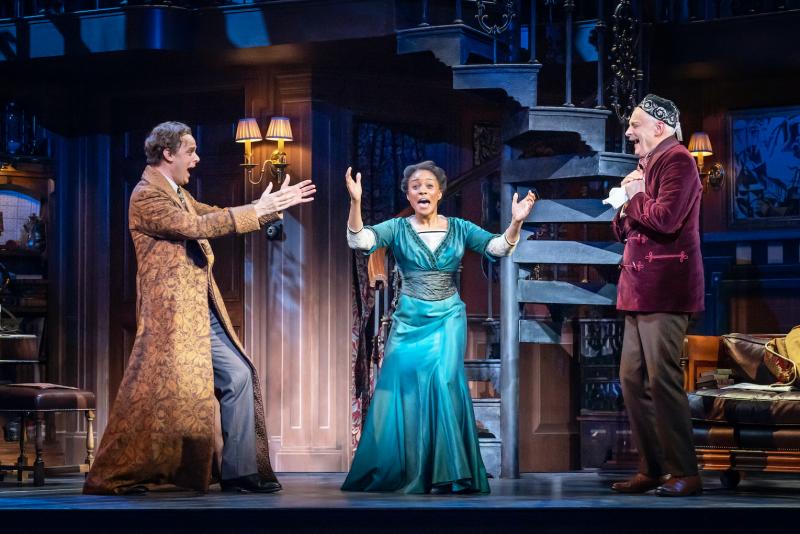 A social experiment in the making: Amara Okereke's Eliza finds a new voice
First staged in 2018, Bartlett Sher's Lincoln Center Theater production of My Fair Lady is London's latest import from Broadway, coming here hot on the heels of Oklahoma!. In returning to the city where its story is set, Lerner and Loewe's iconic musical from 1956 receives a dashing treatment from a cast and creative team in their top form.
In particular, this revival owes the most to its gently assured lead performances: Harry Hadden-Paton's Professor Henry Higgins and Amara Okereke's flower-girl-turned-lady Eliza Doolittle make for a richly volatile couple whose complex relationship animates an evening of uneasy transformations.
Based on George Bernard Shaw's 1913 play Pygmalion and Gabriel Pascal's 1938 film adaptation of the same name, My Fair Lady centres on an ostensibly playful social experiment: Henry Higgins, a professor of phonetics, makes a bet with his colleague Colonel Pickering that he can teach the Cockney Eliza how to speak proper English within six months and pass her off as a duchess in the annual Embassy Ball. Despite her peevishness, the spirited Eliza proves a willing participant in this scheme, moving in with Higgins and trying to improve her speech so that she can ultimately work in a flower shop. But as the pupil perfects both her pronunciation and her manners, she finds herself confronting her teacher about what it is that he really wants out of her.
On its surface, My Fair Lady offers a cosy but grounded tale of self-reinvention. Yet it also sets store upon tropes that have troubling connotations, especially in the context of Britain's history of colonial violence and social gentrification. With its meticulous refinement, Sher's revival embraces and amplifies the work's fairy-tale qualities at the expense its spiky edges. While the casting of the immensely talented Okereke, a Black actress, as Eliza here could have culminated in a more critical interrogation of the musical's central matter, the racial politics of this staging remain strangely underworked. The attractive performances and visuals we encounter throughout seem to exist in a bit of vacuum, somewhat untethered from their wider context.
Okereke's take on Eliza is beautifully laced with the character's competing impulses. She is particularly good in capturing her mounting feelings of alienation, her confusion as to what's to become of her after her social make-over. From her zesty rendition of "The Rain in Spain" to the fiery "Without You," Okereke's portrayal makes Eliza's inner world elegantly legible. It also finds a worthy match in Hadden-Paton's performance as Professor Higgins, a charmingly churlish and casually self-important mentor. In "I'm an Ordinary Man," Hadden-Paton energetically oscillates between crazed frustration and presumed calm. His quietly sympathetic rendering doesn't gloss over Higgins' inner ugliness, but it makes apparent the ways in which he remains oblivious to his weak spots.
In the supporting parts, Vanessa Redgrave delivers a finely regal Mrs Higgins, and Malcolm Sinclair presents Colonel Pickering as a humorous, avuncular bystander to Higgins' experiment. Stephen K. Amos is vibrantly memorable as Elizabeth's father, a dustman who also comes to have his life changed by Higgins' touch. With its carnivalesque energy, his "Get Me to the Church on Time" duly broadens the musical and choreographic palette of the evening. Maureen Beattie (as Higgins' housekeeper Mrs Pearce) and Sharif Afifi (as Eliza's suitor Freddy) complete the core cast with grounded performances.
Michael Yeargan's dynamic, mobile set pieces help the story's London setting materialise in efficient and suggestive ways. The centrepiece of the design is a revolving platform that depicts different spaces in Higgins' Wimpole Street house, including his finely realised study. Elsewhere, Sher's direction knows how to make the most of an empty stage, recruiting Donald Holder's lush lighting to create the distinct atmospheres of Edwardian life.
Also vital to this effect are Catherine Zuber's sumptuous costumes, complete with a series of exquisitely flamboyant hats. The production orchestrates these elements of its design in a fluid and understated manner, economically establishing the style of each scene. Whenever the story takes us to its more crowded parts, such as those set in Ascot and the ballroom of the Embassy, Christopher Gattelli's choreography asserts itself with its tight control over the ensemble.
My Fair Lady draws considerable strength from all these aspects of its plush world, even as its slower second half struggles on occasion to clarify its trajectory. The three-hour run is rife with ravishing moments, arresting tableaus, and stirring performances. While a revival of this stature could have been more daring and inquisitive in its treatment of a fundamentally problematic story, there is no denying the range of talent shining from the London Coliseum stage.
My Fair Lady at the London Coliseum until 27 August