Pygmalion, Garrick Theatre |

reviews, news & interviews
Pygmalion, Garrick Theatre
Pygmalion, Garrick Theatre
A revival of a theatrical classic forgets to brush the dust off its material
Eliza (Tointon) and Higgins (Everett) struggle to overcome the distance between them
With The Cherry Orchard just opened at the National Theatre and The School for Scandal at the Barbican, summer is quickly proving itself the season for classic theatrical revivals. The latest to join the London line-up is Shaw's perennially beloved comedy of love and the English language, Pygmalion.
Debuted at at the Chichester Festival Theatre last July, Philip Prowse's traditional production returns a year on with a West End home and some starry new cast members, hoping to charm fresh audiences with this oldest of theatrical fairytales.
Paying homage – as Shaw's title so pointedly does – to the myths and storytelling rituals of the theatre, Prowse frames his otherwise straight production within a false proscenium. Like so much else here, however, once established this double frame is left to its own devices, with no visible attempt made to develop the theme of performance into any broader gesture. Music similarly, despite an unusually prominent role, has little connection to its context: the curtain rises (strikingly, it must be said) to "The Ride of the Valkyries"; we leave Covent Garden market to a fleeting blast of "Land of Hope and Glory". To what end? I'm still unsure.
But such issues, even Gerry Jenkinson's bizarrely ineffectual lighting and Prowse's set (which between them manage to shrink the generous Garrick stage into a cramped 8ft by 8ft square in the very centre), would matter little if the cast's dynamic and pace were even reasonably strong. Pygmalion is sufficiently bomb-proof to allow serious negotiations with Katie Price to play Eliza in the current production (derailed by her divorce), and should easily withstand anything the West End can throw at it. Yet the windows onto Shaw's comedy were smeared and blurry, lacking clarity of either intention or execution.
On the basis of Tuesday's final preview some issues must be excused. The illness of Simon Ward has seen veteran Michael Feast drafted in to take on the voluble role of Alfred Doolittle at short notice. While neither his lines nor accent were as yet in place (in what was only his second night of public performance), it's to be hoped that the 24 hours before press night have seen the cementing of both, aiding the rather wearisome Act I negotiation scene.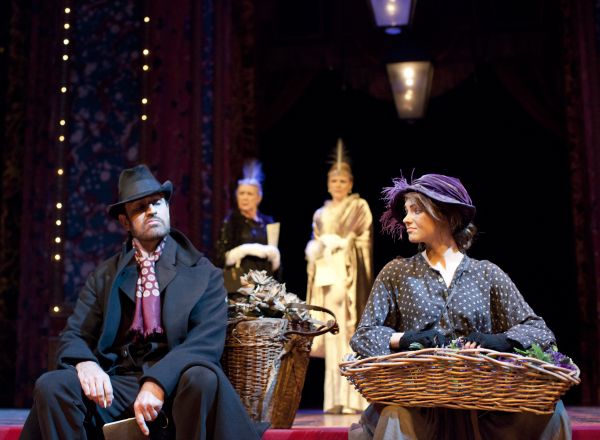 Rupert Everett likewise, despite the benefit of the Chichester run, still seems ill at ease in Higgins's irascible shoes. If anyone could hope to out-misogynist Rex Harrison (whose classic turn in My Fair Lady inevitably lurked behind proceedings) it would surely be Everett; but while Harrison balanced his inflexible hauteur with a certain amount of tweedy charm and exuberance, Everett's Professor (pictured right with Kara Tointon as Eliza) is all sulking, anachronistic aggression. His spoken rhythms are also off; he carelessly abandons lines to the air like a pair of spectacles in an armchair, scrabbling around moments later to pick them up again. And while his eyebrow and top lip have evidently perfected a Higgins snarl, is it really necessary for them to remain so immovably fixed, scene after scene?
Kara Tointon's Eliza works harder than anyone on stage. Laboriously cockney and then determinedly RP, she makes a splendid job of the tea-party encounter with the Eynsford-Hills, delivering her climactic "Not bloody likely!" with the most composed of charm. Sadly, in a play in which speech can turn a flower girl into a duchess, hers just isn't ever quite right, with the various accents robbing her of any warmth. Her scenes with Higgins lack connection (not aided by the sudden shift to stylised melodrama in the climactic final encounter, which roots them rigidly at either extreme of the stage) and she never quite releases herself into it.
Gentle and moustachioed support comes from Peter Eyre's Pickering, but it is Dame Diana Rigg's Mrs Higgins that glows with comic authority. The arch naturalism which seems such a struggle for everyone else (particularly Everett, who appears to be playing Hamlet in his head) is the merest of efforts for her, and a passing bit of maternal interplay with backward hooray Freddy (Peter Sandys-Clark) had everyone else beyond hope of matching her.
There are some nice enough elements to the production; the rainy opening tableau outside the opera is a joy, and the chinoiserie-style marbled set is elegant and colourful. Yet it feels like a play by committee. Nobody seems to have cherished it, got excited over it, phoned their mother to tell her all about it. Personality is altogether absent and the result is more token than a slot machine. "I washed my face and hands before I come, I did," Eliza famously declares. It's more than can be said for Prowse's Pygmalion, which is desperately in need of a good dusting and some loving polishing before it is ready for its society debut.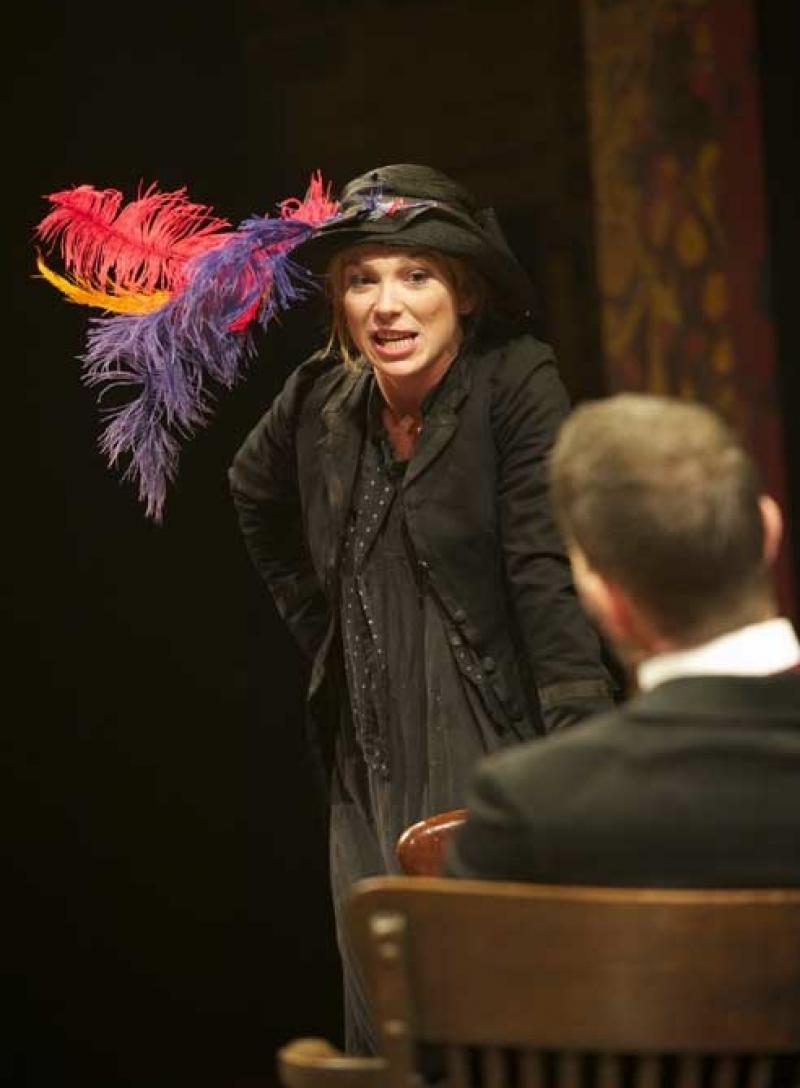 MORE GEORGE BERNARD SHAW ON THEARTSDESK
Mrs Warren's Profession, Comedy Theatre (2010). Felicity Kendal in plodding revival of Shaw's take on prostitution
Pygmalion, Chichester Festival Theatre (2010). Rupert Everett's sulky Higgins is outsmarted by Honeysuckle Weeks's Eliza (pictured)
The Doctor's Dilemma, National Theatre (2012). Tragedy is the spoonful of sugar that helps this medical satire go down
Widowers' Houses, Orange Tree Theatre (2014). A timely revival of a timeless satire
Man and Superman, National Theatre (2015). A theatrical trip to Hell with Ralph Fiennes has some heavenly moments
The Philanderer, Orange Tree Theatre (2016). Modern-dress Shaw is resonant but long-winded
Saint Joan, Donmar Warehouse (2016). Revival of Shaw classic is a tour de force for Gemma Arterton
Diana Rigg's Mrs Higgins glows with comic authority
Explore topics
Share this article