Macbeth, BBC Four |

reviews, news & interviews
Macbeth, BBC Four
Macbeth, BBC Four
Patrick Stewart lets slip the dogs of war in electrifying telly-isation of the Scottish Play
Family plot: The Macbeths (Patrick Stewart and Kate Fleetwood) prepare for regicide
Via the Chichester Festival and acclaimed runs on Broadway and in the West End, director Rupert Goold's Macbeth has made a sizzling transition to television. Set in an anarchic, war-torn Scotland and suffused with imagery of murder, torture and Stalin-style purges, it placed Patrick Stewart's thunderous central performance in a spinning black hole of evil, into which he was remorselessly sucked as the action developed.
We saw Macbeth steadily torn apart by a maelstrom of ambition, conscience and destiny, the latter revealed in regular bulletins from the flesh-crawlingly sinister Three Witches. Nonetheless, even as torrents of spurting blood began to surge through the action like the Severn bore, Stewart never quite let us lose sight of the brave and honourable qualities that once seemed to mark out Macbeth as a true leader, rather than a natural born killer.
There were some echoes of Ian McKellen's film of Richard III, set in a Fascist 1930s England, but Macbeth's supernatural overtones make it particularly well suited to drawing out interiorised themes of damnation and delusion. Apart from some battle scenes and crumbly newsreel footage of Soviet armies marching through Red Square, the action was mostly located in a network of claustrophobic white-tiled bunkers and tunnels, which could have been an abattoir or a Victorian lunatic asylum. The scene was set with a maimed and bloody soldier being wheeled past on a gurney, just able to gasp out news from the battlefield, and the witches materialised as nurses in a hospital for combat casualties. However, rather than acting as angels of mercy, they briskly euthanised the wounded man and then ripped out his heart for their ghastly black-magic rituals. The "hubble, bubble" scene was delivered as a mutated rap, with an electronic soundtrack and jerky, processed video.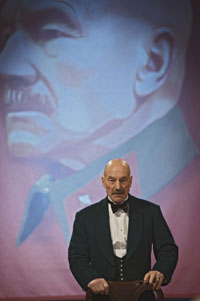 If the production had a flaw, it was the slightly pallid nature of the supporting roles. In his early appearances Macduff (Michael Feast) came across as a fawning equerry rather than a significant political player, so lacked the necessary voltage to carry off his apotheosis as the implacable avenger of his murdered wife and children who eventually hacked off Macbeth's head. Martin Turner's Banquo was honest and upstanding, but when he reappeared as the ghost at the banquet, he looked more like the chap from next door who'd had an embarrassing accident with a pot of red paint than Macbeth's supernatural nemesis. Still, setting Banquo's murder in the rocking carriage of a clattering steam train was a masterly stroke, somehow evocative of both wartime Britain and revolutionary Russia (Macbeth succumbs to the bourgeois cult of personality, pictured below).
There was a glimmer of light relief from the somewhat indistinct character of Ross, a witness to several critical scenes without ever being much more than a glorified messenger. Here, he was drolly handled by dressing up Tim Treloar as a Woody Allen-like neurotic in trenchcoat and spectacles, and his terrified hysterics in the banquet scene helped to highlight Macbeth's descent into irrationality. Suggestions of Hitler in his bunker, surrounded by trembling sycophants, sprang to mind.
But Stewart's effortless command of the drama powered the piece like a giant turbine, never more grippingly than in the "dagger" soliloquy, where he added an unnerving feral whoop to "wither'd murder, alarum'd by his sentinel, the wolf,/ Whose h-o-o-o-w-l's his watch". In his heart-of-darkness relationship with Lady Macbeth (Kate Fleetwood), her raven-black hair and harshly lit facial features were elemental signs emphasising her implacable willpower and ambition on Macbeth's behalf. However, while it was her tragedy to be devoured by the guilt which drove her to suicide, Macbeth finally appeared liberated by the chance to revert to his warrior self and fight to the death.
Dazzling stuff indeed, and surely a milestone for the Bard on the box. Why, then, did the BBC blow the bottom out of its ratings prospects by scheduling it directly against the X Factor finale? So foul and fair a day Shakespeare-lovers have rarely seen.