My City, Almeida Theatre |

reviews, news & interviews
My City, Almeida Theatre
My City, Almeida Theatre
Stephen Poliakoff returns to the stage with a mysterious if imperfect tale of London nights
Friday, 16 September 2011
Night tripper: Tracey Ullman is wonderfully expressive in Stephen Poliakoff's 'My City'
Welcome back Stephen Poliakoff. With his first new play for 12 years, the master penman has set aside his television excursions into history and memory — most recently Glorious 39 for the BBC — for a haunting, contemporary tale of chance encounters and mysterious city nights. As the title makes clear, the play is a vision of London which is both personal and meditative. For me, it felt like a trip to a world that is surprising yet also familiar.
One evening, a young man called Richard (pictured below right) finds his former primary school head, Miss Lambert, sleeping on a bench near St Paul's cathedral. She has become, he quickly realises, an odd fish. Now retired, she spends the nights wandering around London, uncovering strange and hidden aspects of the metropolis. Teaming up with his causal friend, Julie, who was also at the same school, Richard follows Miss Lambert for an odd evening of storytelling and remembering.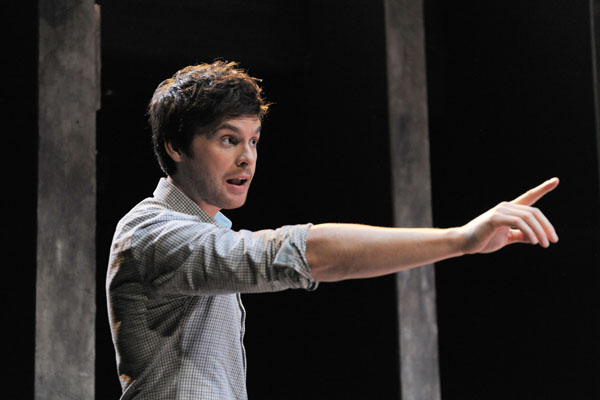 They are joined by two of Miss Lambert's colleagues, Mr Minken and Miss Summers, and a series of flashbacks show the school assemblies that the three used to conduct in the past — it is a couple of decades since Richard and Julie were pupils there. Each assembly is a setpiece of storytelling. Some involve listening to the sounds of the city; some are miniature history lessons featuring Edgar Allan Poe or John Wesley.
Humorous anecdotes share the play's playground with ghost stories, meetings that changed lives are contrasted with the disillusionment that teachers sometimes feel. There is a tale about a psycho killer, another about a waif, yet another about the holocaust in Vienna. Each is conveyed through a sharp and memorable verbal image. And often it is Miss Lambert — played by the wonderfully expressive Tracey Ullman — who acts out the stories, at one point cackling like the witch in The Wizard of Oz, at another conjuring up the terrors of the tube tunnels at night.
Poliakoff has a childlike heart, and I mean that as a compliment. He is able to see the world through the eyes of a kid, and this allows him not only to show how important some teachers are for children, but also to suggest how chance encounters help create the adults we grow up to be. At the same time, his imagination is like the huge suitcase that Mr Minken drags around with him: capacious, full of dreams, full of junk, full of quirky ideas.
The emotional fuel of this play, which Poliakoff himself directs, is the sense of loss that both teachers and pupils experience when they leave school. His empathy for teachers, for their lives outside of work, is matched by his understanding of the contradictory feelings that adults have when they look back at their schooldays. The play is also a love letter to London, a metropolis of mystery in which people take nocturnal perambulations, and where technology seems to have a life of its own.
Like much of Poliakoff's work, there is an exhilarating sense of a powerful imagination at work. In one scene, we hear recordings of the younger characters' school days, and then see photographs of their childhood selves. But there is also a feeling that the narrative is sometimes allowed to slacken a bit too much, and that the full drama of the situation has eluded both playwright and director. Still, the cast (pictured above left) is excellent, with Ullman joined by David Troughton and Sorcha Cusack as her fellow teachers, and Tom Riley (pictured above right) and Siân Brooke both suggesting the child within the adult. This story about the eccentric, the macabre and the all too human may be imperfect, but it's still much more stimulating than most other new writing.
Poliakoff's imagination is like a huge suitcase: capacious, full of dreams, full of junk, full of quirky ideas
rating
Explore topics
Share this article