Close to the Enemy, BBC Two / Paranoid, Series Finale, ITV |

reviews, news & interviews
Close to the Enemy, BBC Two / Paranoid, Series Finale, ITV
Close to the Enemy, BBC Two / Paranoid, Series Finale, ITV
Stephen Poliakoff's thriller doesn't thrill, and can 'Paranoid' expect a second series?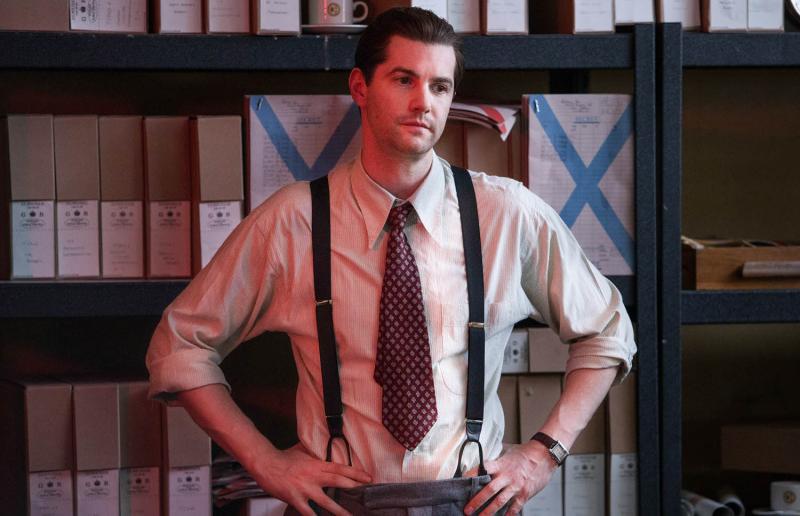 Was this really necessary? Jim Sturgess as Captain Callum Ferguson in 'Close to the Enemy'
We last encountered Stephen Poliakoff on TV in 2013's Dancing on the Edge, which provoked mixed reactions (not least on theartsdesk). That was the story of a black jazz band in 1930s London, who played gigs at swanky hotels. Close to the Enemy (★) is set in London just after the end of World War Two, and happens to feature a jazz band with a black singer who perform in a once-swanky hotel somewhat gone to seed.
Many have pondered over the way the BBC likes to shovel hefty chunks of the licence fee in Poliakoff's direction, and their doubts may not be assuaged by Close to the Enemy, on which he is once again writer and director. The set-up sounds like an espionage thriller. It concerns Captain Callum Ferguson (Jim Sturgess), an agent for a secret intelligence unit which specialises in converting useful Germans spirited out of Germany to the British cause. His mission is to persuade jet engine expert Dieter Koehler (August Diehl) to do his stuff for our lot instead of Messerschmitt and co.
It could have possibilities, but the piece shoots itself in the foot from the start by declaring that the action will take place within the confines of the Connington Hotel, "a funny old dump with some surprisingly good perks," as Ferguson's CO Brigadier Wainwright (Robert Glenister, pictured right with Phoebe Fox) puts it. Apparently the idea is that Herr Koehler will be so seduced by the Connington's cuisine and newly-reopened ballroom that he will abandon his stubborn refusal to work for his hosts. Meanwhile any loose talk about hi-tech projects will be recorded by countless hidden microphones.
Snag is, it's as if Poliakoff found the location first and then had to think up something to put in it. Some old tin Nissen huts would have been more atmospheric than this tattered pile, in which characters wander about as if they're invisible to each other. If only Herr Koehler's whiny, screaming daughter were invisible, and inaudible, to the viewer. Willowy prostitutes float along the corridors like tropical fish. Kathy Griffiths (Phoebe Fox) from the War Crimes Unit regularly buttonholes Ferguson to complain that some of his clientele might be evil Nazis on the run, but she has the manner of a fretful librarian pursuing some overdue Agatha Christies and he takes no notice. Ferguson keeps seeing Alfred Molina in the dining room, and they exchange enigmatic pleasantries that sound like crossword clues.
There was a mystifying sequence under a railway viaduct, where Ferguson's apparently disturbed brother Victor (Freddie Highmore) suddenly decided to pick a fight with some passing blackshirts (were there really blackshirts in 1946?). This seemed to belong in a different episode altogether, yet it was no more peculiar than Sturgess's performance, in which he sounded like Alan Whicker impersonating Swiss Toni from The Fast Show ("Paul! Recruiting a German scientist is very much like making love to a beautiful woman.") It's difficult to see why Close to the Enemy was considered necessary.
I grew to sort of like Paranoid (ITV) (★★★) even though it was peopled by a group of characters who each seemed to have been borrowed temporarily from a separate film or TV series (cast pictured above). Ages ago, we'd got the idea that the murder of a GP and a psychiatric patient way back in episode one was all connected to a sinister drug trial organised by the Dusseldorf-based Rustin Wade corporation. Their ruthless fixer Nick Waingrow was played with seething transatlantic menace by Danny Huston, who in several scenes successfully kept a straight face.
But if you just ignored the plot, there was much entertainment to be gleaned from Robert Glenister's sweaty, twitchy performance as detective Bobby Day, a man undergoing continuous parallel nervous breakdowns. He had become helplessly dependent on reformed junkie and sex worker Lucy Cannonbury (Lesley Sharp), who had gone all Quaker and vegan, and had learned to talk like a sedated zombie. If she had offspring they'd be called Clover or Moonchild.
Almost equally mirthsome were the German detectives Linda (Christiane Paul) and Walti (Dominik Tiefenthaler), surely the nicest and most caring police officers ever depicted on television, while the frothing neuroses about men, marriage and childbirth of detective Suresh (Indira Varma) became quite endearing. But not quite endearing enough for a second series.