Making Noise Quietly, Donmar Warehouse |

reviews, news & interviews
Making Noise Quietly, Donmar Warehouse
Making Noise Quietly, Donmar Warehouse
A triptych of plays confronts the horror of war with delicate skill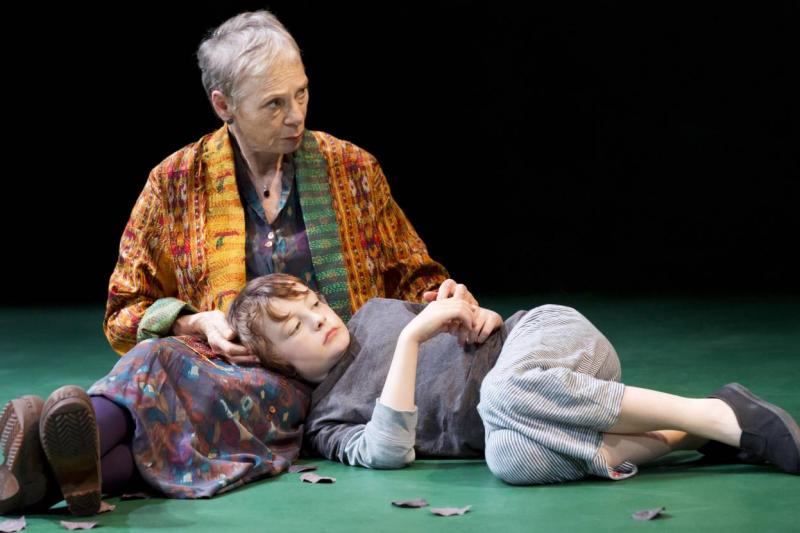 The kindness of strangers: Helene (Sara Kestelman) comforts Sam (Lewis Andrews)
"It's easy for me to talk to you; we don't know each other". Robert Holman's Making Noise Quietly is a work that, like its title, lives in the delicate push-pull of contradiction: intimate strangers; bloodless wars; silent screams. Not one play at all but three short pieces – panels in an inscrutable triptych – its process is oblique, its emotional momentum cumulative, the impact devastating.
The clamour of war may provide the background hum through all three dramas, but this thematic pedal point scarcely anchors the dissonant roamings of Holman's theatrical melodies. When Holman writes of war he writes of a picnic in a Kentish field or an unexpected visitor at tea-time. Little is linear or direct, and the truths Holman finds are rarely voiced. It is enough that we know they are there, like the treasures eight year-old Sam conceals in his pockets – fragments shored against our ruin.
Leaving the text itself to take care of shared echoes and refrains, Gill chooses to stress the contrasts of the plays
We open in Kent, witnesses to a chance encounter between two young men during World War II. Both exempt from military service, they talk about sex, sexuality and the ethics of warfare. The central panel finds us in the front-room of a working-class home in Redcar during the 1980s, as a stranger tells a mother of the death (and life) of her estranged son. Finally the scene shifts to the Black Forest in the same decade. A troubled boy and his soldier stepfather find themselves in a the home of a German-Jewish Holocaust survivor, their relationship under scrutiny and negotiation.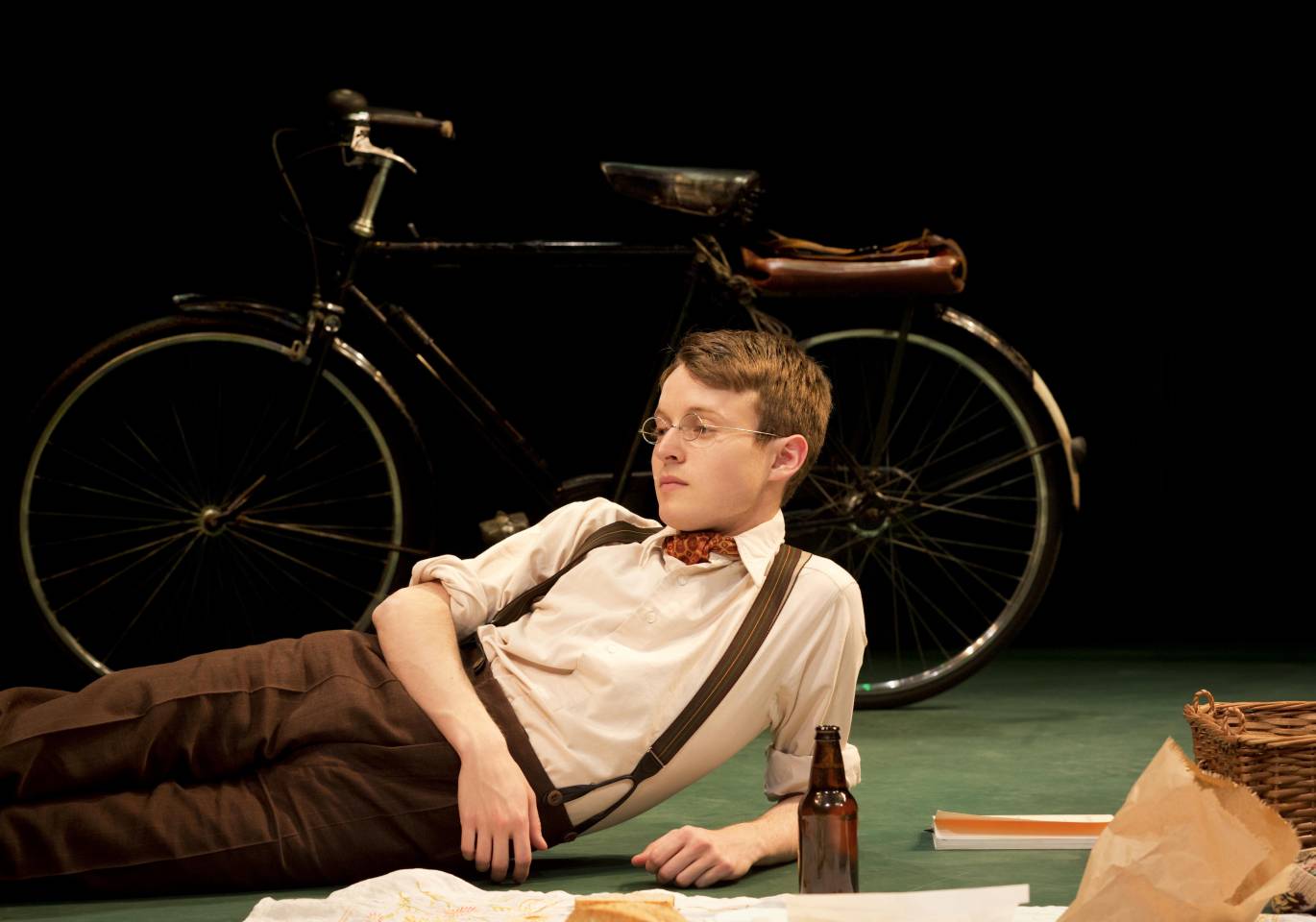 First staged in 1986, the Falkands War still fresh in collective memory, this meditation on the fragility of human psychology feels equally potent when refracted off our more recent history in Afghanistan and Iraq. Peter Gill's new production (with designs by Paul Wills) situates his three panels with the merest of visual markers – a bicycle, a chintz armchair, a tree trunk – blurring episode smoothly into episode. Transitions here (as in Gill's recent production of A Provincial Life for National Theatre Wales) take on unusual significance, flooding the stage with actors so that each fragile two-hander emerges from the crowd, one potential story among many.
The relationship between the play's three stories is at the core of any production, and leaving the text itself to take care of shared echoes and refrains, Gill chooses to stress the contrasts in three very distinct tonal readings. The opener, Being Friends, is perhaps the most determined, stressing (perhaps too intently on occasion) the comedy of this oblique seduction, undertaken in tank-tops while discussing Sitwell and Auden. Matthew Tennyson's worldly Eric (pictured above) pitches his arch fragility just right, drawing truths from this period piece that Jordan Dawes's uneasy naturalism doesn't quite achieve.
For all its familiarity as a set-piece scenario, central episode Lost is in many ways the most challenging of the three. Mrs Appleton (Susan Brown) hears of the death of her son and is given little space in Holman's text to grieve. Instead her anger and shock run repeatedly up against the polite conversational walls of naval officer Geoffrey Church (a suitably stuffed-shirtish John Hollingworth). The moment at which these two strangers are revealed as nothing of the kind is as close as Holman gets to theatricality, and even Brown's judiciously underplayed approach can't quite marry it into the fabric of the work as a whole.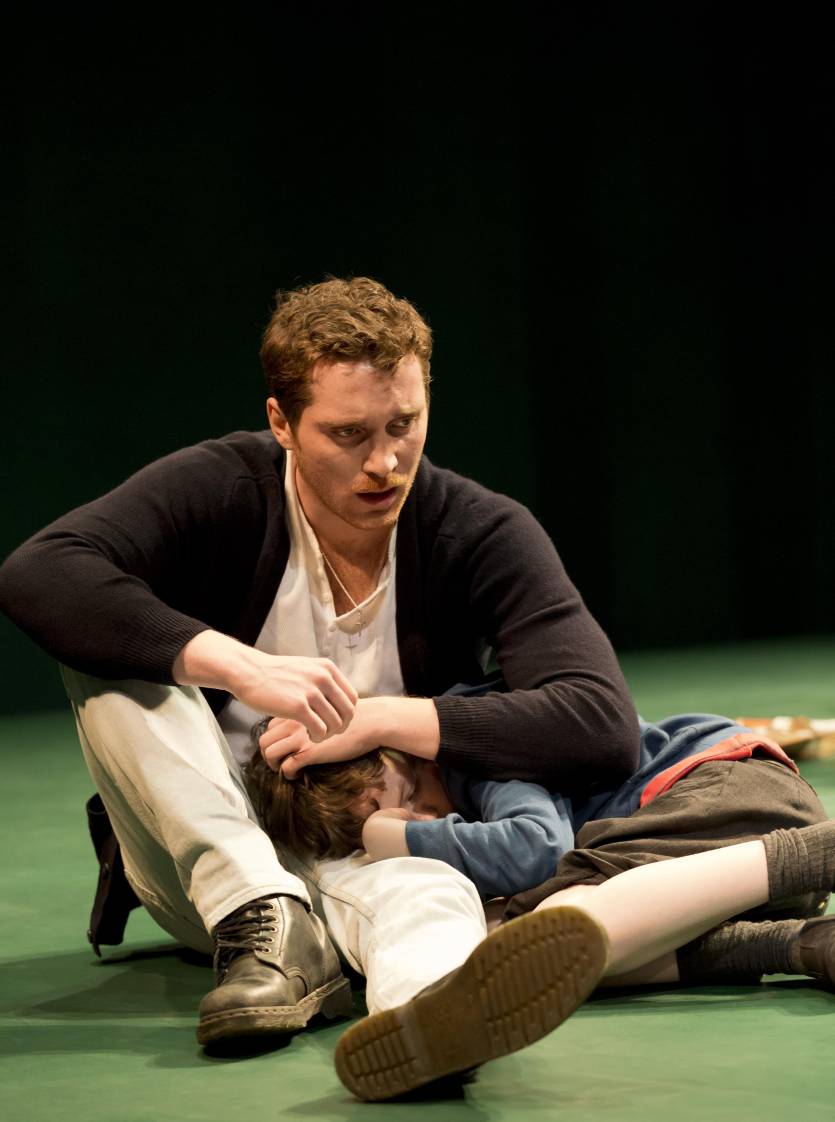 The longest of the three sections, Making Noise Quietly turns the screw on Holman's theme with the addition of a third figure to the action – Sam, played last night by Lewis Andrews. Refusing to speak, Sam's only communication beside the words he scribbles on his arm are wordless screams (devastating in the close quarters of the Donmar), which rouse his stepfather Alan (Ben Batt, pictured left) to violence. Magnificent and endlessly wise in the centre of this domestic whirlwind is Sara Kestelman's Helene, the stranger who draws on her own most appalling experiences to help them.
Batt's unfocused anger and self-hatred are flung out like a brick, battering their way through the delicate humanity of Helene's questions. And just when we become comfortable with Holman's unspokens, his corner-of-the-eye narrative that underpins these outbursts, he confronts us with moments of absolute directness that jolt the piece so powerfully off-course.
The bravest piece of programming in Josie Rourke's first season at the Donmar, Making Noise Quietly affirms Rourke's ongoing interest post-Bush in championing contemporary British drama. Holman is one of our neglected greats, a playwright beloved of other playwrights, capable of "following his characters off the map". Watching his drama you're not so much audience as witness to truths that, for all their obliquity, shout clearly and linger long.
Making Noise Quietly is at the Donmar Warehouse until 26 May
Sara Kestelman's Helene is magnificent and endlessly wise in the centre of this domestic whirlwind
rating
Explore topics
Share this article