The Knowledge, Bush Theatre |

reviews, news & interviews
The Knowledge, Bush Theatre
The Knowledge, Bush Theatre
This pub theatre's ambitious Schools mini-season gets off to an exciting start
Troubled Miss: Joanne Froggatt as Zoe in 'The Knowledge'
At a failing secondary school in Tilbury, Essex, Zoe arrives as an ambitious, newly qualified teacher who hopes to make a difference to her unruly pupils. But although she impresses her learning mentor, Maz, and Harry, the soon-to-retire acting head, she gradually gets into an emotional tangle.
Neither her attractive manner, nor her will to succeed, nor her teaching skills are able to prevent her from making some bad mistakes: she wants to be friends with her pupils; she sleeps with Maz; she overplays her hand, in both classroom and staffroom.
As the impeccably plotted story — which spans one school year — unfolds, Zoe runs into trouble with her class, which comprises the white loudmouth Mickey, the cool black Daniel, the chavvy Karris and the sarky but rather moralistic Sal (all pictured, with Zoe, below right). Caught between the aggression of the surprisingly perceptive Mickey and the sexual longings of the creative, poem-writing Daniel, Zoe has to confront a series of moral questions which, like school exams, keep coming thick and fast.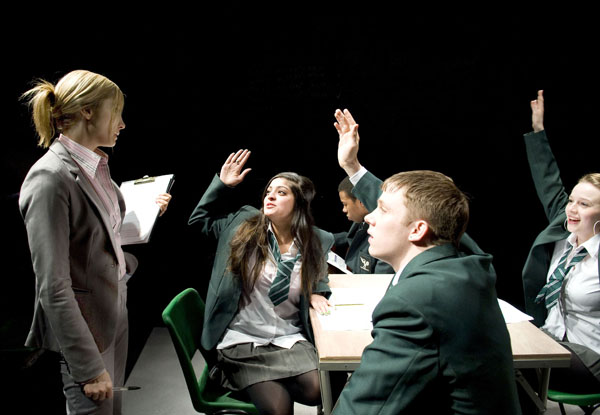 Partly based on Donnelly's own experience of working in schools, the playtext focuses on Zoe, a character who is both attractive and unattractive, often within a few sentences of dialogue. She's both stupid and clever at the same time. Donnelly's writing is a bright mix of sharp wit and clearly articulated debate. He deftly matches textbook discussion points with passionate emotion. There are some hilarious scenes, such as the lesson in condom use, as well as an uncomfortable sex scene, plus a memorable poem based on the London cabbie's "knowledge". At its most intense, the play is like listening to chalk screeching across a blackboard.

As Zoe's conflicts with both Mickey and Daniel come dangerously close to tragedy, Charlotte Gwinner's funky, perfectly focused production brings out the best from her crack cast. Joanne Froggatt (Anna in Downton Abbey) plays Zoe with an appealing combination of ambition, vulnerability and guilt. Equally impressive are Joe Cole's angry Mickey, Kerron Darby's cool Daniel, Holli Dempsey's sassy Karris and Mandeep Dhillon's cutting Sal; Andrew Woodall's Harry is entertainingly full of bluster and Christopher Simpson's cheerful Maz also comes across very well. Its fitfully fragmented structure injects the play with a dynamic energy, but for all its vivid joys, at the end there's the distinct feeling that the working-class kids will pay the price of the follies of their middle-class teachers. Education remains a class issue.
At the end there's the feeling that working-class kids will pay the price of the follies of their middle-class teachers
Explore topics
Share this article