Imogen, Shakespeare's Globe |

reviews, news & interviews
Imogen, Shakespeare's Globe
Imogen, Shakespeare's Globe
Sound and vision blazon the new regime, but this is vintage Shakespeare
Saturday, 24 September 2016
'A good but tough girl in a harsh environment': Imogen (Maddy Hill) disguised as 'Fidele'
What's in a name? Imogen has a softer music to it than Cymbeline, the only one of Shakespeare's plays in which the title character is marginal, and the daughter certainly dominates in a way that her regal father doesn't. So Cymbeline Renamed, as half the subheading of Matthew Dunster's bold production puts it, is fine.
Reclaimed, though, from what? There's no need to shift any of Shakespeare's centres of gravity, and Dunster doesn't. True, this "heavenly Imogen" is more earth than air, and Maddy Hill compels from the start – a good but tough girl in a harsh environment, in a new riff on the Alice in (grotesque) Wonderland nature of the play. But at heart this is a company show in the Globe tradition, and up there with the best in the way it tells a story so clearly and ends as it should poised between tears and laughter.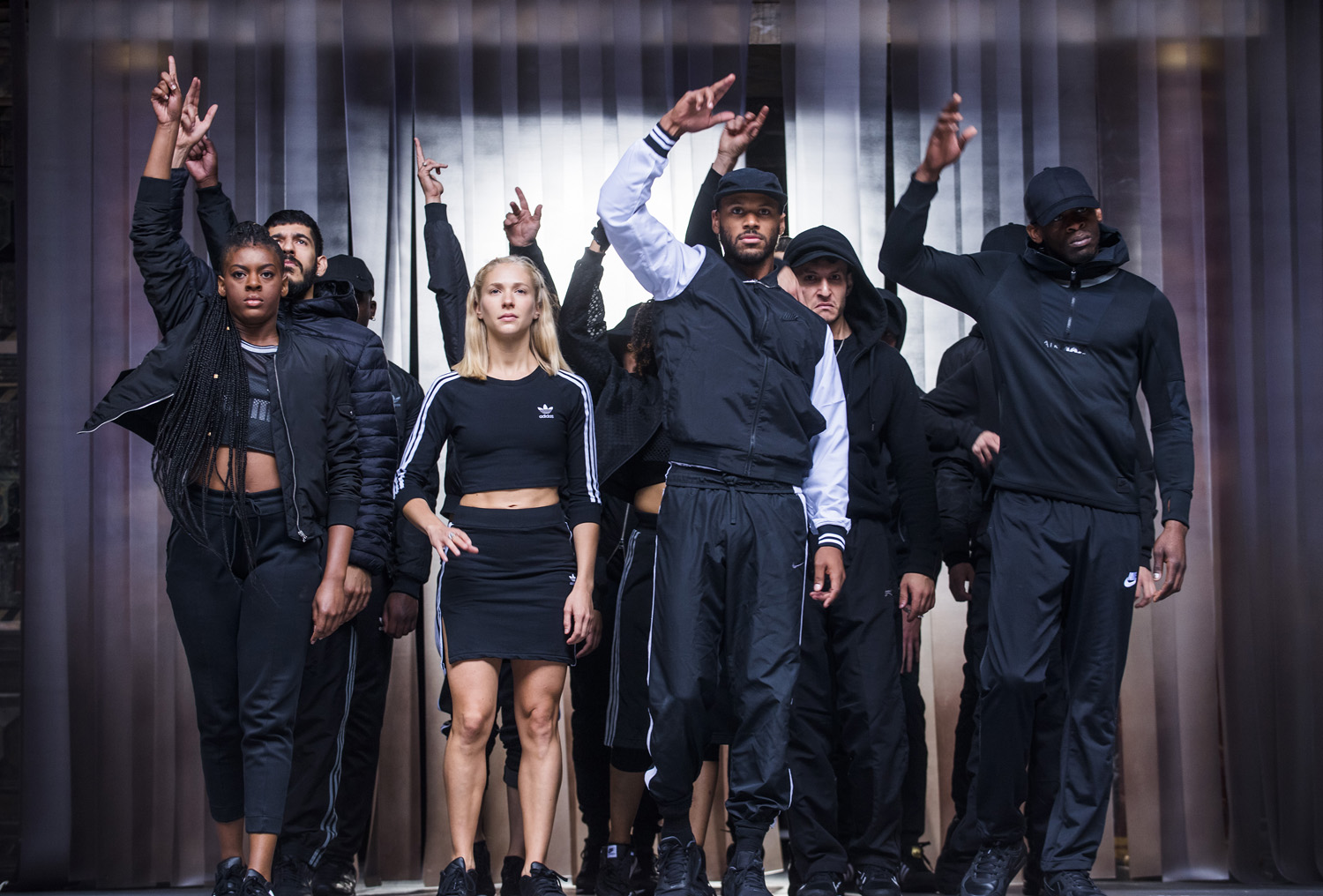 In the beginning, you have to wonder. Emma Rice's new regime has brought in amplification, lighting and pre-recorded music; there's so much dance and mime to tell us we're caught in a war between rival gangs in London today that you wait a little anxiously to find out what's survived of the actual text. There's no need to worry: most of the actors deliver most of the lines in such energetic, intelligible style, punctuated by deft colloquialisms, that you soon forget about the rather good miking that breaches the premise of the famous Globe projection on which previous artistic directors and their associates have worked so hard.
It was perhaps predictable that a contemporary setting for a play in which the heroine wakes to find herself next to the headless body of a man she thinks is her husband would involve drugs and tribalism. But the line is followed through beautifully. Cymbeline's violent world is costumed in black tracksuits and skanky lighting; Romans wear white in a golden light, surrounded by giant fans. The biggest visual pleasure in Jon Bausor's malleable sets, with Lee Curran's superb lighting helping to define rooms and areas, is when we head to Milford Haven and find Belarius, Cymbeline's exiled general raising the king's abducted sons in the wilds, growing cannabis in a greenhouse and carving up meat in a butcher's apron. The continuity is impressive and laced with laugh-out-loud humour.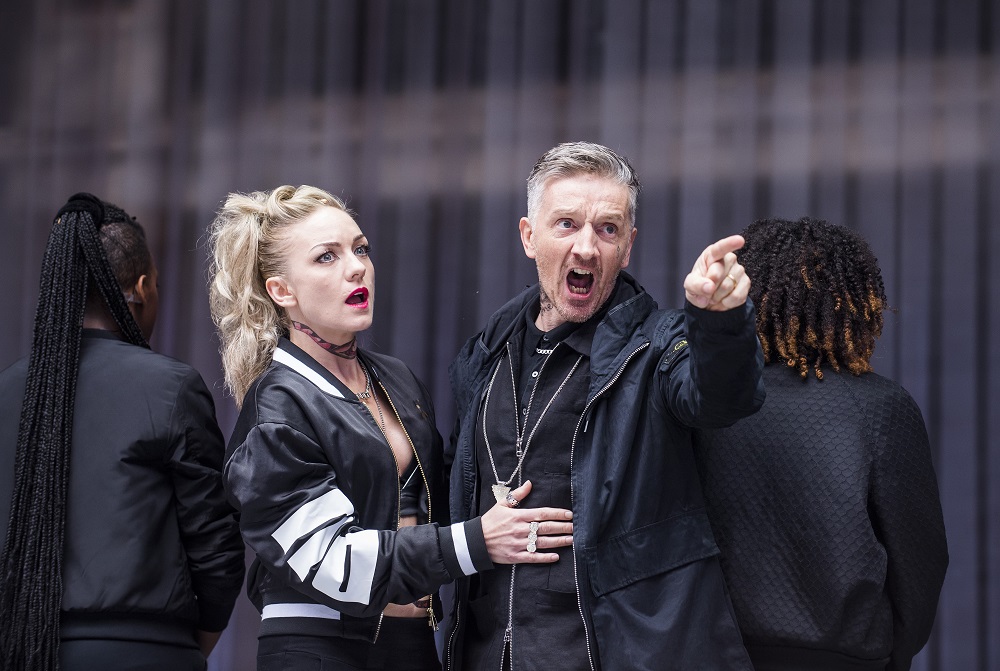 Carrying what here feels like one of Shakespeare's most muscular texts aloft are four superb performances delineating their characters with instant clarity. Hill's Imogen is a fierce force for the good in a brutal world, incorruptible and loving. You believe her when she tells us she has "such a heart that both mine ears/Must not in haste abuse", and cheer her on in the final scene when she attacks her beloved Postumus for letting his ears deceive him all too readily; Shakespeare needs no feminist manipulation here, but the extra feistiness is all the more welcome.
The deceiver, Iachimo (or Giacomo, as it seems we must now get used to calling him), is no scurvy knave in Matthew Needham's superbly understated portrayal, but a cocky, honey-tongued courtier out to win a wager. The casual lying and dissembling as he tries to seduce Postumus's faithful wife are worthy of the best Iago – a role I hope we'll see Needham play – while there's nothing clever about gangster mummy's boy Cloten, who presses a hopeless suit with his stepsister. Every strut and crick of the neck from Joshua Lacey get the laughs they deserve. And as his mother the scheming Queen, Hill's fellow EastEnder Claire-Louise Cordwell (pictured above with Jonathan McGuiness's Cymbeline) also makes a pantomime villain convincing, down to the heroin-addicted final hours of this Lady Macbeth (you feel that Shakespeare was having fun echoing so many of his other plays in his late romance).
Some of the other roles have more spirit than verbal clarity – this is where reliance on miking has to be a bad thing – but I love the new energy and the sudden vein of tenderness when we meet Imogen's long-lost brothers in the "woods"; William Grint (pictured far right with Scott Karim and Martin Marquez's Belarius) plays Arviragus as a totally loveable deaf, signing sibling to win our and Imogen's instant affection so that Karim's Guiderius can do the tough stuff and shock us with Cloten's head (you almost buy the "he asked for it" line here). Terrible shame that we only get the first two lines of Shakespeare's greatest song lyrics before The Tempest, "Fear no more the heat o' th' sun"; there's some compensation just before it when Imogen, having taken the potentially lethal drug as mistaken remedy for sickness, breaks into a sweet, woozy rendition of "Get Lucky" by Daft Punk.
There's also a brilliant riff on the expected Globe dancing curtain call in a company expression of Skepta's "Shutdown". Here Christopher Akrill's choreography, sometimes a bit stock in the many mimed interludes, comes into its own. It's fully earned by Dunster's and the actors' handling of Shakespeare's most involved multiple recognitions.
This reconciliation stretch also knows when to be still, amending just a couple of missed opportunities for peace and quiet earlier in the evening. This grand finale, above all, is pace- and pitch-perfect, showing us that underneath all the novelties Imogen is as fine, involving and – well, yes, traditionally entertaining a piece of work as the best we've witnessed in the indomitable Wooden O. True, in some ways it wouldn't lose much behind a proscenium arch, but lucky groundlings to get the full works for a fiver.
This is a company show in the Globe tradition, and up there with the best in the way it tells a story so clearly
rating
Explore topics
Share this article