Hello/Goodbye, Hampstead Theatre |

reviews, news & interviews
Hello/Goodbye, Hampstead Theatre
Hello/Goodbye, Hampstead Theatre
Cupid takes the form of a property dispute in this satisfyingly soulful romcom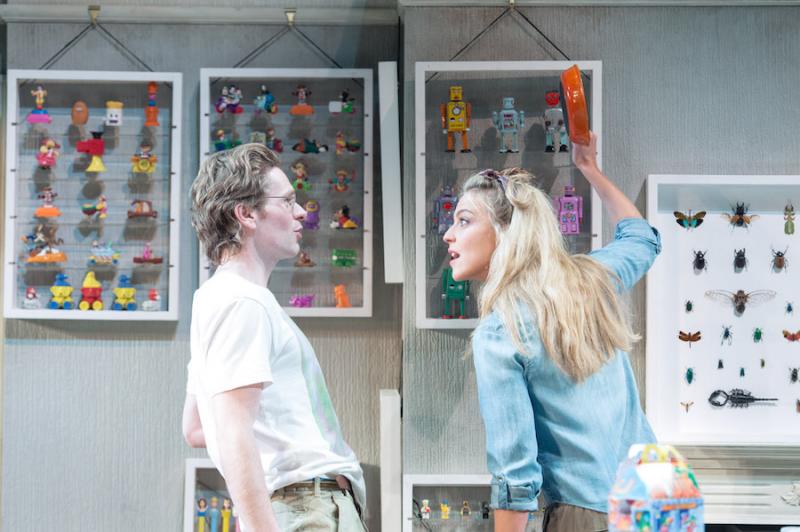 Alex (Shaun Evans) and Juliet (Miranda Raison) exchange home truths
If the London property boom continues post-election, the fight for living space may well develop into all-out war. But what begins as skirmish in Peter Souter's 2013 play, promoted from the Hampstead's downstairs space, soon turns to romance as two twenty-somethings with competing claims to a flat discover the benefits of estate agent incompetency. It's a fairy tale for our times.
Alas, as the title suggests, domestic harmony is on a very short let. The first half of Souter's comedy/drama skews towards the former, acting as effective pilot for an Odd Couple reboot: abrasive City worker Juliet (Miranda Raison, pictured below with Shaun Evans) clashes with borderline autistic album-sleeve designer Alex (Evans) when two agents somehow rent them the same flat. This murky MacGuffin is a tough sell, but the bottle episode result is undeniably satisfying, trapping these conflicting personalities in a confined space.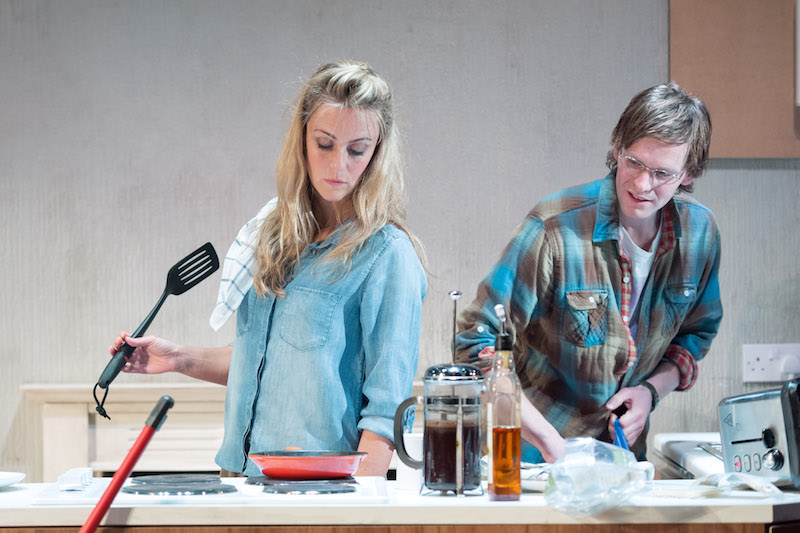 With detached, Sherlockian astuteness, Alex pinpoints the root cause of Juliet's disastrous vortex of a personal life, to the increasing fury of his subject; she, in turn, demands an explanation for his disparate collections – MacDonald's Happy Meal toys, astronaut autographs, faded baseball cards. It's not the collection that matters to Alex, but the completeness of it, the reassurance of total order. Juliet, naturally, is the very antithesis.
"Opposites attract" is a romcom staple, and Souter doesn't have a revolutionary take on it, but his combination of deft bookending structure, snappy dialogue and heartfelt character work elevates a relatively formulaic story. The elegiac, appropriately wintry second half, which revisits the couple a decade on, lends surprising weight to objects of farce; who knew a wind-up plastic stegosaurus could bring a lump to the throat? The emotional articulacy of possessions is one of several well-developed ideas in a script that makes resonant points, but sometimes works too hard to underscore them.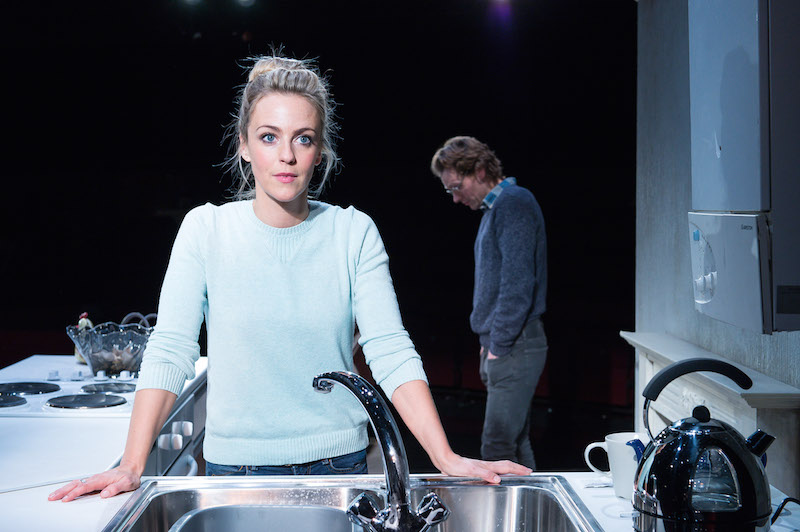 Chemistry is all in a piece relying so heavily on its central pairing, and it kicks into gear during the acrimonious parting: Raison struggling to mask grief as weariness, while Evans (pictured left with Raison), master of the wry aside, meets her head on with icy fury. They convince as a couple with long-standing conflicts, both minor (the mysterious inner workings of the thermostat) and lacerating. Their screwball sparring is less consistent, with Raison occasionally skidding into shrill and upsetting the rhythm of their repartee. Narcissistic, sexually aggressive Juliet is a tough sell when played too long at that level of intensity, particularly in contrast to Evans' cuddly geek.
Tamara Harvey's three-sided thrust stage production is effectively immersive, if necessarily less intimate than its downstairs debut, and Lucy Osborne's fully functional kitchen creates a mouth-watering MasterChef moment. Acting doesn't get tougher than this. Luke Neal displays deft comic timing as Juliet's gentle giant of a boyfriend, as does mystery woman Bathsheba Piepe. While there is room for improvement, this bijou starter-property is within easy reach of a satisfyingly soulful conclusion.
The emotional articulacy of possessions is one of several well-developed ideas in a script that makes resonant points, but sometimes works too hard to underscore them
rating
Explore topics
Share this article