Hedda Gabler, National Theatre |

reviews, news & interviews
Hedda Gabler, National Theatre
Hedda Gabler, National Theatre
Top director Ivo van Hove makes an uneven Southbank debut
Tuesday, 13 December 2016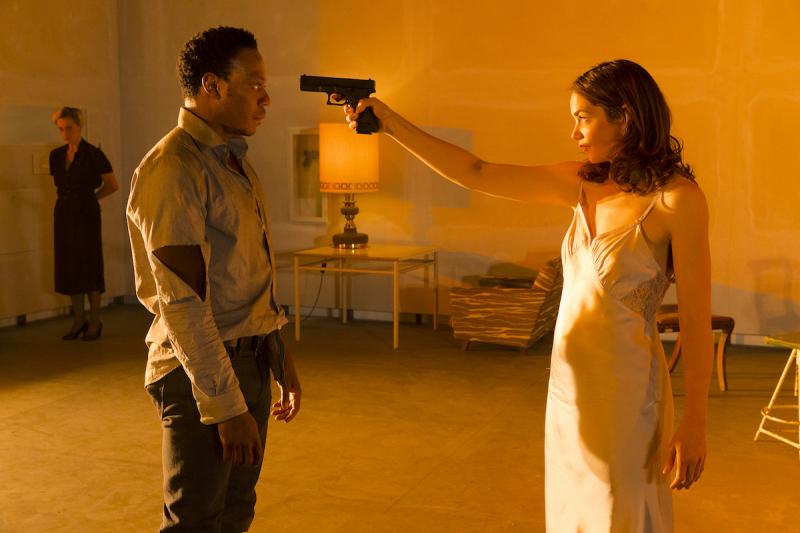 Trigger harpy: Chukwudi Iwuji and Ruth Wilson in 'Hedda Gabler'.
Theatre conventions are a funny thing. Today, it's actually quite difficult to see a modern classic dressed in the clothes and performed on the set of its specific historical period. It has to be in contemporary dress. And in a contemporary setting. It's almost as if producers and directors no longer trust audiences to use their imaginations – poor public, it has to be spoonfed.
Ivo van Hove, perhaps the most exciting theatre director since Katie Mitchell, has taken Henrik Ibsen's 1891 masterpiece and, with help from playwright Patrick Marber, updated it. He's also cast Ruth Wilson as Hedda, so expectations on press night were high.
The first surprise is that this contemporary version has a plainness that defies location in any specific time and place. Is it England? Is it Norway? Is it America? Yes, and no. All and nothing. There are no mobile phones, no i-pads and Marber's dialogues are deliberately simple, direct and characterless. If there is an advantage in this no-placeness and no-timeness it is in the neutrality of the backdrop for Wilson's Hedda. One of literature's women we love to hate – cf Jane Austen's Emma, Flaubert's Madame Bovary and Tolstoy's Anna – Hedda is a great part: disappointed in her marriage to the boring academic Tesman, attracted by the bohemian Lovborg and flirting with the oppressively powerful Judge Brack, she is manipulative, cowardly, petulant, mischievous and, eventually, destructive.
Ruth Wilson is good at conveying Hedda's lack of enthusiasm for motherhood
With her crooked smile, and almost feline presence, Wilson is more irritating than sympathetic, conveying increasing suggestions of malignity and dark fantasies as the story unfolds. At one moment her eyes gleam with mute satisfaction as she sees her dream of making things happen, of affecting the men in her life irrevocably, come true; at another she punches the air in triumph. By turns radiating thoughtfulness and then selfishness, Wilson is good at conveying Hedda's lack of enthusiasm for motherhood. She is no high-class lady, and Van Hove has her padding around the stage in bare feet and slip.
The director also gives her one exaggerated outburst (pictured below), which sees her shred a dozen bouquets of flowers, throwing them around the stage and them stapling some of them to the bare walls of her new house. Although the empty space and simple furnishings, as well as the sublime lighting (both designed by Jan Versweyveld), are effectively atmospheric, I thought that Van Hove's directing too often veers away from the stillness of emotional truth, and towards the showy exaggerations of histrionic performance: his actors make expansive gestures with their arms, they touch each other's hands compulsively. They hug the walls. They chat to the audience more often than to each other. They all seem to have the same repertoire of moves and expressions.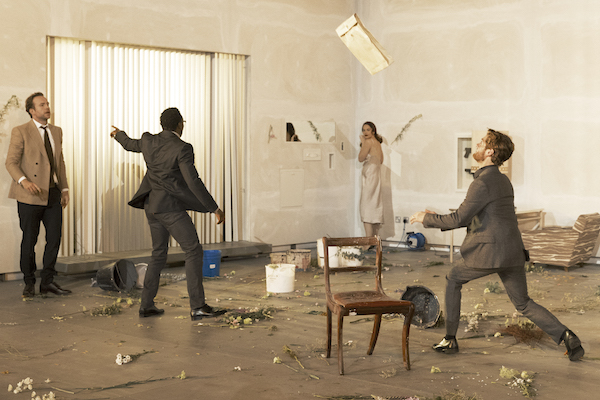 While this improves as the evening tiptoes towards its tragic climax, the worst is at the end. It's no spoiler to say that the bully Brack, with a mix of persuasion and blackmail, pushes Hedda into a suicidal dead end. We know this because Ibsen's playtext shows us that this is happening. But is this enough for Van Hove? Not at all. He must underline the point, using a coke can of blood, wagging his finger at us as if to say, "Hey people, you couldn't understand this if I didn't make it crystal clear!" Sadly, this excessive over-directing just annoyed me. I wanted to love this show, but its director managed to put me right off.
Wilson's performance is ably supported by an international cast which includes Kyle Soller's nerdish and diffident Tesman, Chukwudi Iwuji's passionate and exciting Lovborg and a rather miscast Rafe Spall as Brack. There is also good work from Kate Duchêne as Tesman's Aunt and Sinéad Matthews as Mrs Elvsted. With a soundtrack dominated by Joni Mitchell's "Blue", and stage pictures as carefully constructed as a painting, this is an evening that is more visually satisfying than emotionally engaging. If you are in the mood to forgive its excesses, then Wilson is a memorable Hedda, switching neatly between kittenish curiosity and icy wickedness.
MORE IBSEN ON THEARTSDESK
Ghosts, Duchess Theatre (2010). Iain Glen makes directorial debut with a straightforward take starring Lesley Sharp
The Master Builder, Almeida Theatre (2010). Passions blow hot and cold in this uneven production starring Gemma Arterton and Stephen Dillane
Emperor and Galilean, National Theatre (2011). Power and pace help to exhume Ibsen's Romano-Christian epic starring Andrew Scott
Judgement Day, The Print Room (2011). Ibsen's last play has its issues but emerges strongly in new adaptation with Michael Pennington
The Lady From the Sea, Rose Theatre, Kingston (2012). Joely Richardson takes on the Ibsen heroine her mother and sister made their own
A Doll's House, Young Vic (2012). Period setting yields a contemporary tragedy adapted by Simon Stephens and starring Hattie Morahan
Hedda Gabler, Old Vic (2012). Ibsen's heroine draws new depths from the West End's sweetheart Sheridan Smith (pictured)
Love's Comedy, Orange Tree Theatre (2012). Early Ibsen finds the playwright in his awkward adolescence
A Doll's House, Royal Exchange (2013). Ibsen in the round loses none of its power to cast a spell
Public Enemy, Young Vic (2013). The horrors of local politics still chime in Richard Jones's queasy production of an Ibsen masterpiece
Ghosts, Almeida Theatre (2013). Richard Eyre and Lesley Manville shine light into Ibsen's dark thriller of family misfortunes
Peer Gynt, Théâtre National de Nice (2014). Irina Brook's song-and-dance Ibsen entertains, but misses the darker shades
The Wild Duck, Belvoir Sydney (2014). Heartbreaking adaptation mixes naturalism and forensic examination
Little Eyolf, Almeida Theatre (2015). Strong women and one weak man in Ibsen's swift study of isolation and guilt
The Master Builder, Old Vic (2016). Ralph Fiennes stars in Ibsen's unsettling mix of the real and the supernatural
Hedda Gabler, National Theatre (2016). Ivo van Hove makes an uneven Southbank debut


Von Hove's directing too often veers away from the stillness of emotional truth, and towards the showy exaggerations of histrionic performance
rating
Explore topics
Share this article