Hamlet, Young Vic review - Cush Jumbo flares in a low-key production |

reviews, news & interviews
Hamlet, Young Vic review - Cush Jumbo flares in a low-key production
Hamlet, Young Vic review - Cush Jumbo flares in a low-key production
Youthful Elsinore reflects life in present-day London
Wednesday, 06 October 2021
Hamlet (Cush Jumbo) contemplates mortality while holding Yorick's skull
It is a truism that every Hamlet is different, depending more than any other play on the casting of the lead. Each production moulds itself around the personality of the actor playing the prince.
In Cush Jumbo,
working here
with Greg Hersov, who successfully directed her in
As You Like It
and
A Doll's House
at the Royal Exchange, Manchester, we have an accomplished actor of wit and intelligence, relishing
Shakespeare's
language and expressing the complex emotions and intellectual challenges of
Hamlet
, sometimes street-cool, sometimes febrile, always modern.
A woman in the role is nothing new – Maxine Peake and Michelle Terry are the most recent female princes of Denmark – and here it is irrelevant: Jumbo is Hamlet, full stop. It may be worth mentioning, though, that, although best known for her role in The Good Fight and The Good Wife on American television, she was Olivier-nominated for her Mark Antony in Phyllida Lloyd's all-female Julius Caesar at the Donmar in 2012.
This Hamlet has become a domestic drama, sans Fortinbras and marching armies, a decision that seems to have been taken late as the Norwegian prince appears in the cast list and the synopsis in the programme, which details the contents of each scene. Hersov and his company are clearly aiming to appeal to the young, perhaps to those for whom Hamlet is unknown territory. The audience on press night was bubbling with anticipation beforehand and appreciative at the end. A mainly young cast, diverse in terms of race and gender and in street clothes, reflected them from the stage.
Hamlet, Laertes and Ophelia all at times seem like wayward teenage children in their relationships with their parents. Rosencrantz and Guildenstern (Taz Skylar and Joana Borja, pictured below with Cush Jumbo) take jokey selfies when they arrive in Elsinore. Hamlet and Ophelia dance together in an added scene showing the unselfconscious feelings they had for each other before the old king's death. There is no elegantly-staged fencing match in the last scene. Instead Hamlet and Laertes slash each other with knives not unlike those all-too-frequently carried on London streets.
Anna Fleishle's set consists of three movable, mirrored cuboid towers in a gilded frame on a flagged floor. There is a hint of wealth here, but also coldness. The appearance of the Ghost is at first wonderfully mysterious and strange, changing vaporous shape on one of the towers, but – disappointingly – Adrian Dunbar steps out, looking solidly human, to encourage Hamlet to avenge his death. Later, Hamlet's stabbing of Polonius is somewhat anticlimactic as this happens out of sight, behind a tower. There is no arras and no visible body.
The court of Claudius and Gertrude has little grandeur: they may be addressed as king and queen but they are shown little respect. When the newly-wed couple first enter, it is Polonius who is in the most powerful position on stage. Later, Osric announces that a letter has arrived from Hamlet and waves it at Claudius who is obliged to collect it from him (or, in this case, her).
Hersov's straightforward approach depends absolutely on his cast to deliver. Some of the verse speaking does not match Jumbo's clarity, but Joseph Marcell (pictured above right) is a delight as a funny, self-important Polonius, and Tara Fitzgerald scores as a morally confused Gertrude who describes Ophelia's death beautifully, isolated in a spotlight. Adrian Dunbar is a Claudius akin to a commercial company boss, ploughing on after his crime as if all is in order. Norah Lopez Holden (pictured above left) gives Ophelia spirit, and Horatio (Jonathan Livingstone) is a lovable friend, a slightly dishevelled student out of place in Elsinore.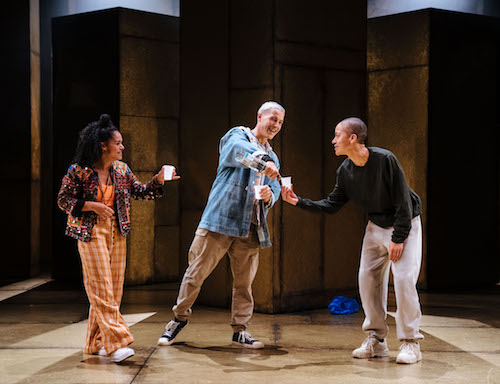 Hersov has an essay in the programme about his editing process. My only real beef is: why change "beautified Ophelia" (described by Polonius as "a vile phrase" when reading out Hamlet's letter to his daughter) to "beatified"? No matter, that is a quibble. This Hamlet knows and speaks to its audience.