Hamlet, Royal Exchange, Manchester |

reviews, news & interviews
Hamlet, Royal Exchange, Manchester
Hamlet, Royal Exchange, Manchester
An underwhelming production, but Maxine Peake is gripping as the young Prince
Wednesday, 17 September 2014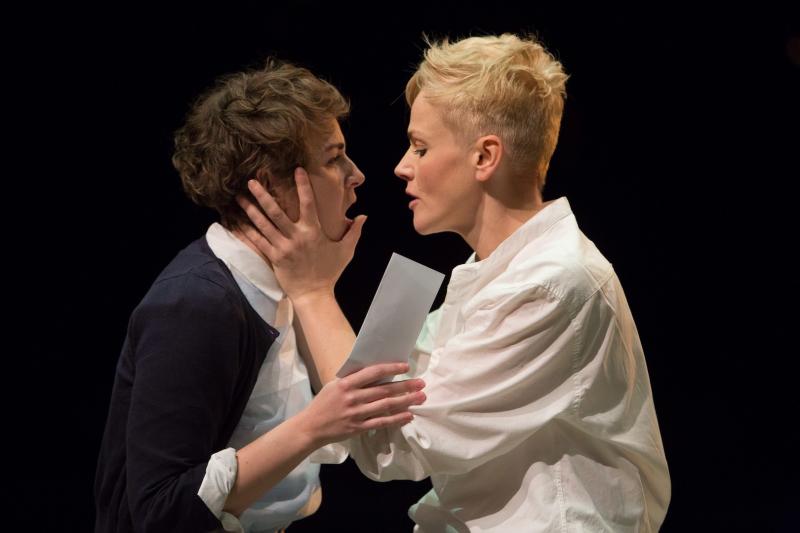 Katie West is a sweet and childlike Ophelia to Maxine Peake's boyish Hamlet
One of the oddities about theatre is that there can be a gripping performance at the heart of an underwhelming production – and so is the case with Maxine Peake's Hamlet, directed by Sarah Frankcom. This was a much anticipated production – Peake going home, as it were.
She started acting at the Royal Exchange Youth Group and is now an associate artist at the theatre, and has recently been seen giving a towering performance in
The Village
on BBC One. Frankcom's production, meanwhile, is described in the press release as a "radical reimagining" of the play.
Peake's interpretation has much to savour. In cropped hair and loose-fitting clothes she makes Hamlet suitably boyish. And this is a remarkably physical performance of the young Prince, who bounds about the stage, all strutting machismo in his swordfight with Laertes (Ashley Zhangazha) and acting the fool in the "mad" scenes with much gurning and playfulness.
Hamlet's bullshit detector is finely calibrated too, and Peake is magnificent is showing us his seething contempt for Claudius and the revulsion he feels at his mother's new role as his uncle's wife. The line "…the rank sweat of an enseamèd bed" is fairly spat out, and this is the cruellest treatment I have seen in his relationship with Ophelia when he realises that she has become Claudius's tool. Katie West's childlike sweetness in the role serves to underline this.
Peake isn't the only cross-gender casting. Among several switches Polonius becomes Polonia, Marcellus is Marcella and the Gravediggers are both women. But Hamlet's gender isn't the big idea here. So many women have played Hamlet that – quite rightly – that in itself is no longer notable.
The problem is in detecting what is the big idea in Frankcom's modern-dress production. She has tinkered with the text – nothing revolutionary in that, many directors have – but in excising the role of Fortinbras and removing any political content, we don't have any context for knowing quite how rotten the state of Denmark is. We may see before us a murderous Claudius stealing the throne from his brother, but we don't hear about the country being ready to go to war with Norway at the play's opening, and therefore a Danish court in a turmoil to match Hamlet's own. This Hamlet is essentially a family drama that happens to be at a royal court, and thus doesn't harness much of its power.
Despite the excisions – and moving Hamlet's "To be or not to be…" soliloquy to the second act – Frankcom still manages to make the production run at nearly three-and-a-half hours, with the first act lasting a whopping one hour 55 minutes.
The second act is fatally underpowered. The graveyard scene is, for some unfathomable reason, played among a pile of old clothing that drops from the ceiling, with Yorick's skull a rolled-up piece of knitwear (design by Amanda Stoodley), and some of the minor players are weak.
But John Shrapnel, as ever, turns in a fine performance as a menacing Claudius, while a tormented Ghost, Gillian Bevan, brings out all the comedy in a stuffy Polonia, dressed in smart business suit and desperate to see his family get advancement. Jodie McNee stands out as a delightfully punkish Rosencrantz, as does Michelle Butterly's fun Scouse Gravedigger.
GREAT DANES
Alan Mahon, Tobacco Factory, Bristol. Hamlet as wayward teen spirit
Andrius Mamontovas, Globe to Globe. Lithuanian take on the Danish play puts on a frantic disposition
Benedict Cumberbatch, Barbican. Visuals threaten to swamp Shakespeare – and, yes, Sherlock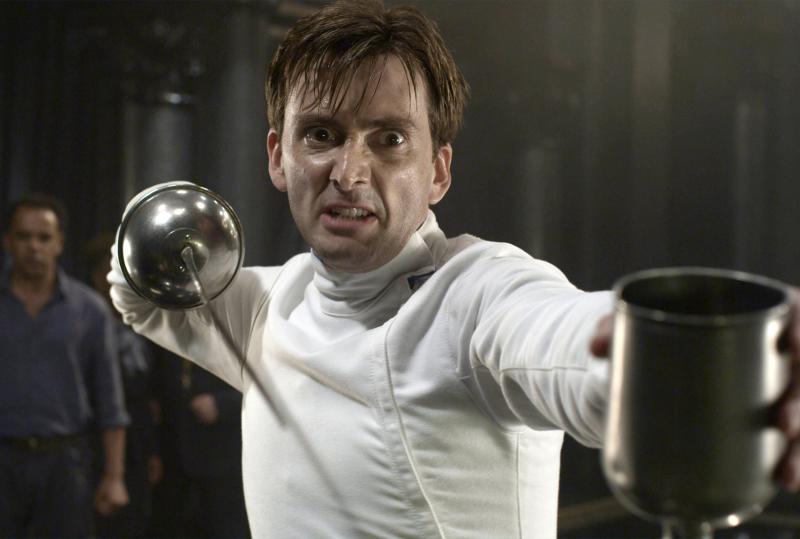 David Tennant, RSC/BBC. Star looks for life in an infinite space beyond the Tardis
Lars Eidinger, Schaubühne Berlin. Acrobatic Hamlet, outshone by the earth and the rain
Michael Sheen, Young Vic. Sheen is riveting as the crazed Danish Prince in Ian Rickson's terrifying psychiatric-hospital staging
Rory Kinnear, National Theatre. Kinnear isn't a romantic Prince, but an unsettled, battling one in Nicholas Hytner's staging which is modern, militaristic and unfussy
Andrew Scott, Almeida Theatre Predictably unpredictable performance subject to Robert Icke's slow-burn clarity
Peake bounds about the stage, all strutting machismo in his swordfight and acting the fool with much gurning
rating
Explore topics
Share this article