Beryl, West Yorkshire Playhouse |

reviews, news & interviews
Beryl, West Yorkshire Playhouse
Beryl, West Yorkshire Playhouse
A moving drama based on the life of Yorkshire cycling legend Beryl Burton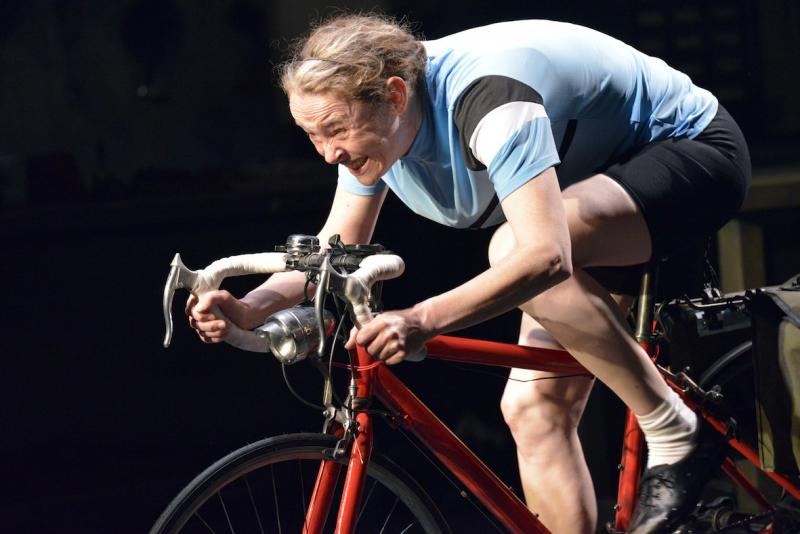 Penny Layden in action as Beryl
Wife. Mother. Yorkshirewoman. Cyclist. Legend. Beryl Burton was perhaps the greatest sportswoman this country has ever produced, and we ought to be ashamed of the fact that many of us will have to Google her to find out what her achievements were.
Born in Leeds in 1937, she dominated women's cycling in the 1950s, '60s and '70s – becoming five times world pursuit champion, 12 times national champion, and best British all-rounder for 25 consecutive years. She won nearly 100 domestic titles, and her 12-hour distance record – of a staggering 277.25 miles – has never been broken. While setting it, she caught up with Mike McNamara, who was hoping to smash the men's record, and offered him a consolatory liquorice allsort as she whooshed past. (Apparently he was grateful.)

Even those who have never worn lycra will be moved to tearsTo manage such sporting success these days requires a lifestyle governed by trainers, nutritionists, sponsors, and maybe even PR people – but there was none of that for our Beryl. No, she funded herself by working on a rhubarb farm, wolfed down baby bottles full of homemade rice pudding during races, and led a very modest existence with her husband Charlie and their daughter Denise in Morley, West Yorkshire.
There was no financial backing for British cyclists in her day, when many of the country's top competitors were struggling unknowns. However, Beryl was a star on the continent, where the public had greater enthusiasm for the sport – particularly in France, Belgium and the Netherlands.
The fact that the odds were stacked against Beryl from an early age made her international success all the more remarkable. In her childhood, she suffered a bout of rheumatic fever that left her with a weak heart, and doctors strongly discouraged strenuous activity. But she took no notice, determined to prove them – and her cynical schoolteachers – wrong.
"I'm going to make my mark!" says Beryl, in Maxine Peake's debut stage play, adapted from her short piece that was broadcast on Radio 4 in 2012, and commissioned to tie in with the (incidentally all-male) Tour de France.
"Doing what?" asks Charlie.
"I dunno, I'll find something!" says Beryl.
It's a wonder Hollywood bothers writing feel-good sporting dross like Dodgeball when it could just Americanise the hell out of this. Thankfully, Rebecca Gatward's production tells the story of this incredible woman's life with impressive accuracy and respect.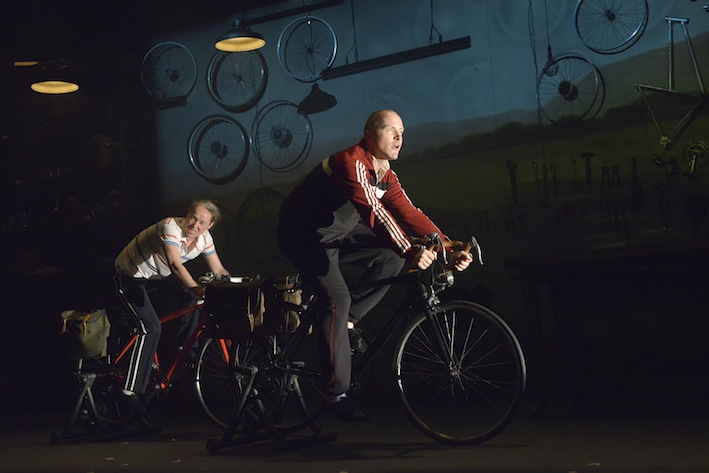 With a cast of only four actors, each adopting multiple roles, the play conveys the camaraderie and selflessness of the cycling community that helped lead Beryl (played by Penny Layden) to her many triumphs – in the face of such prejudice, hardship and indifference. There's also a good measure of dry Yorkshire wit throughout, and the brilliant Dominic Gately (pictured right, with Layden) – who plays about seven different parts – is responsible for most of it.
Peake's script follows Beryl until her last breath, when she died suddenly from heart failure while out delivering invitations to her 60th birthday party in Morley – of course, on a saddle. As her bike's rotating rear wheel rattles to a stop, even those of us who have never previously worn lycra are moved to tears.
And then, as her mountains of medals, cups and trophies glimmer majestically under the stage lights and the audience stands and applauds one of our true sporting heroines, we are left wondering to ourselves: what are you going to do with your life, exactly?
This production tells the story of Beryl's life with impressive accuracy and respect
rating
Share this article