Cat on a Hot Tin Roof, West Yorkshire Playhouse |

reviews, news & interviews
Cat on a Hot Tin Roof, West Yorkshire Playhouse
Cat on a Hot Tin Roof, West Yorkshire Playhouse
Tennessee Williams takes a rare if typically steamy curtain call in Leeds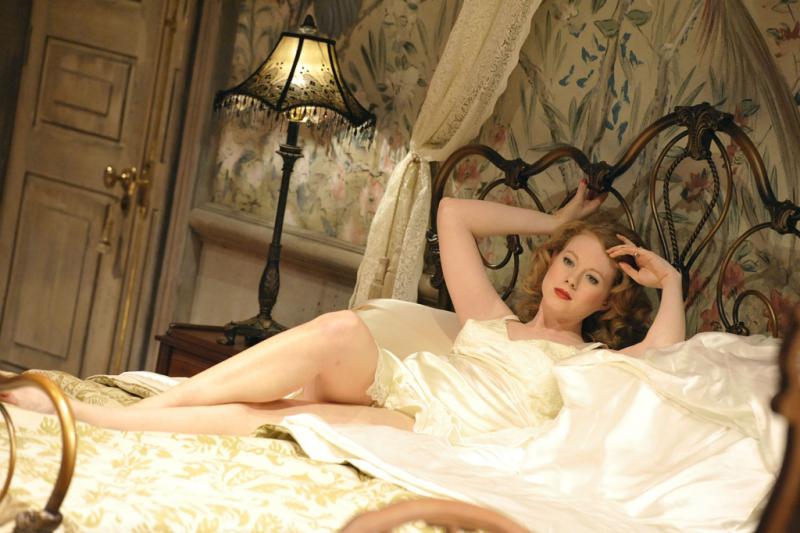 Strop and swagger: Zoe Boyle has a lie-down in 'Cat on a Hot Tin Roof'
It's not easy bringing the Mississippi delta to Leeds city centre – yet here its hanging moss and tea-coloured waters fill out every inch of the expansive Quarry stage. Indeed, all that's missing from Francis O'Connor's remarkable set is a hungry alligator or two, though in the drama for which it provides a backdrop – Tennessee Williams's Pulitzer Prize-winning classic about death, desire and deceit – the human characters are capable of inflicting quite enough damage on themselves.
The fragmentation of the cotton-rich Pollitt family is presented with brutal clarity, beginning with the fractured marriage of the attention-craving Maggie the Cat (Zoe Boyle) and her husband Brick (Jamie Parker), an injured ex-football player who's taken to alcoholism following the death of his best friend Skipper.
Parker (pictured right with Boyle), fresh from starring as Henry V at the Globe, rises to the task of playing Brick. With each line of Southern-drawled melancholia, frustrated hobble towards the liquor cabinet, and reckless swill of bourbon from his tumbler, the deep-seated torment of this tragic individual is brilliantly captured by the Middlesbrough-born actor – and particularly impressive as his first major stab at the American repertoire.
Brick spends his days searching for the "click" that sends him into a drunken oblivion, where he is completely indifferent to his wife's needs. Perhaps better known for her television credits – including the unassuming Lavinia Swire in series two of Downton Abbey – Boyle's Maggie commands the stage with more strop and swagger than you'd perhaps expect for this female lead.
As the ceiling fan above Brick and Maggie's bed slowly revolves, it appears to embody the perfunctory nature of their relationship. "Living with someone you love can be lonelier than living entirely alone," the frustrated Maggie is left to muse, a solitary saxophone melodising her situation, "if the one that you love doesn't love you."
Things aren't – or rather, ain't – more pleasant anywhere else in the Pollitt household. On the 65th birthday of Big Daddy, played by a perfectly cast Richard Cordery (pictured below), the family gathers in Brick and Maggie's bedroom to celebrate. However, unbeknown to the self-made patriarch or the adorably feeble Big Mama (Amanda Boxer), he's dying of cancer, and his children and their partners are privately concerned with securing their share of his 28,000-acre plantation.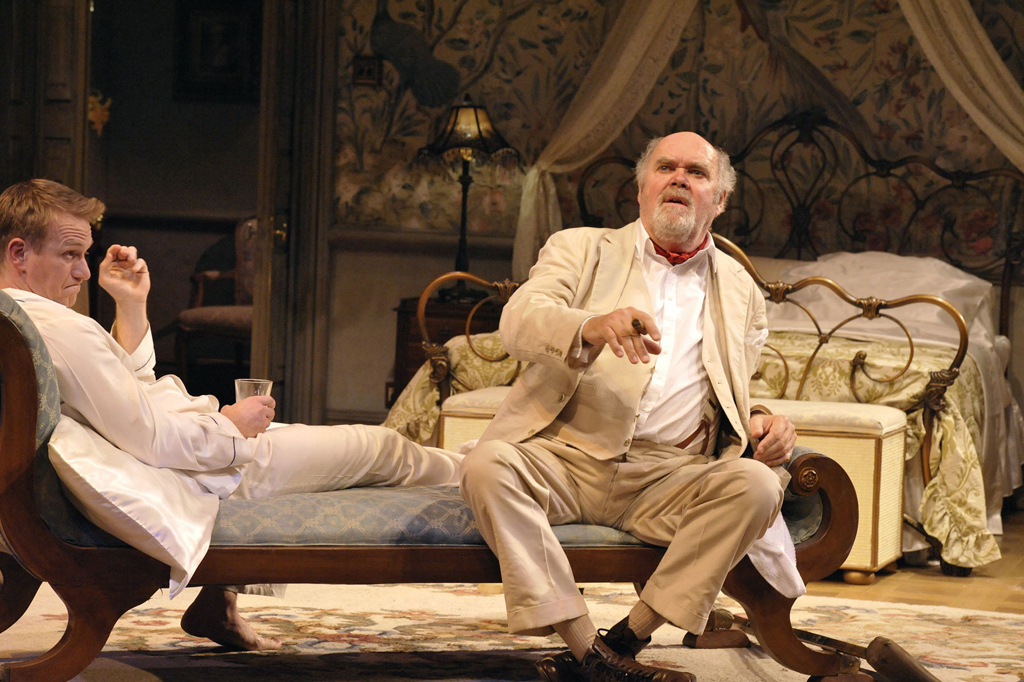 The pervading "mendacity", involving not only Brick and Maggie, but Brick's older brother Gooper (Benedict Sandiford), his wife Mae (Hannah Stokely) and their gaggle of "no-neck monsters", is unearthed across three emotionally charged acts – a vivid interpretation by director Sarah Esdaile that draws from both the 1955 original text and 1974 revision.
Cat on a Hot Tin Roof is the first Tennessee Williams play to have been produced by West Yorkshire Playhouse since it moved to Quarry Hill 22 years ago, and the meticulous detail it achieves is worthy of such a homecoming. Maggie's appropriately feline stance throughout owes much to the influence of movement director Etta Murfitt, whose extensive work with Matthew Bourne makes her an unusual, but inspired, choice. The jazz score accompanying the background skyline's seamless transition from sunset to moonlight, as the Pollitts' hidden tensions are thrashed out, is a medley by Leeds Improvised Music Association, recorded alongside the cast's early rehearsals.
The production's exotic setting is so convincing, in fact, that it should probably carry a warning – as it's a rather rude surprise to suddenly find yourself navigating the busy city traffic upon exit. Like the bourbon of which Brick consumes such impossible quantities, this masterpiece just gets better with age.