A Doll's House, Royal Exchange, Manchester |

reviews, news & interviews
A Doll's House, Royal Exchange, Manchester
A Doll's House, Royal Exchange, Manchester
Ibsen in the round loses none of its power to cast a spell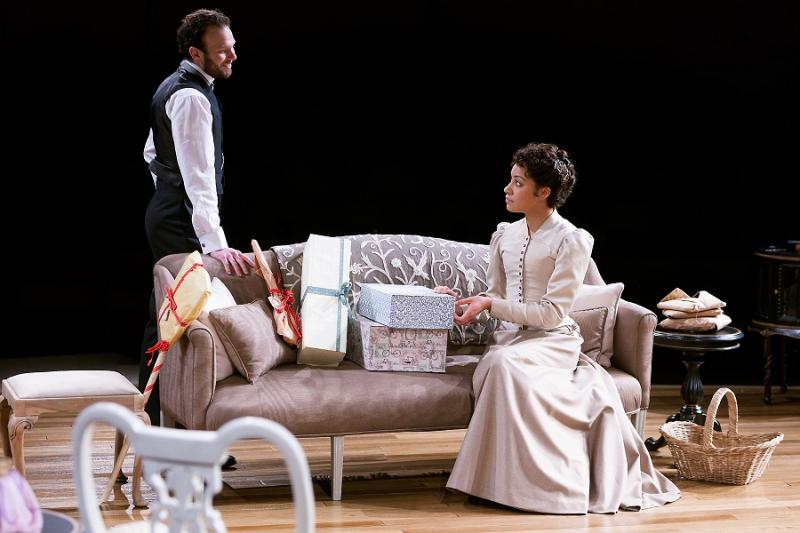 House of cards: David Sturzaker and Cush Jumbo in 'A Doll's House'
What price a woman's liberation? And what price a man's self-defined honour? By pitching one against the other and against the backdrop of wedlock (the emphasis being on the "lock"), Ibsen forges his classic love-hate drama which still grips as, spellbound, we watch the balance of the relationship between Nora and her husband Torvald shift.
Director Greg Hersov has chosen to team up again with Cush Jumbo, following successes together here with Pygmalion (she played Eliza) and As You Like It (Rosalind). Hardly ever off-stage, she meets the challenge of Nora in style. She is no buttoned-up, submissive wife, but playful and skittish. She plays hide-and-seek with her three children, she naughtily scoffs macaroons, even though they are banned by Torvald. She teases him and plays up to his treatment of her as a child, his little skylark, squirrel, robin. But as their unequal relationship evolves, this earlier insouciance gives her final frightening confrontation with him and her resolve greater impact.
Ibsen was particular about his stage directions. Doing it in-the-round calls for considerable ingenuity and Hersov expertly manages the demands, moving his production along with pace and sensitivity. A real highlight is the way Jumbo deals with Nora's increasingly wild "rehearsal" of her tarantella party piece for Torvald, a sort of danse macabre betraying the state of her desperation. Jumbo holds the stage like a ringmaster as she engages one-to-one with each of the characters passing through the spacious apartment over the three days of Christmas.
As her old friend Mrs Linde, down on her luck and looking for help, Kelly Hotten subtly brings out the regret and conviction of a woman who sacrificed her love and married for money to support her family. Jack Tarlton captures the mischief-maker Krogstad's scheming ingratiation and vulnerability superbly. And then we have dear old Dr Rank, family friend harbouring a love for Nora and on his last legs, gently played by James de Courcey. It is spellbinding to watch Jumbo's emotion-charged give-and-take with each in turn. Then there's Torvald himself, of course, firm, but tolerant in David Sturzaker's interpretation, until the pivotal moment when he's put to the test by the revelation that Nora has secretly taken on a loan.
When the play reached the London stage nearly 125 years ago, it caused a storm. After all, this was a woman making a stand. When, towards the end, Torvald reminds Nora that she is "first and foremost, a wife and a mother", she responds, "I don't believe that any longer. I believe that I am a reasonable human being as you are – or, at all events, that I must try to become one." So even today the action holds the tension until Nora finally closes the door on that part of her life for ever. That's it, but Ibsen gives the last word to her crushed, no-longer-controlling husband. "The most wonderful thing of all…," he says, but the thought goes unfinished. He has in mind a forlorn hope of reconciliation. If Ibsen had been writing for TV, he would have left the door open for another series.
MORE IBSEN ON THEARTSDESK
Ghosts, Duchess Theatre (2010). Iain Glen makes directorial debut with a straightforward take starring Lesley Sharp
The Master Builder, Almeida Theatre (2010). Passions blow hot and cold in this uneven production starring Gemma Arterton and Stephen Dillane
Emperor and Galilean, National Theatre (2011). Power and pace help to exhume Ibsen's Romano-Christian epic starring Andrew Scott
Judgement Day, The Print Room (2011). Ibsen's last play has its issues but emerges strongly in new adaptation with Michael Pennington
The Lady From the Sea, Rose Theatre, Kingston (2012). Joely Richardson takes on the Ibsen heroine her mother and sister made their own
A Doll's House, Young Vic (2012). Period setting yields a contemporary tragedy adapted by Simon Stephens and starring Hattie Morahan
Hedda Gabler, Old Vic (2012). Ibsen's heroine draws new depths from the West End's sweetheart Sheridan Smith (pictured)
Love's Comedy, Orange Tree Theatre (2012). Early Ibsen finds the playwright in his awkward adolescence
Public Enemy, Young Vic (2013). The horrors of local politics still chime in Richard Jones's queasy production of an Ibsen masterpiece
Ghosts, Almeida Theatre (2013). Richard Eyre and Lesley Manville shine light into Ibsen's dark thriller of family misfortunes
Peer Gynt, Théâtre National de Nice (2014). Irina Brook's song-and-dance Ibsen entertains, but misses the darker shades
The Wild Duck, Belvoir Sydney (2014). Heartbreaking adaptation mixes naturalism and forensic examination
Little Eyolf, Almeida Theatre (2015). Strong women and one weak man in Ibsen's swift study of isolation and guilt
The Master Builder, Old Vic (2016). Ralph Fiennes stars in Ibsen's unsettling mix of the real and the supernatural
Hedda Gabler, National Theatre (2016). Ivo van Hove makes an uneven Southbank debut
Jumbo holds the stage like a ringmaster as she engages one-to-one with each of the characters
rating
Explore topics
Share this article