Hamlet, RSC, Hackney Empire review - Paapa Essiedu's winning Dane |

reviews, news & interviews
Hamlet, RSC, Hackney Empire review - Paapa Essiedu's winning Dane
Hamlet, RSC, Hackney Empire review - Paapa Essiedu's winning Dane
RSC's touring Hamlet is well worth catching anywhere en route
No skulduggery here: Paapa Essiedu as Hamlet
Shakespeare's death-laden play is alive and well and breathing with renewed force in Hackney, the last British stop for an RSC touring Hamlet that moves on from London to the Kennedy Centre in Washington DC in May.
Let's hope the American capital takes to Simon Godwin's characteristically acute, alert production with the palpable affection that was afforded the staging closer to home one recent evening. Of Paapa Essiedu's occupancy of the title role, one thing seems clear: were the play's States-side sightings continuing westward to LA, this charismatic actor might risk being lost to the British theatre for some while to come.
A former Edmund in the RSC's similarly US-bound King Lear, with Antony Sher, Essiedu offers a Hamlet as I like it: open-faced and alive to the character's mercurial shifts in mood, deeply engaged with language that he seems to be discovering in the moment. Here for once is a grief-stricken princeling and son who really does correspond with the "sweet lord" spoken of by Hamlet's great pal, Horatio (James Cooney). I've seen wittier or more tortured Hamlets, drier or more deadpan, but Essiedu comes at the role with the one quality you can't learn at drama school: a natural gift for empathy and feeling. You don't only clock his headlong embrace of mortality; you sense it written on the skin.
First glimpsed on graduation day getting his university degree abroad, Hamlet before long returns home to a West African land ruled over by that usurper, Claudius, who (in this production anyway) seems to rival Joseph Mydell's hand-waving Polonius when it comes to prolixity. Sporting a series of brightly patterned shirts that might represent a good merchandising opportunity if the run were extended into the summer, Clarence Smith as the newly self-enthroned king gives off the air of someone who could talk his rivals into submission (pictured above, Smith with Buom Tihngang as Laertes).
No wonder in context that Hamlet turns to soliloquy to express emotions he has neither space nor room to express in public. His "to be or not to be" finds Hamlet clutching a paintbox: the apt accompaniment for a performer who locates all colours on the spectrum from mournfulness to mirth, despair alongside the "antic disposition" that this play insists upon. (Four side-of-the-stage musicians amplify the pulse of the play with their own complementary beat.)
Those put off by the visually monochrome approaches to this play of late will revel in the hipster feel of Paul Wills's Banksy-esque designs, a neat contrast with the bravura understatement of this same designer's work on the puppet-driven reimagining of Vivaldi, now at the Sam Wanamaker Playhouse. (Amidst the often-ravishing hanging fabrics, a Time Magazine cover offers a singular, and pointed, jolt.) Sartorial enchantment is shed at times for a specific reason, not least in a bare-chested face-off between Hamlet and Laertes (an unexciting Buom Tihngang) in which Hamlet's graffiti-prone instincts are seen to extend to his own torso.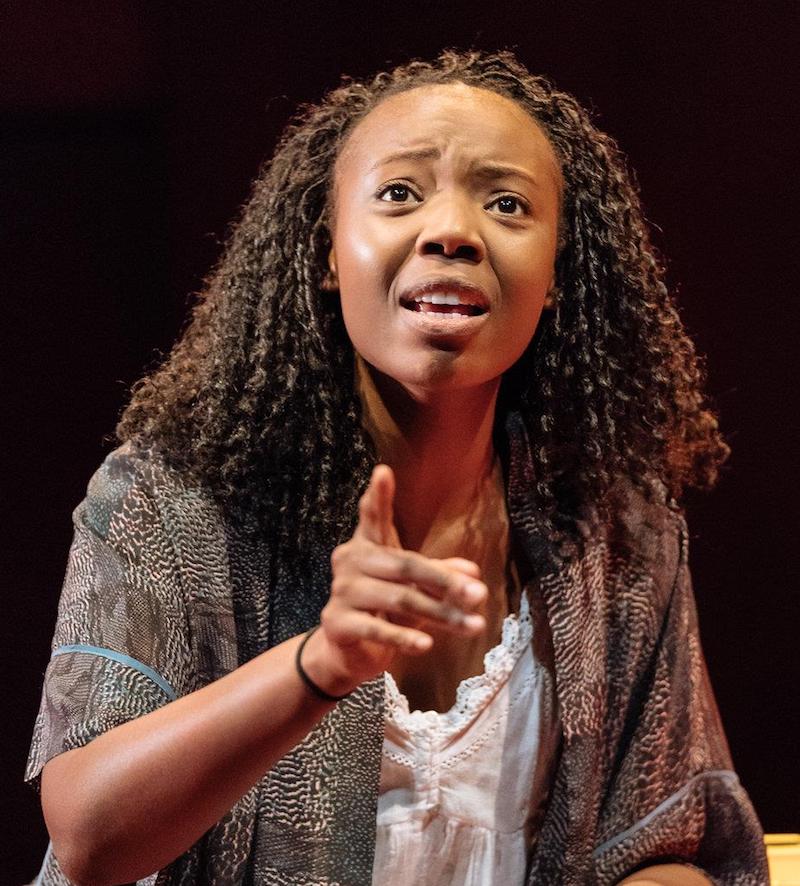 Amongst a variable supporting cast, a special shout out is due Mimi Ndiweni as that rare Ophelia who, like Essiedu's Dane, comes at her difficult role from within (Ndiweni pictured left). I was aware, most unusually, of the shared pathos both onstage and in the audience generated by her cruel fate: the sheer physicality of her mad scene is most impressive, clawing at Claudius in last-ditch desperation.
And a brava, to be sure, for the phenomenal contribution at the performance caught of BSL signer Becky Barry, who fielded the semi-integrated demands of her signing task with effortless skill: here was no mere observer of events but an avid participant in them as well. Barry received generous applause at the curtain call, even as the ovation was finally and inevitably directed toward Essiedu. This Hamlet's final appeal to Horatio "to tell my story" put me in mind of that other Ham of recent theatrical note, namely Alexander Hamilton, whose own rebelliousness is being chronicled nightly across town. Now there's a question worth pondering: can Essiedu sing?
Hamlet at Hackney Empire until 31 March, then Kennedy Centre in Washington DC 2-6 May
Amidst the often-ravishing hanging fabrics, a Time Magazine cover offers a singular, and pointed, jolt
rating
Explore topics
Share this article