Emperor and Galilean, National Theatre |

reviews, news & interviews
Emperor and Galilean, National Theatre
Emperor and Galilean, National Theatre
Power and pace help to exhume Ibsen's Romano-Christian epic
A new messiah: Andrew Scott as Julian
Miracles and omens, blind faith and free will: Ibsen's epic 1873 drama sinks its teeth into some tough, meaty themes.
That it neither breaks the jaw, nor proves totally indigestible in this British premiere is testament to the power of
Jonathan Kent
's production and the paciness of
Ben Power
's version of the text. It remains rather more demanding than it is rewarding; but it's hard to imagine how it could be more vividly brought to life.
The action traverses Europe and the Middle East and takes places between 351 and 363 AD. Andrew Scott is Julian, nephew of the Christian Emperor Constantius, played with oleaginous paranoia by Nabil Shaban. Constantinople has become to the young prince a prison, walled in by inflexible and joyless doctrine, the old pagan religion and ritual outlawed. Accordingly, Julian, young, naive, pale and feverishly restless, is lured away to Athens by student rebels, where for a time he declines into aimless hedonism.
He finds the inspiration he longs for when he encounters Maximus of Ephesus (Ian McDiarmid), a silver-haired shamanic seer with a sulphurous whiff of the Mephistophelean. In visions and bloody rituals, Maximus glimpses portents that seem to confirm the prophetic dream of Julian's mother that he will attain political and military greatness, "a second Alexander". Seizing the imagination of those who follow him with rhetoric and what appear to be divine phenomena, he ascends to the position of Roman Emperor and recreates himself as a gleaming, burnished, indomitable figure in a golden crown of thorns. He no longer serves any god; he is a god. He has escaped one prison, only to lock himself into another.
Ibsen's play, written in the wake of the Franco-Prussian war and the fall of the Paris Commune, is rich in allusion – Macbeth and King Lear seem two obvious influences – and it sets in opposition paganism and Christianity, yet finds in both of them, and even in Julian's ambitions, a common fatalism: a willingness to believe in signs and prophecies, and to submit to the path they appear to indicate. Julian's rejection of Christian strictures and declaration of his intention to "restore the ecstasy of life" results in a Dionysiac cult; yet there is an equally cultish quality to the acolytes who obsessively follow the flower-strewn corpse of his dead wife – and his aunt – Helena, poisoned by her own brother, Constantius.
Jesus himself was, as Julian sees it, a kind of conjurer: "Take off your magician's cloak, carpenter's son!" he cries, anguished. And Christian ritual is horrifically made flesh when a Christian priest, tortured and blinded by Julian's soldiers, tears open his own chest and urges his tormentors, "Gorge yourself on my blood, now that I feast on Jesus Christ."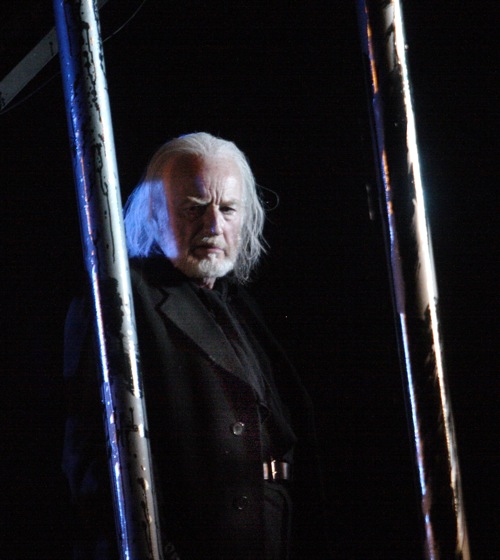 Kent's staging is full of restless energy, and at their best Paul Brown's designs, with costumes that are a mix of modern and period, and video by Nina Dunn, lend proceedings an austere majesty. There are vast slices of sky, parades of elated worshippers or black-clad weeping women, giant, blood-streaked statues of Jesus nailed to giant crucifixes.
One spectacular moment sees the Olivier's drum revolve turned into a vision of heaven and hell. Above lies the dead Helena, her body wreathed in blossoms and incense smoke. Below, Maximus (pictured right) reads entrails in a charnel house of dripping body parts wrapped in plastic. Less successfully, Dunn's animated birds, which turn into bomber aircraft, are naff, her helicopters and tanks pointing up the modern parallels with rather too insistently jabbing a finger. And the tie-dyed hippies at Julian's bacchanal look ludicrously like refugees from Hair.
But Scott imbues Julian with a remorseless intensity that is increasingly unhinged, and Jonathan Dove's musical score, with its thrilling use of drums, gives this unwieldy play a compelling heartbeat. Directors can be readily forgiven for having resisted it before now; but the vastness of the undertaking makes this production no small achievement.
MORE IBSEN ON THEARTSDESK
Ghosts, Duchess Theatre (2010). Iain Glen makes directorial debut with a straightforward take starring Lesley Sharp
The Master Builder, Almeida Theatre (2010). Passions blow hot and cold in this uneven production starring Gemma Arterton and Stephen Dillane
Judgement Day, The Print Room (2011). Ibsen's last play has its issues but emerges strongly in new adaptation with Michael Pennington
The Lady From the Sea, Rose Theatre, Kingston (2012). Joely Richardson takes on the Ibsen heroine her mother and sister made their own
A Doll's House, Young Vic (2012). Period setting yields a contemporary tragedy adapted by Simon Stephens and starring Hattie Morahan
Hedda Gabler, Old Vic (2012). Ibsen's heroine draws new depths from the West End's sweetheart Sheridan Smith (pictured)
Love's Comedy, Orange Tree Theatre (2012). Early Ibsen finds the playwright in his awkward adolescence
A Doll's House, Royal Exchange (2013). Ibsen in the round loses none of its power to cast a spell
Public Enemy, Young Vic (2013). The horrors of local politics still chime in Richard Jones's queasy production of an Ibsen masterpiece
Ghosts, Almeida Theatre (2013). Richard Eyre and Lesley Manville shine light into Ibsen's dark thriller of family misfortunes
Peer Gynt, Théâtre National de Nice (2014). Irina Brook's song-and-dance Ibsen entertains, but misses the darker shades
The Wild Duck, Belvoir Sydney (2014). Heartbreaking adaptation mixes naturalism and forensic examination
Little Eyolf, Almeida Theatre (2015). Strong women and one weak man in Ibsen's swift study of isolation and guilt
The Master Builder, Old Vic (2016). Ralph Fiennes stars in Ibsen's unsettling mix of the real and the supernatural
Hedda Gabler, National Theatre (2016). Ivo van Hove makes an uneven Southbank debut
Scott imbues Julian with a remorseless intensity that is increasingly unhinged
Explore topics
Share this article