Electra, Old Vic |

reviews, news & interviews
Electra, Old Vic
Electra, Old Vic
Kristin Scott Thomas continues her sensational partnership with Ian Rickson in Sophocles
Thursday, 02 October 2014
Down but not out: Kristin Scott Thomas as Electra
As revered as the Greek tragedies may be, I have to admit to feeling a little weary of all that conspicuous, over-ripe angst, and the expectation of our sympathy, even empathy for matricides, patricides, filicides and all such. Rather than resonate through time, they've brought me to the point where I'm feeling "enough already".
I'm overstating. Yet a version of the above is one reason why I find Ian Rickson's production of Sophocles's Electra, from Frank McGuinness's 1997 adaptation, so appealing. Rather than pummel the audience with emotion, this leans back a little, lets air into the play, teases and intrigues. The gods be praised, it's occasionally even funny. So those who want to be put through the wringer will be disappointed; this is a more thought-provoking proposition, a lucid, entertaining, but still impassioned dialectic on the purpose, even the logic of grief and revenge.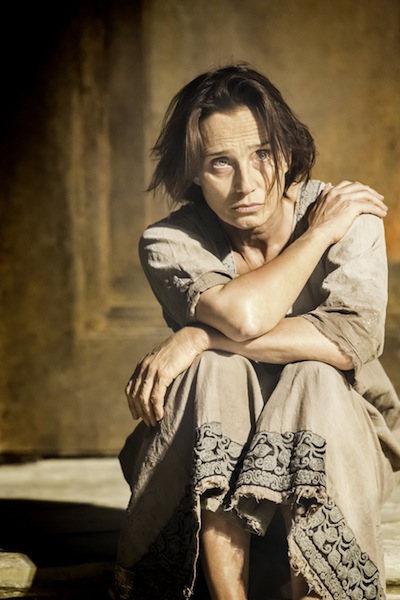 Much of this tone is due to Kristin Scott Thomas. She and Rickson have a formidable history – The Seagull, Pinter's Betrayal and Old Times. And their having essayed so much repressed and calculated emotion feels relevant to the presentation of a fantastically rounded and grounded Electra.
We're still perfectly aware that she's been through the mill. While grieving for Agamemnon, she's forced to waste away as a virtual prisoner in the household of his murderers, Clytemnestra and her lover Aegisthus. At first sight we get the Electra we expect, she who spills "a barren spinster's tears." Scott Thomas nails the image of a woman in perpetual mourning: gaunt, eyes sunken, her dress as tattered and grim as you'd expect when its wearer continually writhes in the dirt.
Everyone wants her to stop lamenting, for different reasons – her mother Clytemnestra (Diana Quick), because Electra's recriminations contain the possibility of retribution; her sister Chrysothemis (Liz White), because she's scared of rocking the boat; Electra's friends – the female chorus – because they fear for the toil that grief is taking.
But Electra is having none of it. For her, grief is a duty, which will only be relinquished when the murder is avenged. She's proud, determined, stubborn, less a wailer than an agitator, who leaps on the chance to turn her sister to her cause, and tempers her mood – temporarily, mind – when offered the chance to debate her grievance with her mother.
"So you're prowling," observes Clytemnestra at one point. Indeed, Scott Thomas is constantly in motion; while Electra mockingly insists that "I am not in-sane", the sheer relentlessness of her mission verges on mania.
Help is at hand in the shape of her exiled, now returning brother Orestes (2014 Olivier Award winner Jack Lowden, pictured right with Scott Thomas) and his doughty servant (Peter Wight). It's in Electra's feelings for Orestes that the star indulges the full force of her character's emotions, with two moments of inspiration: when she thinks her brother dead, a shrug and a smile precede a gut-wrenching collapse into despair; when she learns otherwise, sheer rapture leads her to leap onto her brother, drawing in his smell like an animal.
Scott Thomas, Quick and Lowden best bring out the conversational to-and-fro of McGuinness's writing. And Wight holds the attention with his feigned account of Orestes' death. But with such an intense piece the supporting players do make a difference; while I found the chorus a little underwhelming, a bland Aegisthus (Tyrone Huggins) almost stops the play's climax in its tracks.
Mark Thompson's design in-the-round is lean and to the point – a tree, a wooden door, a street tap. An equally spare musical contribution by PJ Harvey lends atmosphere to the top and tail.
Scott Thomas nails the image of a woman in perpetual mourning: gaunt, eyes sunken, her dress as tattered and grim as you'd expect when its wearer continually writhes in the dirt
rating
Share this article