Old Times, Harold Pinter Theatre |

reviews, news & interviews
Old Times, Harold Pinter Theatre
Old Times, Harold Pinter Theatre
A terrific, fluid cast adds yet more nuance to Pinter's mysterious masterpiece
Bizarre love triangle: Lia Williams, Rufus Sewell and Kristin Scott Thomas in powerful Pinter revival
This production of Old Times is a big deal. It's the first of Harold Pinter's plays to be performed in the theatre renamed after him; it marks the reunion of director Ian Rickson and Kristin Scott Thomas, after their exhilarating Betrayal; and it feels like a seminal reading, involving a casting conceit that makes a rich work even richer, even more mesmerising.
First produced in 1971, like Betrayal this is regarded as one of the playwright's "memory plays". But both could just as easily be called "marriage plays", since Betrayal essays the infidelity that helps to end a marriage, Old Times the death throes of a marriage that was clearly doomed from the start.
In an isolated farmhouse Deeley and his wife Kate await the arrival of Anna, Kate's former friend and flatmate, whom she hasn't seen for 20 years. He is all chipper anticipation, asking questions, "Is she dark? Fat or thin?", sitting in his armchair like a jaunty inquisitor. She is cool, vague, unenthusiastic about the imminent arrival. She remembers that Anna used to steal her knickers.
Standing behind them during this little prologue is Anna, in silhouette as she stares out of the window, a cigarette wafting in her hand. Kate is brunette, Anna blonde, in this pose a Hitchcock blonde, mysterious, alluring, threatening. She hasn't yet arrived, of course, but in a manner of speaking she's always been in the room.
When she does enter, it's in a whirl of chatter, and recollections of her and Kate's lives together as "innocent secretaries" in London, meeting writers and artists, going to concerts, sitting in cafes. The more she talks, the more Kate withdraws into herself, and the more agitated Deeley becomes. He and Anna sing songs, crooning and cooing for Kate's attention; they exchange anecdotes – he of meeting Kate for the first time in a cinema, she of returning home one night to find a man sobbing in their flat – using memories as weapons in a battle for Kate and the supremacy of their own shared past with her.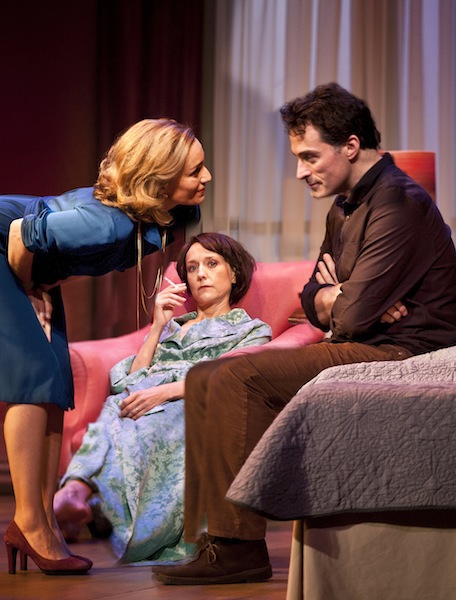 It's easy to take this at face value: a needy friend arrives out of the past to threaten an already crumbling marriage. Yet the play's constant shifts and ambiguities suggest other, tantalising options, both concrete and ethereal. Might Anna and Deeley have known each other all those years ago, as he suggests, before he met and chose Kate? Could Anna and Kate represent two sides of the same woman, the gregarious and sensual side long ago suppressed, now enjoying a revival in Deeley's imagination? Does Kate's final, shocking declaration to Anna, that "I saw you, dead", suggest that they are all, in fact, dead?
This is where Rickson's casting is inspired. While Rufus Sewell plays Deeley throughout the production – anchoring this bizarre love triangle with a performance at once charismatic yet painfully revealing of the follies of male ego – Scott Thomas and Lia Williams will alternate the female roles. And for a play driven by the tectonic plates of memory and perception, this tactic adds immeasurably to the permutations.
As Kate, Scott Thomas is a perfect object of desire: feline, enigmatic, sitting on the sofa like a sphinx as the others tussle over her. Williams plays Anna as the commoner in the relationship, the one who tried harder, played the field, but never landed the one that counted; the tan of her legs is as fake, one assumes, as her professed married life in Sicily. The reverse casting sees Kate become a dormouse, the victim from a kitchen sink drama, Anna funnier and more coquettish.
One has to say that Scott Thomas is more engaging in both roles, dictating the tone of each version. Her more mysterious Kate makes the play seem stranger; with her funnier, sexier Anna it becomes more comic, and the likelihood of attraction between Anna and Deeley, both former and current, more distinct. Not that Williams is a slouch – her final speech as Kate, the mouse roaring maliciously to life, reminds us of the hell they're all in, whichever way you look at it.
Indeed, Old Times very much evokes Sartre's Huis Clos, whose trio of protagonists literally play their mind games in purgatory. Hildegard Bechtler's set design, with its occasional, monochrome (therefore, perhaps, imagined) hints of landscape outside the window, has a certain cell-like quality. Pinter's ending sees Deeley think about leaving the room, before remaining, sitting blank-faced and defeated between the two women. As with Huis Clos, there is a sense that as soon as we leave the auditorium, another audience will enter and the characters will start afresh, with the same bitter game. But with different faces.
One of the theatrical treats of the year would be to see Old Times twice, with each of the casting arrangements. A sin would be not to see it at least the once.
Scott Thomas is a perfect object of desire: feline, enigmatic, sitting on the sofa like a sphinx
rating
Explore topics
Share this article