Rock and Chips, BBC One/ Arena: Harold Pinter - A Celebration, BBC Four |

reviews, news & interviews
Rock and Chips, BBC One/ Arena: Harold Pinter - A Celebration, BBC Four
Rock and Chips, BBC One/ Arena: Harold Pinter - A Celebration, BBC Four
John Sullivan has lost his voice. Harold Pinter hasn't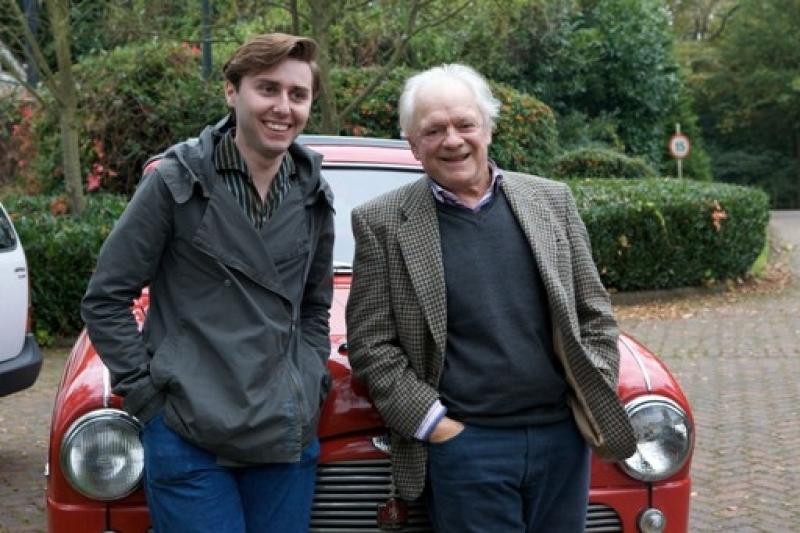 Considerably missed: David Jason on set with James Buckley, who played the younger Delboy Trotter in 'Rock and Chips'
Only Fools and Horses, whose last new episode was broadcast to the traditionally bloated Christmas audience in 2003, has enjoyed several kinds of afterlife. It lives on lexically, in the form of the Peckhamspeak inherited by its viewers – "cushty" and "luvly jubbly", "plonker" and "dipstick". It is also frequently exhumed in clips packages and on repeat channels. Then came the spin-off sitcom The Green Green Grass, a fifth series of which is said to be in the pipeline.
And now this: a prequel to
Only Fools and Horses
, a whole hour-and-a-half's worth of back story explaining the birth of Rodney Trotter.
The circumstances of that conception were referred to as long ago as an episode in 1987. Rodney discovered that he may very well be the son of a bullion thief called Freddie the Frog who accidentally blew himself to smithereens on a job in 1963. When I interviewed Only Fools' creator John Sullivan in 1997 he revealed that he was already incubating the idea of narrating the Trotter dynasty's pre-history in the form of a novel. Doing it on the box, he suggested, had not even crossed his mind. Nothing came of the book. But here finally, all but 30 years after Delboy and Rodney first began trading, was the television version. Question is, should Rock and Chips have remained a glint in Sullivan's eye?
David Jason was considerably missed. Without his car-coated muse, Sullivan seemed somehow to have lost his voice
We duly spooled back to 1960, with skiffle in the air, Brylcreem in young Delboy's mop and a mother in her 30s stuck morosely in a dead-end marriage and fired by dreams which extended no further than a flat in one of those new-fangled high rises. Step forward, Freddie the Frog, who bore a remarkable resemblance to Rodney, being played behind a thick scowl and a thin moustache by Nicholas Lyndhurst.
Lyndhurst presumably accepted this gig on the grounds that, having been stuck in the same role since 1981, he would be allowed to display his range. He duly gave a performance of exceptional dourness enlivened by the odd unexpected wisecrack. And that unfortunately went for the entire drama.
As the life of Only Fools and Horses developed, Sullivan did indeed use to betray a fondness for weaving pathos into the comedy. But here he so over-indulged that taste that the jokes when they came seemed to belong in another drama altogether. They mostly arrived at the expense of working-class ignorance of foreign culture – drinking Rossini, listening to the Battenburg Concertos and so on. The best little exchange had a rare ring of truth. Young Del (James Buckley), around at the house of a girl, got caught short.
"Where's your toilet?"
"Upstairs."
"Indoors?"
David Jason was considerably missed. Without his car-coated muse, Sullivan seemed somehow to have lost his voice, and resorted to trying on other people's for size instead. Del's mother Joan (Kellie Bright, pictured) sold ice cream at the cinema, where her lecherous boss came on to her like a visitor from Dennis Potter's seedy world of dangerously repressed male libidos. In an even more bizarre borrowing, Lyndhurst and a teddy boy argued about what to play on a cafe juke box, menacingly repeating the singer's name like improbable day-trippers from Pinterland.
"And I'd like to make one further interjection." Over on another side was the real thing. One night last summer Arena's cameras filmed an evening of readings at the National Theatre featuring actors associated with Harold Pinter's work. Harold Pinter – A Celebration was shown last night. The gigantic shadow cast by Pinter, which evidently extends as far as sitcoms set in Peckham, has lately been considered elsewhere on theartsdesk. It's only necessary to add here that if anyone remains unpersuaded of his greatness, of his many-sided humanity, this staged consideration of his life in words made for quite a primer: moving, stirring, gripping and, yes, rib-tickling. Catch it while you can on BBC iPlayer. You won't see anything like it anywhere else. It concluded resoundingly with that apt quotation from Pinter's final play, Celebration. The last pause.