A Doll's House, Young Vic |

reviews, news & interviews
A Doll's House, Young Vic
A Doll's House, Young Vic
A pretty, period setting yields a perennially contemporary tragedy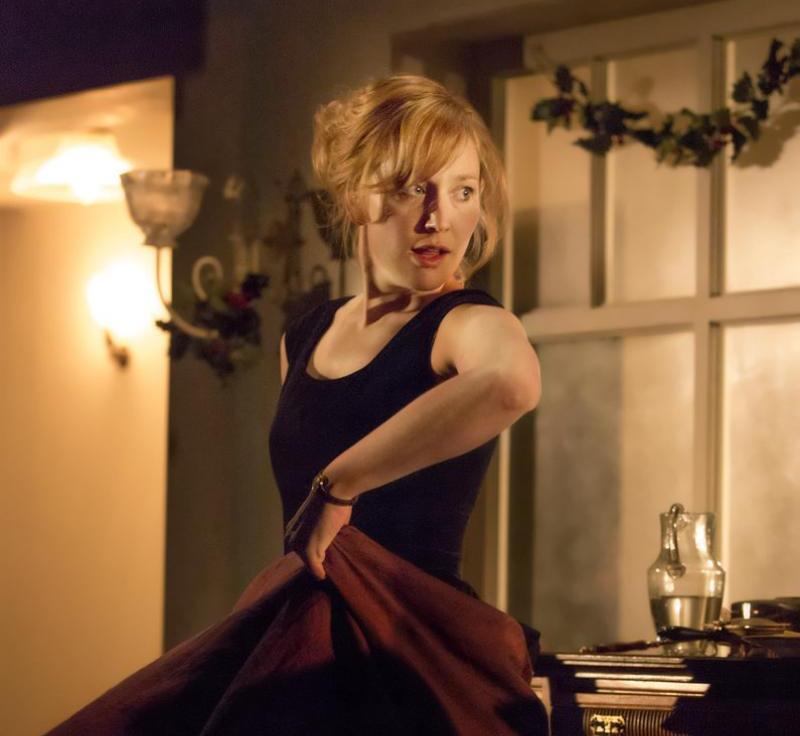 Costume drama: Hattie Morahan's Nora sets the pace for a breathless, brilliant production
The front door of Ibsen's A Doll's House may first have slammed shut in 1879, but it's a sound whose echoes and re-echoes continue to resonate. The crash of feminist selfhood, bursting through the catatonic tranquility of domestic order, originally scandalised 19th-century Norwegian society, but with scandal now rather harder to come by, Ibsen's play has acquired a quieter, but infinitely more pervasive impact.
In Carrie Cracknell's faithfully realist rendering it speaks with harrowing directness, cutting to the contemporary heart of the matter as few updated stagings have so cleanly done.
Ibsen's dialogue stretches out freely, finds plenty of room to breathe in Simon Stephens's new adaptation. Period correctness is never laboured, with Stephens favouring an unobtrusive, timeless language. Both comedy and tragedy come into focus under his gaze, with the neatly-observed humour of Torvald's drunken, knitting-related small-talk (beautifully handled by Dominic Rowan) offering an insistent emotional counterpoint to the prevailing tension of Act III.
Morahan is exquisitely urgent, simultaneously maddening and beguiling
Ian MacNeil's set is a revolving picture of charm – Gustavian interiors bathed in the muted shades of Hammershøi and Ilstead. So pretty are the stage pictures that emerge through the narrative rotations of the set – a family silhouetted against the lights of a decorated Christmas tree, two small boys cuddled up for story-time on a big Chesterfield – that it's with Torvald's reductive, possessive gaze that we find ourselves looking upon them, willing the action to mirror the demure beauty of its surroundings.
But of course it can't. Cracknell's direction sets up a pace that, while never rushed, keeps stride with its restless heroine. The action unfolds as the natural extension of her accelerating thought-process; we arrive, in Hattie Morahan's reading of Nora, at a spoken conclusion – "That's why I'm leaving you" – almost before these thoughts catch up, generating a heartbreaking pause between this and her reiteration – "I can't live with you any longer" – in which we watch her process of realisation.
Morahan is a breathless, fervent Nora, her instinctual warmth of Act I transforming naturally into the anger of Act III. Exquisitely urgent, simultaneously maddening and beguiling, she flits around MacNeill's small spaces, her caged energy generating disturbing heat with Rowan's Torvald. This is a couple whose courtship we can still see in their well-honed role-playing, physical and verbal shorthand shared between them – co-conspirators in this hypocrisy.
Rowan (pictured right with Morahan) excels at quiet villainy, finding out the weakness of a man whose fear of petty social embarrassment sets tragedy in motion. The delicacy of his reading (surviving even the exhaustive bird-imagery of Act I) finds echo in both Susannah Wise's practical Mrs Linde and Nick Fletcher's Krogstad – no Dickensian caricature, but a poignant exercise in the banality of desperation. Among so much easy naturalism, only Steve Toussaint's Dr Rank jars, sitting awkwardly verbally, and dramatically failing to animate this tricky section of sub-plot.
Among so many determined reworkings and adaptations – Sixties settings, politicised Westminster rewrites, all-female casts – Cracknell and Stephens' quietly faithful treatment offers a far from lazy return to Ibsen's origins. The same shocking tremors Nora's front-door slam set in motion in 1879 lose little in returning well over a century later, particularly when animated by performances as truthfully contemporary as we find here in the Young Vic's gilded and gorgeous doll's house.
MORE IBSEN ON THEARTSDESK
Ghosts, Duchess Theatre (2010). Iain Glen makes directorial debut with a straightforward take starring Lesley Sharp
The Master Builder, Almeida Theatre (2010). Passions blow hot and cold in this uneven production starring Gemma Arterton and Stephen Dillane
Emperor and Galilean, National Theatre (2011). Power and pace help to exhume Ibsen's Romano-Christian epic starring Andrew Scott
Judgement Day, The Print Room (2011). Ibsen's last play has its issues but emerges strongly in new adaptation with Michael Pennington
The Lady From the Sea, Rose Theatre, Kingston (2012). Joely Richardson takes on the Ibsen heroine her mother and sister made their own
Hedda Gabler, Old Vic (2012). Ibsen's heroine draws new depths from the West End's sweetheart Sheridan Smith (pictured)
Love's Comedy, Orange Tree Theatre (2012). Early Ibsen finds the playwright in his awkward adolescence
A Doll's House, Royal Exchange (2013). Ibsen in the round loses none of its power to cast a spell
Public Enemy, Young Vic (2013). The horrors of local politics still chime in Richard Jones's queasy production of an Ibsen masterpiece
Ghosts, Almeida Theatre (2013). Richard Eyre and Lesley Manville shine light into Ibsen's dark thriller of family misfortunes
Peer Gynt, Théâtre National de Nice (2014). Irina Brook's song-and-dance Ibsen entertains, but misses the darker shades
The Wild Duck, Belvoir Sydney (2014). Heartbreaking adaptation mixes naturalism and forensic examination
Little Eyolf, Almeida Theatre (2015). Strong women and one weak man in Ibsen's swift study of isolation and guilt
The Master Builder, Old Vic (2016). Ralph Fiennes stars in Ibsen's unsettling mix of the real and the supernatural
Hedda Gabler, National Theatre (2016). Ivo van Hove makes an uneven Southbank debut