Cornelius, Finborough Theatre |

reviews, news & interviews
Cornelius, Finborough Theatre
Cornelius, Finborough Theatre
JB Priestley discovery brings theatrical relic to revelatory life
Alan Cox takes the title role in a Priestley play as essential as it is eccentric
Accolades are due again for the tiny Finborough Theatre, whose production of JB Priestley's all-but-unknown Cornelius constitutes the most exciting reclamation from the English theatrical canon since the same venue produced Emlyn Williams's startling and welcome Accolade some 18 months ago.
Funny and endearing in parts when not devouringly bleak, the play is as eccentric as a title character who can debate "this suicide business" one minute and lose himself in a story about the Incas the next, and the young director Sam Yates and his hugely accomplished cast do the occasion proud.
Priestley wrote the play for his friend and frequent muse Ralph Richardson, and one can hear the late actor-knight's quirky sonorities hovering over a text that couples jauntiness with despair, grand bursts of gusto with painful moments of Chekhovian self-realisation that, as with the Russian master, arrive on occasion accompanied by a gun. (No revealing here whether said weapon gets used or not.) Set entirely within a Holborn-based aluminium import business on the brink of financial collapse, Cornelius the play shows us Jim Cornelius the business partner as he exists in the company of importuning salespeople, fed-up creditors, and possible amours, his office an increasingly spartan pressure cooker capable of pushing its inhabitants toward the grave.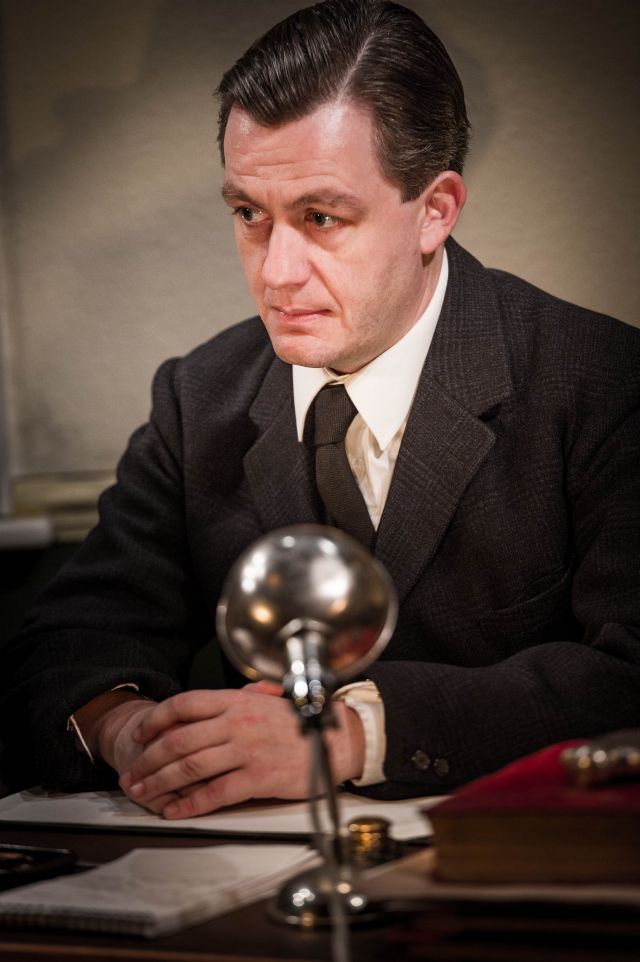 We quickly adjust to the play's world of dodged telephone calls and dodgy invoices, abstract chat about "the system" coupled with the spanner thrown into office realpolitik by new shorthand-typist Judy, sister of an errant employee who has gone up north to tend to the husband that Cornelius didn't know she had. Indeed, remarking upon the unseen husband's "pneumonia in Newcastle", Alan Cox in the title role (pictured right) makes this particular affliction sound worthy of Oscar Wilde, even as his terrific star turn tilts elsewhere towards a fantasist in freefall.
Something of an equivalent Yelena within the Uncle Vanya rewrite that Cornelius at times suggests, Judy is played with real charm by a sweet-faced Emily Barber, whose lilting way with a song does what it can to forestall the incipient collapse surrounding the firm of Briggs and Murrison to which Cornelius belongs. (David Woodhead's clever wraparound set - its contents gradually depleted - adjusts the firm's name accordingly by the time of the third and most decisive act.)
The play throughout shows its characters indulging flights of fancy or of the imagination and then being brought down to earth, all reminders of the play-acting required by life folded neatly into a narrative in which abundant reckonings await. Col Farrell (pictured with Cox) is lovely as the devoted cashier who has to be gently urged towards a new life but not before seeking out two estimates for his eventual cremation; one evidently can never be too prepared. Back in Vanya-land, Annabel Topham comes readily by the Sonya-like admissions of affection that mark out Miss Porrin, the starchy yet adoring employee who offers herself as the antidote to Cornelius's loneliness, and Jamie Newall brings an unnerving perturbation to the role of Murrison, the business partner-turned-paranoiac who returns to London from his travels a broken man.
Premiered in 1935, Cornelius communicates the era from which it sprang via such details as a passing reference to Hitler as well as office boy Lawrence's excitement at the age of the wireless and gramophone that lies in wait. (And via its bygone attitudes towards child labour: only 19, Lawrence, we learn, has worked for the firm for nearly five years.) In its feeling for the depredations of the workplace, the play at times seems as if it could have been retitled Waste, and so what if Harley Granville Barker got there first? But against the odds, Priestley backs away from the abyss that he opens up before us. Jim Cornelius believes in the co-existence of light alongside darkness and so, on this occasion, does Priestley, too.
In its feeling for the depredations of the workplace, the play at times seems as if it could have been retitled Waste, and so what if Harley Granville Barker got there first?
rating
Share this article