Clutch, Bush Theatre review - new comedy-drama passes its test |

reviews, news & interviews
Clutch, Bush Theatre review - new comedy-drama passes its test
Clutch, Bush Theatre review - new comedy-drama passes its test
After a strong start, newly commissioned play takes a wrong exit from the roundabout
Thursday, 22 September 2022
Charlie Kafflyn and Geoffrey Aymer in Clutch - Don't do it like that, do it like this
Max is big and black and Tyler is slight and (very) white, an odd couple trapped in a dual-control car as Max barks out his instructions and Tyler prepares for his driving test. If their relationship is to get started, like the clutch of the Vauxhall Corsa, it's going to have to find its biting point. When the men reveal a little more of their insecurities, it does and we're away.
Will Jackson was commissioned by the Bush Theatre to write this play and it's a delight to see Clutch given a run in its studio space. It may not be the boldest concept (there are strong vibes of a 1970s BBC pilot showcase, the kind of one-off comedies that led to classics like Porridge) and we've met Max and Tyler before, but it's contemporary, it's engaging and, at the curtain, we're just a little disappointed not to be seeing more of our new friends in the future.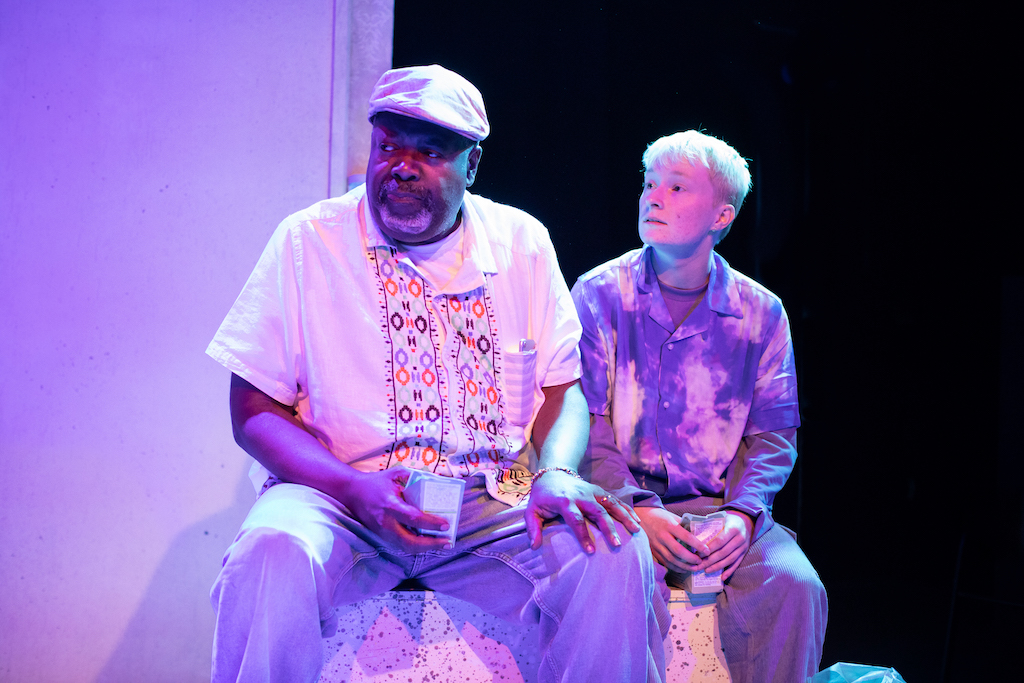 Much of that feelgood factor (and theatre needs to recognise that audiences will be craving that warmth over the next few months) comes from the performances, always critical in a two-hander.
Geoffrey Aymer (pictured above with Charlie Kafflyn) catches the sweet spot between the hectoring bully and the empathetic teacher with his Max, but we get a hint or two that his bravado is covering underlying issues in his private life long before they topple out. Charlie Kafflyn lends his Tyler plenty of vulnerability early on, but we see the boy who was once a girl grow into his emerging personality, gaining confidence in life as he does so behind the wheel. But, like his driving and that pesky clutch again, it can be a bit stop-start and he's prone to making wrong turnings.
The first half of this short play is all knockabout stuff, the two men getting plenty of laughs, enjoying a beautiful shared moment when the pair, much more comfortable in Birmingham than in London, singalong to the second city's finest – ELO's Mr Blue Sky.
As the song says, "But soon comes Mr. Night creepin' over" and their sunny relationship clouds after a crash caused by bickering with both men at fault. Out tumble the confessions, both men owning up to each other about personal lives that have missed one too many turns on the roundabout and taken them into emotional cul-de-sacs, from which they are both struggling to reverse.
This second half of the play is a little too generic, a little too sentimental and dissipates the comic energy so skilfully constructed earlier. The vivid individuals fade and become greyer men, familiar and much less fun.
Nevertheless, with a reflection or two on my days finding out about the mysterious, almost animalistic, caprices of clutch control on a motorcycle, I walked out into the hustle and bustle of Shepherd's Bush Green wondering how they were getting on now. Had Max got his business back on the rails and found a little peace in a life too consumed by guilt? Had Tyler settled into a home life that gave him, if not what he wanted, then at least what he needed? That's not a bad place for a new play to leave you on the pavement.
Much of that feelgood factor comes from the performances, always critical in a two-hander
rating
Share this article