On Blueberry Hill, Trafalgar Studios review - superb acting, specious plot |

reviews, news & interviews
On Blueberry Hill, Trafalgar Studios review - superb acting, specious plot
On Blueberry Hill, Trafalgar Studios review - superb acting, specious plot
Sebastian Barry two-hander offers rich acting opportunities for two of Ireland's finest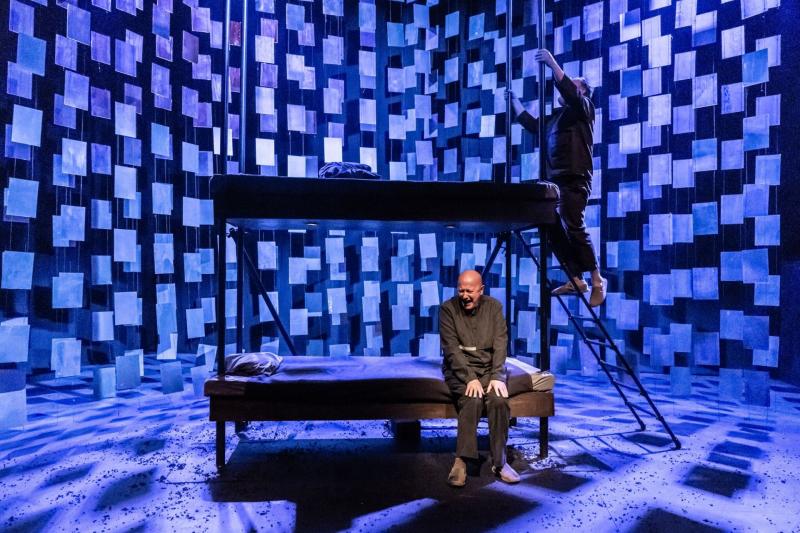 (Fats) Domino effect: Niall Buggy (bottom) and David Ganly in 'On Blueberry Hill'
Some wondrous acting is sacrificed on the altar of an increasingly wonky plot in On Blueberry Hill, the first play in 10 years from Sebastian Barry, the Irish playwright and novelist whose onetime Royal Court entry The Steward of Christendom showcased a treasured theatrical memory in the leading perfor
mance of the late and truly great Donal McCann.
This latest work, a two-hander premiered in 2017 by Dublin's Fishamble theatre company, isn't remotely the equal of its 1995 forbear. And yet it, too, offers major acting opportunities for both David Ganly and Niall Buggy, the Irish actors here playing cellmates who share a grievous history that mustn't be revealed beyond pointing out that the long arm of contrivance hangs over the last half of an always-compelling 100 minutes (no interval). Ganly, pictured below and seen recently on the West End in Girl From the North Country, plays PJ, a priest occupying the bottom mattress of bunk beds that are gradually illuminated even as the landscape of the play grows ever-darker.
A gay man with an instinctual gift for the poetic (he speaks of "the strange greed of the sea" in reference to a tragedy reported midway through), PJ is engaged in a self-reckoning that finds an unexpected echo in Buggy's older Christy. A tinker's son and family man who surrenders to extremes that take him by surprise, Christy alternates monologues with PJ, on occasion turning in a vaguely cutesy manner towards the audience as if expecting a response: Such moments mark the only misstep of the director Jim Culleton's ever-alert production.
As always with Barry, you feel a writer luxuriating in the sheer seductiveness of words – sleep gets compared to a "lorry load of darkness" – even if the borrowings (a nod towards Joyce here, Beckett there) are sometimes writ excessively large. And the narrative springs one jolt after another as the connection between two seemingly randomly conjoined men is made plain. The burly, open-faced Ganly is ceaselessly riveting as a man plagued with a mind like "a darting bird" that can't help but replay one particular action over and over. Buggy's eyes themselves dart from mischief to shock and back again, and the actor vividly captures the members of his (unseen) family who inform his every waking moment in varying ways.
I'm afraid I believed less in the play the nearer it gets to a sentimental conclusion that arrives by authorial fiat and seems to want to alight on a note of forgiveness that seems at once psychologically dubious and dramatically over-convenient. Still, the swift rise to their feet of a rapt audience following the press performance attended tells its own laudatory story: if you're going to be taken on a gerrymandered theatrical journey, who better than to have these two terrific actors as your guides?