Interview: Playwright Enda Walsh |

reviews, news & interviews
Interview: Playwright Enda Walsh
Interview: Playwright Enda Walsh
The Irish playwright on revisiting The Odyssey for Hampstead Theatre
Irish playwright Enda Walsh: 'The kind of theatre I like feels handmade'
No prizes for guessing what the future holds for the four Irishmen ensconced in the empty swimming pool in Enda Walsh's latest play, Penelope, which opens at Hampstead Theatre next week. For these unfortunate creatures are the last of Penelope's suitors from Homer's Odyssey, the pariah who invade Odysseus's home and make merry at his expense whilst shamelessly trying to win the hand of his faithful wife – and their time is up.
Odysseus is homeward bound and they must face up to what is basically going to be an unavoidable bloodbath.
"These four men", says Walsh, "have been having conversations about nothing - for like, ever - but when faced with their death, they begin to reset themselves in some way. It's like everything is blank and then they begin to create actual worlds to place themselves in. They have a need to find something to leave behind them, to try and leave something good behind." (Karl Shiels and Niall Buggy pictured above.)
When Walsh was asked to write a play using The Odyssey as a starting point by Theater Oberhausen in the Ruhr Valley – Walsh's work is hugely popular in Germany and he works extensively with dramaturg Tilman Raabka - his immediate response was to write about the suitors. "I always thought that the suitors were interesting and very underwritten," says Walsh. "And I also felt that they were a really good match for [Theater] Oberhausen, which is a tiny theatre in quite a poor area - hugely industrial, but it's been really bashed over the head."
Penelope is Walsh's third production with legendary Irish theatre company Druid. "Druid had a huge influence on my generation of actors and writers. I suppose they have quite a traditional way of approaching work. Mikel [Murfi, the director] and I like to riff off that rich tradition and see where it takes us."
Walsh was brought up in Dublin and attended Greendale Community School where he was taught by Roddy Doyle who encouraged his students to write short stories. "Every Friday he would read out the best one," says Walsh, "and you really wanted your story to be picked, so the written word – and the spoken word – quickly became quite a big thing. I was also taught by Paul Mercier, who is a fantastic playwright, nowadays I'd say he's our Sean O'Casey, and he was also a big influence on me, partly because - well, they both made it look as if it [writing] was quite easy! But then every fucking Irish person writes, you know? Everyone's got a fucking story."
When he left Greendale, Walsh went to film school but decided in the second year that he wanted to work in the theatre. "You feel slightly removed in film-making," he says. "Whereas the kind of theatre I like feels handmade." However, he didn't find it that easy to break into the Dublin theatrical scene. "They were all Trinity College graduates and they were all about four or five years older than me, which seems a lot when you're 19, and I just wasn't smart enough or precocious enough."
Eventually he managed to get a job with a Theatre-in-Education company based in Cork. "There were four of us, travelling around in this little bus taking this play about Native American Indians and the Cavalry into schools. It was bizarre – it was actually the funniest three months of my life and I'm going to write a book about it one day - but it kind of worked. And I fell completely in love with Cork and I thought, fuck it, I'm going to give theatre a go down here."
He met the director Pat Kiernan and joined Kiernan's Corcadorca Theatre Company. He started writing plays because of all the company, he was the one who least minded spending time on his own. He also – and this is key - discovered that the Cork accent suited his writing. "Cork people are great orators. They don't talk so much as proclaim and they are very precise and eloquent."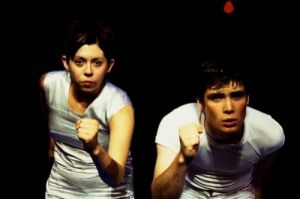 He continued to write for Corcordorca with varying degrees of success – one of his early plays, The Ginger Ale Boy, 1995, is about to be published for the first time in a collection of Walsh's work – until 1996, when he shot to fame with Disco Pigs, a startlingly original play about two teenagers, Runt and Pig (pictured left, Eileen Walsh and Cillian Murphy), who have wilfully isolated themselves from their peers and family by adopting their own idiosyncratic and extremely profane language and take great pleasure in abusing anyone who has the misfortune to cross their path.
More plays followed including Sucking Dublin (1997), Misterman (1999) and Bedbound (2000). In 2003 he moved to London. "Cork was grand, but I'd become a bit too comfortable and I needed to get out of my depth a bit, get a bit scared – and I also needed to become a bit invisible and get more work done."
The Walworth Farce (2006), in which an Irishman and his two sons living in a crummy flat near London's Elephant and Castle spend their days re-enacting their last day in Ireland, was Walsh's first production with Druid and and thinks of it as his "immigrant" play. "I was living off the Old Kent Road and it was a little nod to myself." The New Electric Ballroom (2008), which is generally perceived as its companion piece, is about three elderly sisters, who are similarly incarcerated – although this time the setting is a remote Irish fishing village - whiling away the time by retelling the same story, about an event in the eponymous ballroom, day after day.
"I had the idea for the New Electric Ballroom in my head all the time I was writing The Walworth Farce, but I had to finish that first," says Walsh. "I really adore older women, women in their sixties and seventies, and I imagined these women transforming themselves into their 18-year-old selves. I've always liked characters to perform. I think it goes back to that Irish thing, you know, 'Get up and do something! Show something of yourself!'
"But Disco Pigs was really the beginning [of my career] and I've been writing the same characters ever since. They all have problems talking, they're all inarticulate. Burns actually can't talk at the beginning [of Penelope], he can't find the right words to express himself and he needs Dunne and Quinn to give him the vocabulary to help him through. The dad in Bedbound can talk about the past but he can't find the right words to talk about the present and all that comes from me. I sometimes have that terrible unreal gloom at hearing my own voice - I can hear it coming out but I seem to have no control over it and I'm taking about a thousand words to say something you could say in three lines."
Having said that, Walsh writes very quickly - a play usually takes him between three to four weeks - and when he's finished, he may cut a few lines here and there – a throwback from his film-editing training, the only part of his film course he enjoyed – but he never rewrites.
"People are probably going, 'Jesus, maybe he should! Maybe he'd be a fucking better writer!'" he says. "But I trust that I know what I'm doing in the moment that I'm writing - and it is whatever the fuck it is. I'm not writing to try and make a perfect play."
Film is OK as long as you're working with the director from the beginning, otherwise, as the writer you're just some sub fucking tea boy
In 2001 he wrote the screenplay for Disco Pigs, which must have been a tremendous leap of faith on the part of the producer as it doesn't immediately jump off the page as a film. "Well," explains Walsh, "the play was huge, it was everywhere – we used to call it 'Tesco Pigs' - and the [film] producer saw there was an audience for it."
His next film was Hunger, a powerful, deeply harrowing film about Bobby Sands and the Maze hunger strikes, which he co-scripted with Turner Prize-winning artist Steve McQueen, who also directed it. It's an extremely brave piece of film-making, with very little dialogue apart from one extraordinary 10-minute scene in which Sands debates the morality of his decision to go on hunger strike with his priest. Even more amazingly, there was no resistance from the film's producers to shooting such an uncinematic sequence. (Michael Fassbender as Sands and Liam Cunningham as the priest, pictured above.)
"We were really lucky with the producers. The scene was written and Steve was like, 'Now, how the fuck am I going to film this?' But he came up with the genius idea of locking the camera and filming it and no one interfered."
Despite these successes, he approaches scriptwriting with caution, as his most recent project, based on his play Chatroom for the National Theatre's Connections programme, did not end well. "Film is OK as long as you are working with the director right from the beginning," he says with feeling. "You need to be with the director from day one so that you can steer it together otherwise, as the writer, you have no power, you're just some sub fucking tea boy. You write it, you bring in the money to finance it and then you're out the fucking door. You're literally kicked out of the door."
He does, however, have a couple of film projects on the go, including a film about Dusty Springfield. "The biopic is a fucking apalling genre, it's like sub-pantomime, which is a reason to have a go at it - to attack it and see what you can come up with." In addition, he is working alongside director Lenny Abrahamson (Garage, 2008) on an adaptation of Gitta Sereny's book Into That Darkness, about the life of Franz Stangl, the commandant of the Sobidor and Treblinka concentration camps, and his career is about to take a completely new direction as he is also going to write a Broadway musical based on the 2006 hit Irish film Once, directed by John Carney.
"To be honest, I don't feel any warmth towards the film industry. When I first went down to Cork, we'd be up taking pills and having a great time and then we'd get up the next day and make work. There'd just be a bare stage and we'd be building stuff and bringing on lights and trying shit out and it just seemed sort of right.
"It's a strange medium, none of it should fucking work really, it's just held together by an audience's will to make it work and that connection is really interesting. It's fucking brilliant - I'd be in the ground without it."
Every fucking Irish person writes, you know? Everyone's got a fucking story
Explore topics
Share this article