Blood Wedding, Young Vic review - inventive, poetic if over-stretched revival of Lorca's rural tragedy |

reviews, news & interviews
Blood Wedding, Young Vic review - inventive, poetic if over-stretched revival of Lorca's rural tragedy
Blood Wedding, Young Vic review - inventive, poetic if over-stretched revival of Lorca's rural tragedy
The Spanish classic with an Irish accent
Thursday, 26 September 2019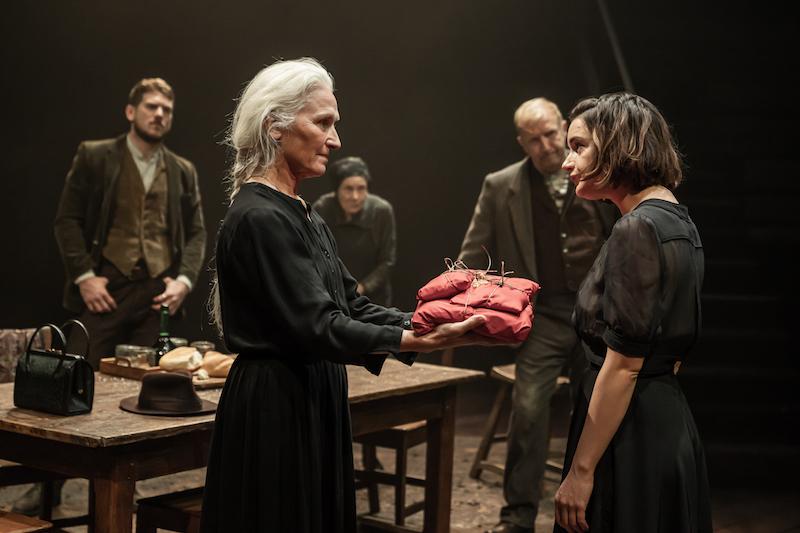 The Bridegroom's Mother (Olwen Fouéré) offers the Bride (Aoife Duffin) wedding gifts
Earthiness, lyricism, fatalism, the undeniable force of passion, of ecstatic attraction, known as "duende": these are the familiar ingredients of Lorca's plays set in rural Spain. Blood Wedding, written in 1932, was the first, followed by Yerma two years later and The House of Bernarda Alba in 1936, the year of Lorca's murder by Nationalists. As a gay, left-wing artist - he was a poet and musician as well as a playwright - he was an obvious target.
Yerma - about a woman desperate to conceive - was given a stunning production here in 2016 with an emotionally shattering performance by Billie Piper at its centre. Now, prolific Irish playwright Marina Carr - whose work, like Lorca's, mixes human passion with myth and a foregrounding of the concerns of women - transports Blood Wedding to rural Ireland, or rather somewhere she dubs: "Andalusia, County Offaly". There was, in fact, an early Irish connection for Lorca: he had read Synge's Riders to the Sea as a young man and was clearly influenced by it when he set out to write his own tragedy. The death of young men, the stoicism of women, rigid social convention grounded in Catholicism but thrumming with an earlier paganism - these are common to both.
South African director Yaël Farber directs with panache in a playing area surrounded by audience on three sides. The first scene is dominated by an elaborate cross, and on the floor a puddle of blood waits to be mopped up by the Mother, played by Olwen Fouéré. Her remaining son (the Groom, David Walmsley, pictured left) announces he is to marry a girl who lives on the mountain. A neighbour tells the Mother that the prospective bride had an earlier admirer, Leonardo, a member of the family responsible for the deaths of the Groom's father and brother. The wedding goes ahead with accustomed ritual, but the Bride absconds with her former lover, who has abandoned his wife and child. By the end of the play the two young men are dead and, in this version, so too is the Bride. Lorca begins the play in a mode of heightened realism - the bones of the plot came from a newspaper report - and then introduces poetic characters: the Moon, Death in the guise of a beggar woman and two woodcutters, who act as a kind of chorus.
Carr, whose Portia Coughlan will be at the Young Vic next year, successfully integrates the poetic with the day-to-day. The neighbour and the beggar woman are combined as the Weaver, a nod to the Fates, indicative of the interest in Greek mythology shared by Lorca and Carr. Spinning red thread as the Weaver, Bríd Brennan, coolly, dispassionately personifies Death by the light of the Moon, played by Thalissa Teixeira, gleaming in a white trouser suit. She punctuates the action, singing Lorca's poetry huskily throughout. Lorca's personal preoccupations, his sexual repression as a gay man in Thirties Spain being similar to that of women, are hinted at in this production. There is even a mention of a dead poet whose remains - like his - have never been found. The Bridegroom's family - unnamed in the original - become Garcías, this being Lorca's father's surname.
The strong ensemble, many of them Irish, relish Carr's language, a satisfying mixture of the darkly comic everyday and the metaphorically foreboding, spattered with religious references. Olwen Fouéré as the Mother is terrific: a survivor, she is flinty, bitter, ironic, familiar with death. Aoife Duffin (pictured right, whose unflinching performance of A Girl is a Half Formed Thing here was one of the outstanding theatrical events of 2014) is a coiled spring as the Bride, and Gavin Drea as Leonardo is rightly no romantic hero, brutal to his wife and insolent in company.
In Susan Hilferty's bare but clever set a wall becomes a floor and an extra room is revealed. A flying harness brilliantly provides Leonardo - running, feet off the floor - with the suggestion of a speeding horse. Ominous sound and lighting (by Emma Laxton and Natasha Chivers respectively), Isobel Waller-Bridge's music and Teixeira's keening combine seamlessly to make a strange, otherworldly environment.
Other productions by Farber - notably her exhilarating Crucible at the Old Vic in 2014 - have left one feeling overwhelmed. There is a distancing here, despite the explicitly savage final moments, partly because of the inevitability of the core narrative, but also because this has been widened to embrace the human condition more generally, including our carelessness in stewarding the planet. The final effect is less of wild passion than brilliantly choreographed, elegantly stylised storytelling - very watchable, nevertheless.
Subscribe to theartsdesk.com
Thank you for continuing to read our work on theartsdesk.com. For unlimited access to every article in its entirety, including our archive of more than 10,000 pieces, we're asking for £3.95 per month or £30 per year. We feel it's a very good deal, and hope you do too.
To take an annual subscription now simply click here.
And if you're looking for that extra gift for a friend or family member, why not treat them to a theartsdesk.com gift subscription?