Best of 2017: Theatre |

reviews, news & interviews
Best of 2017: Theatre
Best of 2017: Theatre
Sondheim and Alexander Hamilton sang out, as did a bracing array of new plays
Saturday, 30 December 2017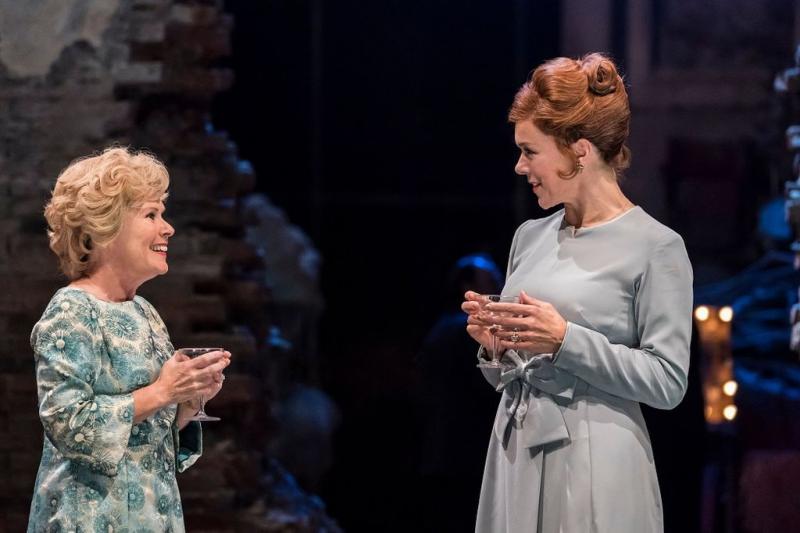 Beautiful girls: Imelda Staunton and Janie Dee in 'Follies'
Year-end wrap-ups function as both remembrances of things past and time capsules, attempts to preserve an experience to which audiences, for the most part, have said farewell.
(It's different, of course, for films, which remain available to us forever.) How fitting, then, that pride of place for the year just gone should be saved for the
National Theatre'
s shimmering revival of
Follies
, the 1971
Stephen Sondheim
/James Goldman musical about the very act of letting go, served up in a production from the astonishing Dominic Cooke, whose 2016 NT revival of
Ma Rainey's Black Bottom
led my line-up of choices this time last year.
The National being what it is, the South Bank flagship was able to couple defining looks back at the canon (Simon Godwin's wickedly funny and moving Twelfth Night, more of which below, was another, as, of course was Angels in America) with new plays that quickened the pulse – hats off, as they say early in Follies, to both Nina Raine for her blistering Consent (which, like Jez Butterworth's subsequent and bustling The Ferryman, included a preternaturally calm real-life baby among its cast) and Inua Ellams for his feisty and provocative Barber Shop Chronicles, a meditation on black male masculinity presented as an irresistible knees-up. Sure, a parlour game of sorts erupted during the summer about which new play was worse, the NT's Salomé or Common (I'd plump for Salomé, no contest), but the building's volume of work proved its own best reward. You don't like one show? There's another one around the corner.
That level of activity was true to varying degrees across town at the Royal Court. Almeida, and Young Vic, the last of which showcased two of the year's most startling productions in its smaller studio spaces. Seiriol Davies's How To Win Against History, a meditation on identity and sexuality as reflective as it was antic, provided an unanticipated complement to See Me Now, a theatrical collage putting on verbatim view the lives of sex workers so as to give newly urgent voice to the oldest profession. (I've yet to see the Young Vic's extraordinary-sounding The Jungle, which accounts for its non-mention elsewhere.) As ever in this town, the talent ranged from the seasoned (director Rupert Goold, who batted not one but two new plays out of the park) to the relatively new (Ned Bennett, the take-no-prisoners visionary at the helm of An Octoroon), while any list of the year's best amounts to a happy roll call of expert acting, many of whom (Tamsin Greig, Jonny Donahoe) impressed twice. For more of which, read on below.
1. Anatomy of a Suicide, Royal Court Jerwood Theatre Downstairs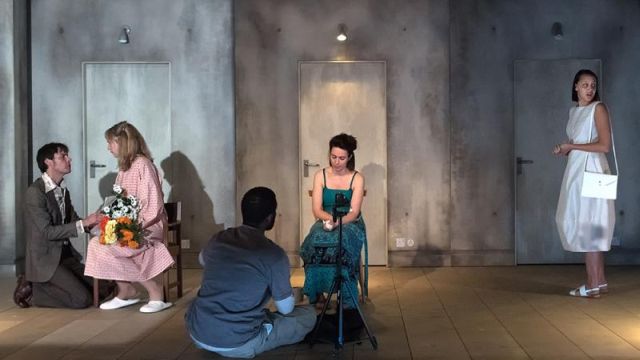 A puzzle play that rewarded an audience's attention to its fractured nature and its often fractious content, Alice Birch's study of three women across as many time periods demanded the sort of scalpel-sharp attention brought to it by Katie Mitchell, in this director's most electric staging in years. The radiant Hattie Morahan (above left: photo by Bill Knight) led the cast as the senior member of three generations of women whose stories are told simultaneously, even though they take place inevitably at different times: the device suggested a riff, perhaps, on Caryl Churchill, but with its own distinctively prickly authority and pathos. The Court kept busy across the year with all manner of shows, Julia Jarcho's late-arriving Grimly Handsome the oddest and most arrestingly macabre of the lot and The Ferryman by some measure the most successful. But Birch's familial dissection haunts me still and feels in its quiet, unforced way like a genuine keeper.
2. Angels in America, National Theatre/Lyttelton
Tony Kushner's threnody for a country – his native America – ailing both physically and psychically turned out to be even more eerily attuned to the Trump era, with all its willful brutality and the associative degrees of resistance, large-scale and small, that have sprung up in response. First seen in London at this same address a quarter-century before, though in a smaller auditorium, Angels benefitted this time out from an audience's heightened understanding of the bellicose lawyer Roy Cohn, played with shards of humanity poking through the horrific by the protean Nathan Lane: Cohn, you may have guessed, was a major influence on the thrusting young Trump. Elliott's Anglo-American cast, meanwhile, put hardly a foot or an accent wrong and will transfer to Broadway in February where leading man Andrew Garfield (pictured above, photo by Helen Maybanks), playing a young man raging gallantly against the rampaging virus that is AIDS, has to be the odds-on favourite to add a Tony to a mantel groaning with trophies. (Let's hope, though, for a re-design for Broadway.)
3. Follies, National Theatre/Olivier
Donald Trump may be doing all he can to tear asunder the so-called Anglo-American "special relationship", but it certainly lives on in the London theatre, nowhere more so these days than in the career of Dominic Cooke, who has now directed defining productions of three American classics: The Crucible, Ma Rainey's Black Bottom, and Follies. That Follies also marked Cooke's first-ever musical was tantamount to a Shakespearean newbie jumping into the fray with King Lear. But take the plunge Cooke did in as fearlessly forensic approach to this ever-tantalising show as I've seen, and one in which the central irony at the heart of the piece was never far from view. "Never look back," advises one of the more rending lyrics of Sondheim's consummate score, the sorrowful fact of the matter being that his characters gathered at a party steeped in regret, yearning and maybe even madness can't help but look back. Cheers and cheers again to the central quartet of Imelda Staunton, Janie Dee, Philip Quast and the criminally undervalued Peter Forbes, not to mention a host of supporting players, led from the front by the pint-sized powerhouse that is Tracie Bennett, who delivered an "I'm Still Here" that resonates with me still.
4. Girl From the North Country, Old Vic
Bob Dylan's back catalogue proved an uneasy fit when director-choroegrapher Twyla Tharp used it to devise her 2006 Broadway flop, The Times They Are A-Changin', which I managed to catch during its closing weekend. Writer-director Conor McPherson's play, drawing from the same musical landscape if not necessarily the exact same songs, has met with the opposite fate, prompting a transfer across town to the Noel Coward Theatre following its sell-out run at the Old Vic. Some, I know, didn't take to McPherson's conceit, which allowed Dylan's music to up the emotional ante on this Depression-era collage telling of the inhabitants of a Duluth, Minnesota boarding house in 1934; there was debate, too, as to whether this was a play with music or, plain and simply, a musical. In the end, who cares, really, given the intersection of McPherson's own interest in the plaintive and the numinous with that of the Nobel laureate himself. No word yet as to whether Dylan has popped by to see the show in person, and what a shame if he hasn't. The performances, not least from leading ladies Shirley Henderson and Sheila Atim (pictured above, photo by Manuel Harlan), both of whom are on board for the transfer, are too rapture-inducing to miss.
5. Hamilton, Victoria Palace Theatre
Could Lin-Manuel Miranda's theatrical pace-setter possibly deliver, given the mile-high expectations surrounding a show about the American founding fathers presented in the country to which its characters are bidding a sometimes bitter, often funny and always multi-cultural farewell? You betcha, especially as galvanised afresh in an utterly astonishing musical theatre debut as Alexander Hamilton himself by recent RADA graduate Jamael Westman, who turned out to possess charisma and vocal chops that even Miranda himself (the part's creator) could only dream of. There was a lot of sentimental posturing during the year in support of such homegrown British musicals as The Grinning Man and, especially, Everybody's Talking About Jamie, neither of which, I'm afraid, looks poised to go the distance. Hamilton, by contrast, comes with artistic and political firepower to burn and, believe it or not, something resembling affordable pricing, not least at a time when premium tickets to the same show on Broadway during the holidays are costing $1150 a pop. I'd put the money towards air travel so as to catch Westman and co. in action in a show that comes as close to any in my experience to suggesting what it might have been like to have been in the audience in Shakespeare's day.
6. Ink, Almeida/Dukeof York's
Many expected a jeremiad from the ceaselessly prolific James Graham, who not for the first time shone a historical spotlight on events that took place before the playwright, now in his mid-30s, was born. But in chronicling the purchase of the Sun newspaper in 1969 by a then-young Rupert Murdoch, Graham avoided easy point-scoring in favour of a blistering battle of wits and will between Bertie Carvel as the softely spoken if steely proprietor-turned-mogul and the invaluable Richard Coyle as the English editor, Larry Lamb, who exists to do the Ozzie's bidding. The director, Rupert Goold, managed to fold into the mix a nostalgist's view of the hardscrabble world of print journalism with its attendant clamour and buzz and excitement. Not many plays work both as an admonitory parable for today and as a freewheeling vaudeville, especially in the first act. The volume of ink generated by Ink, one feels, has only begun.
7. Knives in Hens, Donmar Warehouse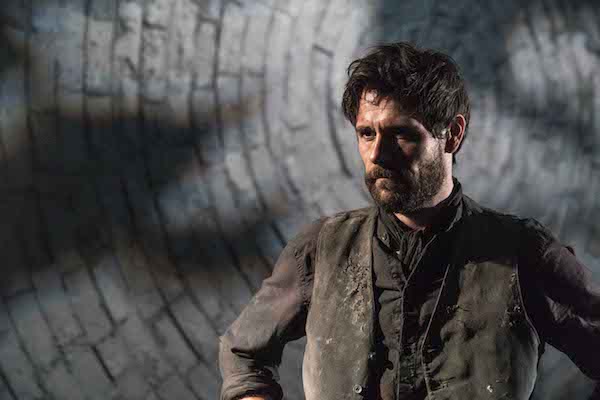 The knives were out, or at least gentle notes of condescension, for the director Yaël Farber's Donmar revival of David Harrower's 1995 stealth bomb of a play, first seen at the Traverse Theatre in Edinburgh. In fact, Farber played to her strengths with this mightily atmospheric take on Harrower's teasing three-hander set in a pre-industrial age alive to the ability of language to both excite and incite. Whereas the same director's previous NT Salomé seemed to pay more attention to the lighting than such niceties as pacing or, ahem, acting, her Donmar company were entirely attuned to the shifting power plays between a husband known as Pony William (the excellent Christian Cooke), his unnamed wife (Judith Roddy), and a widowed miller, Gilbert (Matt Ryan, pictured above by Marc Brenner, who complemented Cooke not least when it came to facial scruff). The phrase "total theatre" could have been invented for the sensory volley proffered by Soutra Gilmour's set, Tim Lutkin's ravishing lighting, and Christopher Shutt's sound design, all of which took the audience on a sinuously compelling journey into the unknown.
8. An Octoroon, Orange Tree Theatre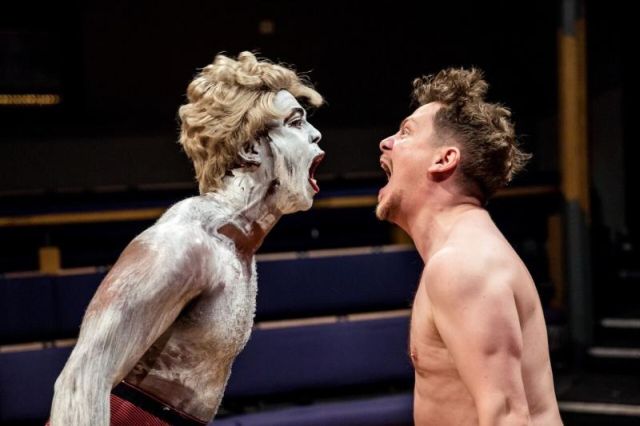 In an exceedingly busy year for American writing on the London stage, Branden Jacobs-Jenkins deservedly won the Evening Standard Theatre Award for his Off Broadway hit An Octoroon, his post-modern potpourri of a play which I missed in New York but was thrilled to have seen at the small but mighty Orange Tree. The west London theatre kept many of its larger brethren on their toes in its skillful programming of work from across the repertoire, German writer Roland Schimmelpfennig's at once disturbing and dazzling WInter Solstice included (in an Actors Touring Company production), but An Octoroon was first amongst equals in its dizzying disregard for theatrical niceties. Coopting a 19th century melodrama by Dion Boucicault to posit its own heady broadside on conventional attitudes towards identity and race, the play has been picked up for a National Theatre gig during 2018 in the Dorfman, thereby allowing a larger public to witness certainly the most peculiar stage direction of the year: "He very, very slowly and very, very stoically proceeds to give himself a powerful wedgie." And that's before the director Ned Bennett's cast rips up the stage floor. (Above: Ken Nwosu and Kevin Trainor, by The Other Richard)
9. Wish List, Royal Court Jerwood Theatre Upstairs
The director Matthew Xia revitalised Joe Penhall's early hit Blue/Orange at the Young Vic during 2016 and was on equally firm footing with Katherine Soper's Wish List, a Bruntwood prize-winner that got the Court's season at their studio theatre upstairs off to a buzzy and blistering start last January. In the abstract, Soper could be said to be writing about the individual against the system but the central dilemma of warehouse employee Tamsin's hardscrabble life was given flesh-and-blood potency at every turn by a superb performance from Erin Doherty (pictured above by Jonathan Keenan), as a 19-year-old facing challenges (a severely obsessive-compulsive brother, for one) that could slay someone twice her age. In its own empathic but unsentimental way, the play went on, emotionally, to slay its audience.
10. And the rest .....
How can one choose just one title amongst a West End revival of Who's Afraid of Virginia Woolf? featuring a George for the ages in a slouchy yet steely Conleth Hill; Tamsin Greig's hauteur turned to humiliation of the most scorching kind as a female Malvolio in the National Theatre's buoyantly directed and designed Twelfth Night; Clare Halse going out there an unknown in 42nd Street and tapping her way to very real stardom in the sort of large-scale production that is scarcer than ever to come by these days; and An American in Paris, a Broadway transfer that made one want to hop the Eurostar immediately but only if you could take director-choreographer Christopher Wheeldon's blissful cast, and the designer Bob Crowley's peerless sense of colour, along for the ride. The show is closing January 6, following which the West End may look just that tiny bit less radiant.
As ever in this town, the talent ranged from the seasoned to the relatively new
Explore topics
Share this article