The Bay at Nice, Menier Chocolate Factory review - David Hare talkfest takes intermittent wing |

reviews, news & interviews
The Bay at Nice, Menier Chocolate Factory review - David Hare talkfest takes intermittent wing
The Bay at Nice, Menier Chocolate Factory review - David Hare talkfest takes intermittent wing
Penelope Wilton and Ophelia Lovibond face off in revival of little-known 1986 play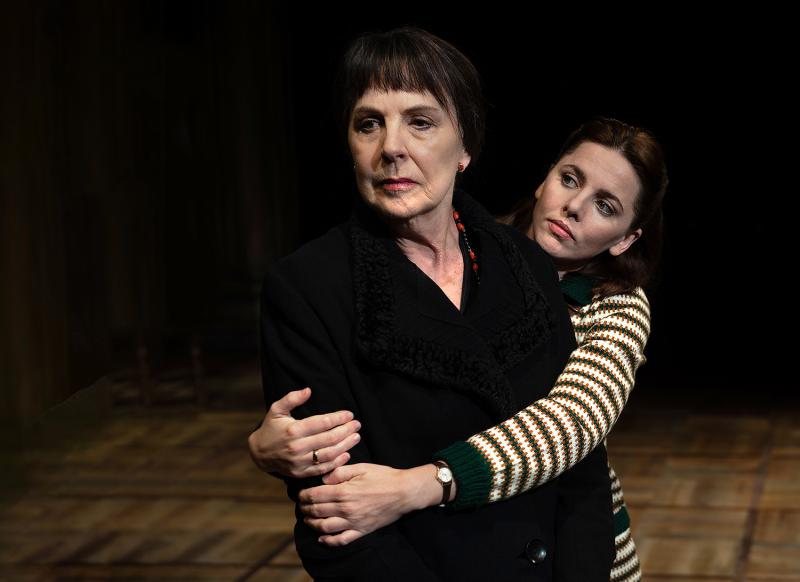 Children and art: Penelope Wilton and Ophelia Lovibond in 'The Bay at Nice
David Hare knows a thing or two about sustaining an onstage face-off. Skylight and The Breath of Life consist tantalisingly of little else and so, for the most part, does his 1986 curiosity The Bay at Nice, which I caught back in the day during a premiere engagement at the Cottesloe that was given immediate lustre by the ravishing Irene Worth.
Its first major London revival, elegantly presented by Richard Eyre at the
Menier Chocolate Factory
, casts the comparatively cool Penelope Wilton as a Russian one-time student of Matisse who confronts her unhappy daughter (Ophelia Lovibond) in
1956 Leningrad
on matters ranging from the ways of the heart to the numerous meanings of freedom.
And if Wilton still seems to be finding her way into a demanding, line-heavy part, the evening belongs to an all but vanished low-tech world where the actors and their words are the happy event, full stop; indeed, it's worth noting (and commending) the absence of mics at a time when so many comparably-sized London houses are going down the amplification route. Wilton and her skilled colleagues are there to give the language its due in a chamber piece of a play notably low on action: characters show up, say their bit, and disappear from view. In the end, one is left pondering the intractably static nature of the work while admiring its thematic heft alongside the shimmering lighting of Paul Pyant. His impressionist contribution to the final moments of the 80-minute whole (no interval) constitutes a work of art in itself.
Originally presented on a double-bill with Wrecked Eggs, The Bay at Nice feels like a stage miniature that might benefit from expansion or opening up. As it is, there's a lot compacted into the encounter in a mostly bare room at the Hermitage between a onetime artist, Wilton's Valentina, unmoored by a country with which she is at odds, and her mid-30s daughter who is trapped in a loveless marriage to an (unseen) party member when she would rather be with the sanitation engineer, Peter (David Rintoul, excellent, pictured below with Lovibond), who is old enough to be her father. The plight of the angry and tearful Sophia inverts what would be the norm in Chekhov – a writer near to Hare's heart since before the brilliant trilogy he brought to the National – whose younger women often seek refuge from older men in the embrace of someone their own age. Rintoul's acutely-judged Peter offers, by contrast, a ready adoration that Sophia, one feels, has rarely received.
Sophia encounters precious little TLC from mum, who also turns out not to be the cash cow that her daughter might have anticipated in a Soviet era when divorce was not an easily done thing. On hand to authenticate for a young curator (Martin Hutson in a throwaway part) a canvas by Matisse, with whom she once studied in Paris, Valentina offers deadpan aperçus that seem made to order for Hare's eventual collaborator on Breath of Life, Maggie Smith. Indeed, one can hear Wilton channelling her Downton Abbey co-star during many an offhand observation, and only Hare would toss in peculiar biographical data involving both Gorky and Stravinsky as if such stage seasoning were the most natural thing in the world. (Russia continues to fascinate him, as his screenplay for Ralph Fiennes's new film The White Crow bears out.)
Reuniting Hare with the director, Eyre, who premiered several of his most enduring plays, The Bay at Nice feels like an artistic homecoming of sorts, and it may well acquire greater power once it has bedded into the run and Wilton, in particular, is entirely on top of the text. But there's an irony that so densely written a play is most moving once the words fall away and Valentina is left to gaze at a belatedly unveiled canvas that catalyses all manner of emotions within this would-be grande dame. Pondering the painting that gives the play its title and reminds her of a now irretrievable life, Valentina comes to embody (again, shades of Chekhov) a onetime-traveller returned home only to discover that she exists in fundamental exile from her art and herself.
The Bay at Nice at Menier Chocolate Factory until 4 May
There's an irony that so densely written a play is most moving once the words fall away
rating
Share this article