Barbarians, Central St Martins |

reviews, news & interviews
Barbarians, Central St Martins
Barbarians, Central St Martins
Barrie Keeffe's work still has resonance nearly 40 years on
Wednesday, 07 October 2015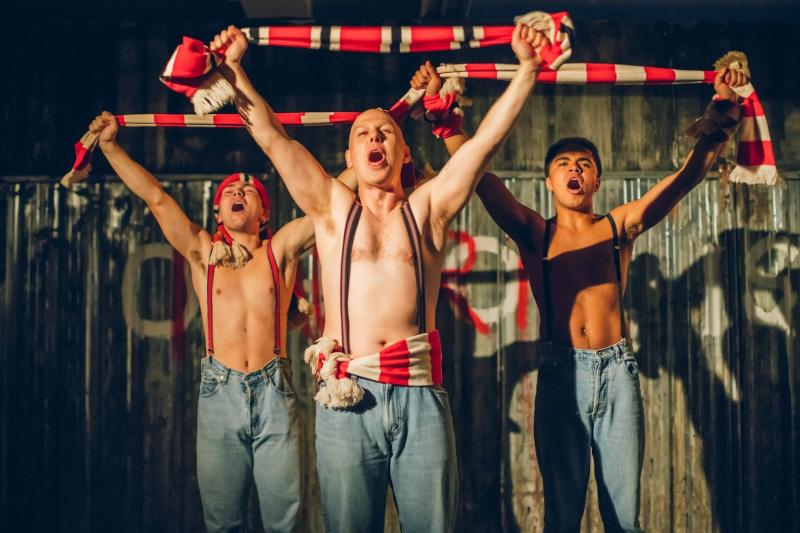 Jake Davies, Thomas Coombes and Josh Williams as disaffected youths of mid-1970s Britain
Paul, Jan and Louis, three young men living in a gritty part of south London, are bored and broke and, for them, there are two kinds of Britain – one with money and power, and the one they live in, with no money and little to look forward to. No, it's not a play set in 2015, but Barrie Keeffe's Barbarians, set in the mid-1970s when youth unemployment was at an all-time high and the pound was at an all-time low.
The parallels to today, with a burgeoning underclass and a widening gulf between the haves and have-nots in the UK, are obvious – which perhaps explains why this co-production between Tooting Arts Club (TAC) and Soho Theatre will shortly be followed by another in London, at the Young Vic.
The undercurrent of violence bursts into life with horrible predictability
Bill Buckhurst's energetic show for TAC is an updated version of its 2012 production and, like the company's hugely enjoyable Sweeney Todd earlier this year, is another intimate and immersive experience. It's performed in three spaces within the disused Central St Martins art school in central London, which lends another layer of atmosphere to the era recreated here, with graffiti on the walls, ramshackle furniture and a sense of decay all around.
Barbarians' three short plays start with Killing Time, as the three young men hang around, earning money when they can by ducking and diving, which mostly involves identifying cars for Paul's cousin to steal. Paul (Thomas Coombes) is the leader, cocky and seemingly self-assured, but brittle and vulnerable underneath. Jan (Jake Davies) is sweet and easily led, while Louis (Josh Williams) wants to make something of himself but his comical dimness halts his progress. The language – foul-mouthed, casually racist and as hard as nails – nonetheless manages to be frequently funny.
In Abide With Me, the threesome are outside Wembley Stadium for the 1976 FA Cup final, trying and failing to get in to see Paul's beloved Manchester United against Southampton. Neither Jan nor Louis is actually that bothered about Manchester United, as it happens, but Paul decided to follow them rather than local team Millwall "like everyone else", which neatly parlays his need to carve out some territory in which he can stand out from the crowd.
This is the time of appalling football hooliganism and we can easily believe that skinhead Paul would join in, despite his proud assertion that Manchester United supporters are the best-behaved in the league. But as they discuss the grotty, unsavoury and unsafe grounds they have travelled to, where lavatories are ankle-deep in urine, we understand his line: "No wonder they call us animals. That's how they fucking treat us."
We meet them again in In the City, where the three men gather for the first time in a while at the Notting Hill Carnival; Jan and Paul talk blithely of hooking up with "spade bints" and then bump into Louis, who has moved away from south London, and we catch up on how, if at all, their lives have moved on. The undercurrent of violence that runs through the evening bursts into life with horrible predictability, as we are shown the limits of the friendship that once bound them together, and how a sense of belonging can so easily turn into tribal conflict.
Tightly directed by Buckhurst, Barbarians engages throughout and the three actors all give terrific performances. Some references have dated (although not the music by The Clash and The Jam), but Keeffe's central message about disaffected and disenfranchised youth still rings horribly true.
The language – foul-mouthed, casually racist and as hard as nails – nonetheless manages to be frequently funny
rating
Explore topics
Share this article