Jam review – obsession and resentment in the classroom |

reviews, news & interviews
Jam review – obsession and resentment in the classroom
Jam review – obsession and resentment in the classroom
Debut play at Finborough Theatre about teaching and the unteachable hits a nerve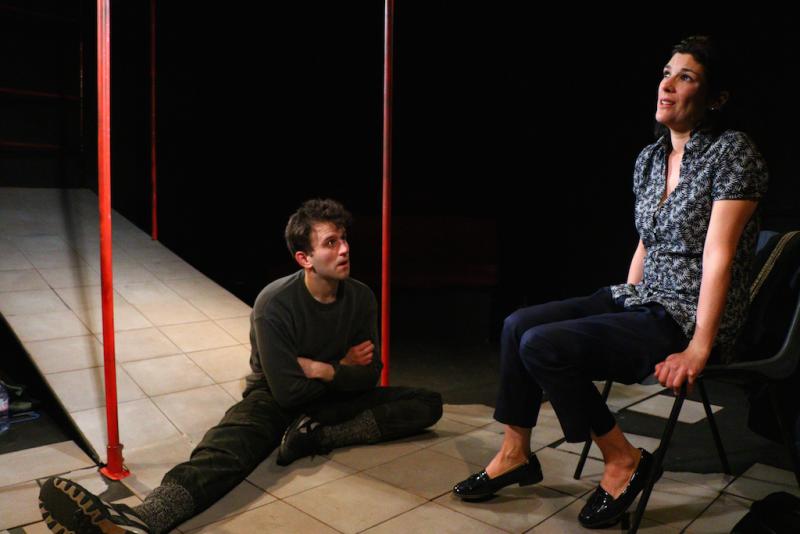 See me after school: Harry Melling as Kane and Jasmine Hyde as 'Miss Soroush'
When TV drama tackles Britain's class divide, the go-to working-class type is the northerner: gritty, blunt of vowel and partial to a deep-fried Mars bar. The first and perhaps only pleasant surprise in Matt Parvin's debut play Jam, produced by the ever-adventurous Finborough, is that it's set in Cornwall.
Kane McCarthy, a shuffling, sniffling Harry Melling (leaner and meaner than when he played Dudley Dursley in the Harry Potter films), has tracked down his old school history teacher 10 years after a classroom incident caused her to leave her job. Bella Soroush (Jasmine Hyde) now works at another school in a better part of town having successfully put the episode behind her. Kane, however, now 23, claims that he and she have "unfinished business".
From the first minute of dialogue it's clear that Kane's reappearance in Bella's life, worse, in her classroom after hours, when no one can hear her scream, is deeply unwelcome, and Hyde does a good job of conveying that solely through her eyes, not least when she clocks the baseball bat poking out of his rucksack.
But if Kane's original plan was to do violence to Bella or her workplace, he has thought better of it. To her scoffing disbelief, he tells her that he has a brain tumour and only a few months to live, hence his desire to tie up loose ends. We are appalled by the teacher's callousness, believing Kane's story long before she does, then appalled by Kane as the racially motivated hate-campaign he waged against her is gradually exposed.
Throughout, the play juggles our sympathies as both parties' entrenched beliefs about their behaviour and attitudes are chipped away.
Both performances are superb. Melling's fidgety hands, his mumbling and his trailing sentences that never were going anywhere anyway, his excitement when he demonstrates a hand of Pokemon (one of the few skills he acquired in his entire school career), make Kane almost unbearably real and present. Hyde, playing much closer to the educated sophisticate she presumably is, is at times unfairly overshadowed, though she eventually comes through blazing.
But for all director Tommo Fowler's attention to pacing, the show cries out to have half an hour lopped off it. There's a plausibility problem too: given the seriousness of the Kane incident 10 years ago, why doesn't Bella simply use her phone to get help? The play's title also needs a rethink. If anyone is Just About Managing it has to be the teacher, but that acronym was coined with a very different set of challenges in mind.
Kane's reappearance in Bella's classroom after hours, when no one can hear her scream, is deeply unwelcome
rating
Explore topics
Share this article