Back to the Future: The Musical, Adelphi Theatre review - a spectacular West End show to delight fans old and new |

reviews, news & interviews
Back to the Future: The Musical, Adelphi Theatre review - a spectacular West End show to delight fans old and new
Back to the Future: The Musical, Adelphi Theatre review - a spectacular West End show to delight fans old and new
Whether you've seen the movie ten times or never, this will be a night to remember
Tuesday, 28 September 2021
We're a musical now? Olly Dobson as Marty McFly and Roger Bart as Doc Brown
There's a lot of going back to the future in theatres just now - shows (like this one) postponed by 18 months or so and delayed still further by co-star Roger Bart being indisposed on press night are bringing the bright lights back to the West End.
Once you read all the
Covid
advice sent in advance (is there an way of making it a bit less intimidating, as it's never quite the expected blizzard of certificates and glowing QR codes on the door), we're back to, if not quite 26 October 1985, then 26 October 2019 - and doesn't that feel good!
Doc Brown has pimped up his DeLorean with his time-travelling flux capacitor gadget and sent Marty McFly three decades back to 1955, where everything is both familiar and strange. His father, George, is still being bullied by Biff - then teenage high schoolers rather than middle-aged co-workers of course - Doc is still a mad inventor and his mother is, well, shall we say very pleased to meet him. To return to 1985, Marty and Doc have to catch lightning and it's hardly a spoiler to point out that Back to the Futures II and III are almost as loved as the original, so what do you think happens?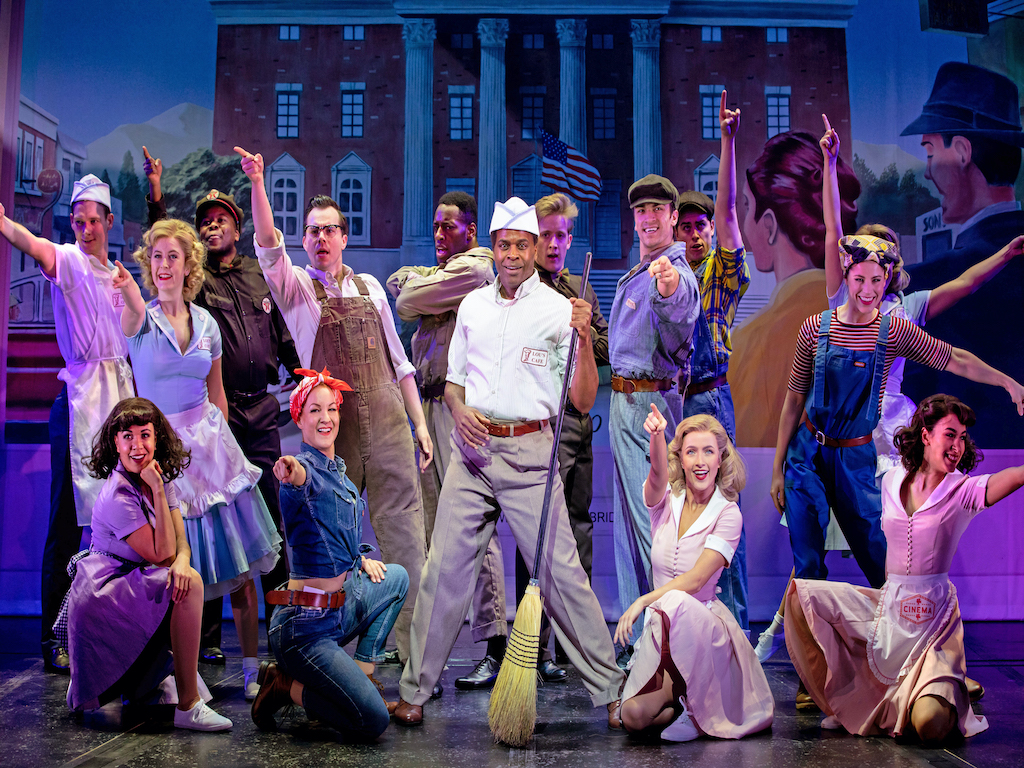 It's a plot almost everyone in the house knows, whether they've seen the movie or not, so embedded has it become in popular culture. Much then turns on the stage show walking the tightrope between evoking the iconic scenes from the film and carving out its own identity as a self-standing production and not a cheesy ersatz tribute. With expectations high - there's much in the excellent programme about protecting the legacy of the franchise and the long gestation of this production - director John Rando has to get a lot right. With a book by Bob Gale (who co-wrote the original screenplay) and music and lyrics by Hollywood stalwarts Alan Silvestri and Glen Ballard, the show certainly had a chance.
But has a musical ever had more riding on how it looks as much as how it sounds? If the DeLorean were less than a DeLorean, if Marty were a strapping six-footer, if Hill Valley looked like the Thames Valley, I suspect we would hear guffaws in the stalls, credibility shot, the DeLorean never getting out of first gear. The designer Tim Hatley, supported by an army of creatives and technicians, has done a wonderful job, provoking the "ahh" of recognition as a much-loved moment previously only seen on a screen is there, on stage, in three glorious dimensions, and a "wow!" as some of the best special effects and video seen in the West End catapult us into Marty and Doc's world.
Foundations established, audience onside, all that's needed now is a musical - and that's as tricky as ever to get right, more so perhaps, because it must, somehow, integrate with the elements that every member of the audience brings with them and that have been so skilfully and sympathetically recreated on stage. Then it has to succeed as musical theatre in its own right - no pressure!
The songs are more functional than sensational, the best being Doc Brown's epic second act opener, "21st Century" and Marty's rocked out "Johnny B Goode". "It's Only A Matter Of Time" connects the musical to the movie, the refrain weaving in and out of the action, a key theme. However, sensational is exactly the right adjective for Chris Bailey's choreography, the movement memorable even if the music isn't quite.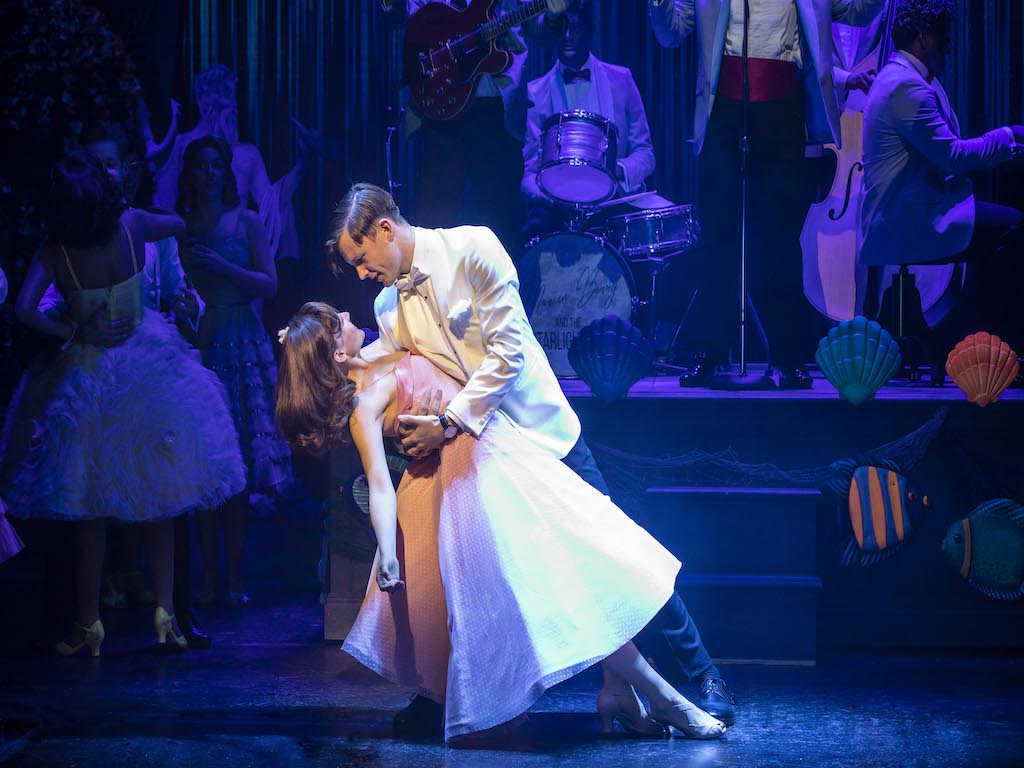 Olly Dobson gives us a Marty McFly that everyone greets with a whispered "He looks so much like him" - then, leaning away from Michael J Fox's star quality and into his own, soon he's our Marty: goofy, good and cute. American Tony-winner Bart pulls off a similar trick, especially in a perfectly landed allusion to 2020 accompanied by a sideways look through the fourth wall, stepping out from the very long shadow of the incomparable Christopher Lloyd and owning his Doc Brown. Both are gifted comic actors who create plenty of chemistry on stage - they're exactly the mismatched pals we so wanted them to be.
In support, Hugh Coles (pictured above, with Hyland) enjoys a fine West End debut, all shy, hesitant charm as George McFly, and Rosanna Hyland has a lot of fun with Lorraine Baines, Marty's mother - and you would have to be miserable indeed to read too much of Emperor Nero's transgressions into her main plot line. The standout is Cedric Neal (pictured up top), tremendous as the ambitious waiter turned mayoral candidate Goldie Wilson, whose rich vocals underline the impression that not all the voices we hear are as strong as they might be.
Picking up a blockbuster movie and dropping it on to a stage is far trickier than it sounds (if it were straightforward, everyone would do it), so to go searching for flaws in such an entertaining spectacle is churlish indeed. Far better to strap yourself in, fire up the flux capacitor and stick the pedal to the metal all the way up to 88mph. It's one helluva ride.

Stick the pedal to the metal all the way up to 88mph - it's one helluva ride
rating
Share this article