On Adapting Birdsong for the Stage |

reviews, news & interviews
On Adapting Birdsong for the Stage
On Adapting Birdsong for the Stage
Rachel Wagstaff explains how she took on Sebastian Faulks's much-loved bestseller
Thursday, 23 September 2010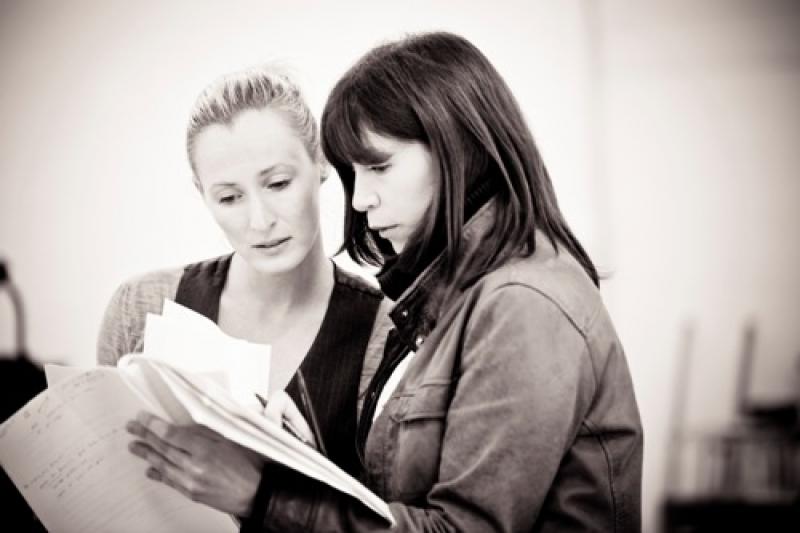 'I've taken the voices of the characters': Rachel Wagstaff (right) with Genevieve O'Reilly, who plays Isabelle in 'Birdsong'
I remember walking into the Hawthorn Ridge cemetery, seeing a grave of a 20-year-old boy who died on 1 July, 1916, and knowing for the first time why Sebastian Faulks needed to write Birdsong, and why I desperately wanted it to live and breathe and be brought back to the public consciousness again.
I first approached Sebastian four-and-a-half years ago. I got his email and asked him if he'd be interested in discussing it as a possibility. Sebastian sent a very gracious email back saying pretty much "Thanks, but no thanks" because he thought Working Title owned the theatrical rights. But he wasn't sure. He would check. A month later I got an email from his agent's assistant saying the theatrical rites were still available. Would I like to come in for a meeting?
I very nervously went in. I sent a treatment to him in advance. I talked for about an hour about how I envisaged it working. They thought about it for a couple of weeks, came back and said "Yes". I sent him a first draft six months later. He sent back a very complimentary email saying I'd captured the heart and the spirit of the books and the voice and the rhythms of his characters and it kind of went from there.
There were moments when structurally I struggled, when I wasn't entirely sure. The book is so rich and it's important for me that I honour the book, the story, and the truth of what it represents. I, of course, was struggling to cram everything that's needed in, but I was also very clear about what the central narrative should be and instinctively I knew how it would flow act-wise. In 1910 a young man called Stephen Wraysford goes to France and falls in love with a married woman called Isabelle (Genevieve O'Reilly and Ben Barnes pictured below). And then the second act is set in 1916, follows through to 1 July, 1916 where Stephen Wraysford's boys go over the top on the first day of the Battle of the Somme. The third act is over 1917 to 1918 when Stephen Wraysford finds himself back in Amiens, back exactly in the place he was in 1910, seven-and-a-half years or two acts ago, inevitably looking for the woman he loved and lost.
I was very clear with Sebastian from my very first meeting that the episodes in the 1970s should go. I identify with his modern character Elizabeth - a young woman in 1978 trying to understand generations that have gone before. Sebastian talks about how in the modern sections he deliberately uses fewer adjectives to make it seem flat and banal. I felt our interval would do that for us. You'll find yourself in the bar trying to buy a gin and tonic, probably getting to the lavatory, and be suddenly confronted with that slap in the face: this is the life we lead. And then you're plunged back into this potent, poignant, heartbreaking story. He seemed to understand that with no objections.
I've been very keen on including him all along the process at every stage in each draft. If he doesn't like what we're doing then the readers of his book won't like what we're doing. I very much admire his courage. But on the other hand, he's had 15 years of the film of Birdsong being in development where he's not necessarily as involved in drafts. I don't remember any disagreements. He's very good at saying, "But of course you are writing a play so you have to write your play."
I felt I needed to go down in one of those tunnels. I can still taste that feeling in my stomach
Will I be placarded on the press night by irate fans of certain characters I inevitably had to lose? Compromises do sometimes have to be made when transposing something into a different medium. Characters have to be elided. Moments have to be moved to make it dramatically satisfying. So to those people I would say, "Please understand the process and appreciate and judge and respond to this in its own right." I haven't added any events or episodes. I've merely imagined the scenes that Sebastian describes. I've taken the voices of the characters and I hope allowed them to breathe in dramatically acted scenes. The dialogue is for a large part created afresh. There are some beautiful lines in Sebastian's novel that I have been able to give to characters, but for the most part you can't take chunks of prose because that's not naturalistic.
I wanted to represent the truer stories that lay beneath the book, so four years ago I went round the battlefields. I felt I needed to go down in one of those tunnels to understand how one character called Jack or his colleagues moved, what it smelt like. They spent hours down there, sometimes days, sleeping down there. I was walking through the widest parts in these tunnels and imagining it with no electric lights, the sound of muffled gunfire, the occasional flash of light and puddles all around. I can still taste that feeling in my stomach.
And I remember walking up the road the soldiers would have walked up on 1 July, 1916 and seeing how steep the hill was. One of the generals described it as suicide, just marching up that hill for hours in daylight. Imagine the terror. At Thiepval there is this incredible monument, this massive blot on the horizon, with names upon names engraved upon it. Like Elizabeth in Birdsong, I had exactly that experience of assuming that these were the dead from these fields. And then a French caretaker tells you that these are just the missing; these are just the boys who are lost in that field.
If Sebastian Faulks doesn't like what we're doing then the readers of his book won't like what we're doing
Share this article