10 Questions for Artistic Director John McGrath |

reviews, news & interviews
10 Questions for Artistic Director John McGrath
10 Questions for Artistic Director John McGrath
All of Wales is a stage for the boss of National Theatre Wales
'It depends what you mean by theatre': John McGrath of NTW
As of next year, John McGrath will be the most senior artistic director of a national company in the land. Rufus Norris will be freshly installed at the National Theatre of Great Britain on the Southbank. Laurie Sansom started at the National Theatre of Scotland in 2013. McGrath launched National Theatre Wales in 2009.
Since the first production,
A Good Night Out in the Valleys
, toured the old Miners' Institutes of the South Wales coalfield in March 2010, McGrath has set about staking out new notions of what a national theatre can be.
That first season offered 13 productions which collectively attempted to map Wales and Welshness. One show was in an old library in Swansea, another on the beach at Rhyl, Aeschylus was staged on a military training range in the Brecon Beacons and, most famously, Michael Sheen revived a Port Talbot tradition with a 72-hour enactment of a modernised Passion. They've even put the odd play on in a bog-standard theatre. But outside Cardiff there aren't many of those so pragmatically, but also ambitiously in a climate which tends towards dampness, NTW has embraced Welsh weather and staked out an identity based on site-specific work.
This year alone is devoted to the great outdoors. In April Dylan Thomas's centenary was marked by Raw Material: Llareggub Revisited, a promenade-cum-installation on the streets of Laugharne. In September the company shifts to Snowdonia for a hymn to sheep-farming by the national poet of Wales Gillian Clarke called The Gathering/Yr Helfa. But next up it's the turn of another poet. Owen Sheers, who wrote The Passion of Port Talbot, has written of an action on the Somme which claimed many young Welsh lives and was witnessed by several poets and writers: not only Robert Graves and Siegfried Sassoon but also, more pertinently, David Jones (In Parenthesis) and Llewelyn Wyn Griffith. Mametz, named after the wood Welsh Tommies were charged with storming in 1916, will take place on a farm near Usk in Monmouthshire. On the eve of its opening, John McGrath talks to theartsdesk about mapping Wales and exploring theatre, while overleaf you can browse a gallery of images from all of NTW's productions so far.
Pictured below: NTW audience for The Soul Exchange in Butetown, Cardiff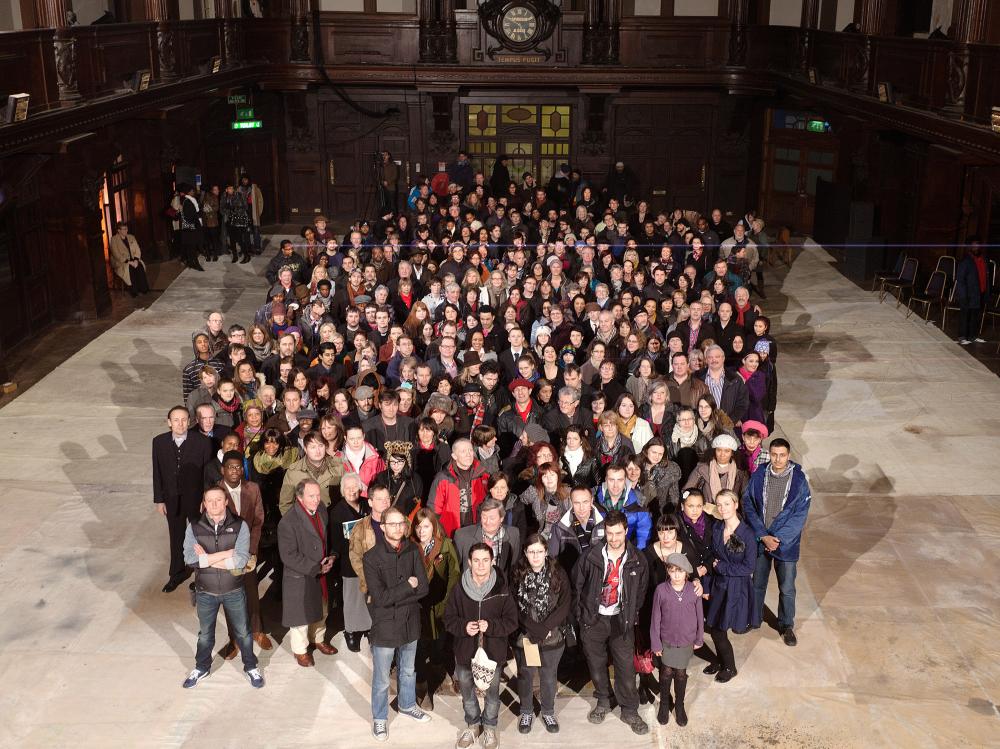 JASPER REES: NTW is, rarely and maybe even uniquely for a national theatre, committed to performing site-specific work, and that continues with Mametz.
JOHN McGRATH: It's a word that we tend to avoid. "Site-specific" is a very particular type of theatre that almost uses the site as the text, as the starting point, the thing to explore. We tend to talk about our work as having a very deep relationship to its location. We think a lot about where work happens and how it happens and why it happens in that place. But because of that the company has become well-known for having a unique relationship to its location. That might be in a way that is site-specific in the purest meaning of the form, in the way The Persians was, which was inspired by that location [a ghost village which is part of an army training range in the Brecon Beacons, pictured below]. Aeschylus came after the location. In a very different way The Passion was a site-specific piece of work because it could only have happened in Port Talbot. Other pieces such as Coriolan/us have been in quite a dynamic relationship with the place [a military warehouse in South Wales] but actually could have taken place in a bunch of similar spaces. Other pieces like Bradley Manning have been in quite an intense relationship – certainly the place that it opened, his old school hall – but that isn't where the idea came from. Only those pieces that could specifically happen in the one site where they happen I would call site-specific. I think a real strong sense of location has been important to the company and that has been the way in which we have explored what it is to be a national company: what is it to be a company of this place, of these places.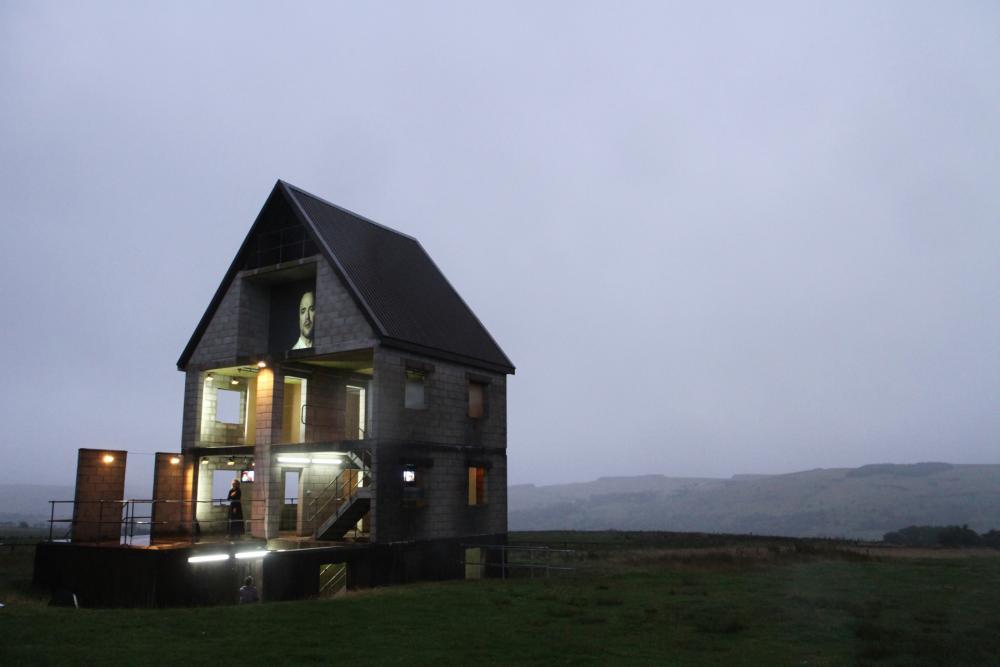 Has the pursuit of those places where you can put on plays been a response to the fact that there aren't a great many theatres in Wales? It's not just about not wanting a centripetal centre.
It's a response to all of those things. Obviously there are a lot of theatres in Wales but a lot of them are of the ilk of the old miners' institutes as opposed to city repertory theatres. Of course there aren't a huge amount of cites in Wales so it's a different kind of population, different kind of civic structure. The theatres that were built in the Sixties, Seventies, Eighties tend to be arts centres as opposed to producing theatres because again they're serving a range of needs for a town. It's a very different landscape in which we find ourselves. It's not a place of great centralisation, there's a lot of connection to where you come from. There is a sense that there is not necessarily a normal expectation or desire that everything will be pulled into an urban centre. In responding to that practicality you also respond to something deeper in the country.
Has it dictated the kind of subjects you've been able to explore?
I think it's more opened up the subjects we've been able to explore theatrically. When you do see a whole nation and its entire landscape as your stage it opens up a vast range of possibilities. You're not thinking, what should I programme in the mid-autumn slot in the main space? That's the restriction to me: having this space and timetable that you have to relate everything to. I think we can be more responsive to the idea. One of the things we'd done is set up a whole studio programme that doesn't have a studio. The Wales Now progamme which is about developing work-in-progress and new artists, and that work takes place in all sorts of places across the country. That's been really inspiring for artists. Rather than being given a black box and two actors to try something out, you're given potentially any location in the country and a couple of weeks to try something out.
Being able to open out, to take all Wales as a stage, has it made you phobic about traditional proscenium theatre? You did do a Chekhov in a Cardiff theatre with all the bells and whistles.
And Osborne in the New Theatre in Cardiff and Gwyn Thomas (The Dark Philsophers, pictured right) in the Riverfront in Newport. No, I'm not phobic about it at all. I love theatre buildings. I think what it encourages you to do is think about theatre buildings as places. When I ran a theatre building I used to try and think about it very much as a place that existed within the city and the location and its relationship with the people and spaces around it. I think too often theatres get thought of as almost removed from all of that, as empty spaces, to quote the great Peter Brook. Maybe we need to think of them a little more often as spaces that are actually quite full and quite located and have lots of dynamics in relation to them. I like to think about theatre buildings as existing somewhere, as having a history, as being a particular kind of space.
Have you had parts of Wales say, "Can you come and do something in our locality"?
Absolutely, which is great. And even if it's "Why haven't you done something here?" It's exactly the sort of critique that you would want. People are demanding that you come to them. And we have this programme called The Assembly, a debate and discussion programme which in the first year we did in each place where we did a show. In the second year we changed the structure so that anyone could bid for one. And usually the strongest bids – and there's an online vote for who should get it – tended to come from places where we've not performed. Cardigan most recently, Machynlleth, Bangor.
Is the concept of a national theatre received differently in different parts of Wales?
Yes, and some of it is to do with the fact there are two national theatres in Wales, for the Welsh language and the English language. So that there will be areas of Wales where the natural national theatre is Theatr Genedlaethol Cymru and actually for those areas we have to explain what we are. Which is quite interesting because we 're in the alternative position as opposed to be in the natural institution of nation. Also in Cardiff there's more expectation that a national institution will be on your doorstep so we have a different kind of explaining to do about why we're just there some times.
My perception is there are not deep theatrical roots here in Wales in the way there are over the border. Instead there are deep poetical and musical roots.
It depends what you mean by theatre. There is a particular prism through which theatre is seen in England. It's about a certain literary textual tradition turned into the well-made play. And that has been negotiated largely through text. Since the Sixties there have been all sorts of different dynamics, but that is still the dominant narrative. Whereas I think the dominative story in Wales is more about a community coming together to perform itself and tell stories and the different ways in which different art forms can be part of that. If you think of the bastard art form, the mix of art forms into one place – poetry, music, performance – that could be Welsh theatre. It could also ancient Greek theatre, couldn't it?
What is NTW for, as opposed to other national theatres in other nations?
In Europe there was a relationship of all the national theatres to the political settlement within the nation. In some degree the shifts and stories of that political settlement have been expressed, whether it is the history of federalism within Germany, which doesn't have a national theatre, or whether it was the relationship to court and monarchy. If you go to [the former] Yugoslavia, what's the relationship of nation-making to culture institutions? That is part of it. And there is a national theatre in Somalia but there is also about to be a national theatre in Somaliland, which reflects the political and cultural dynamic of that nation. Within that settlement a national theatre is asking itself, what is our relationship to the traditions of theatre performance, culture, society and social gathering that are there?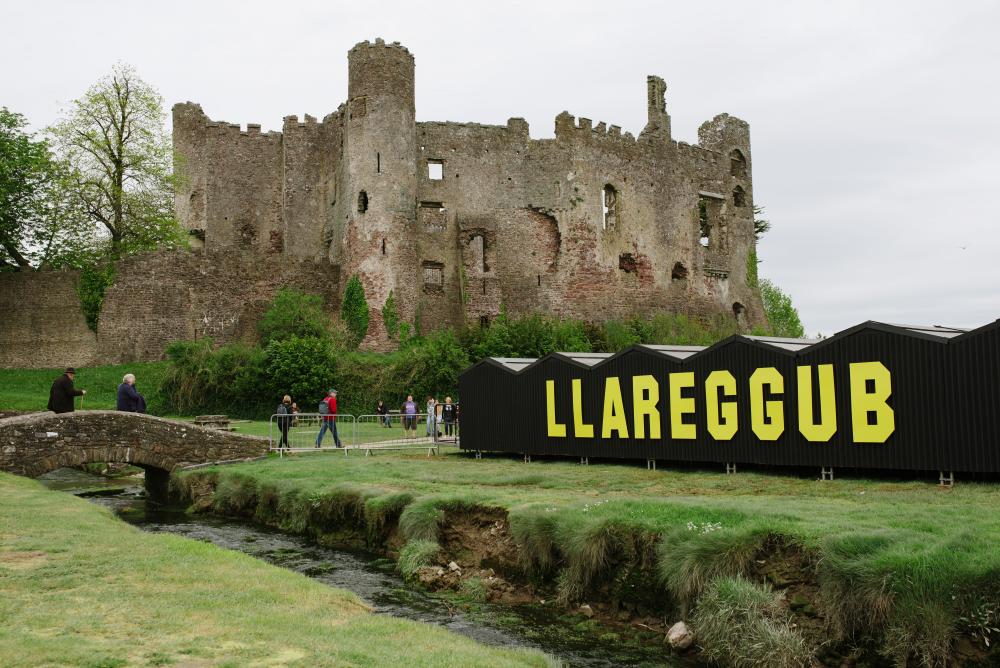 So our question as national theatre is not, "What is NTW for?" but, "What are the best and most interesting ways to make sense of the environment within which NTW comes into being?" That is a particular historical relationship to theatre that isn't about a whole series of plays. That's the dynamic out of which we're made. But it is also about a country that over the last 50 years has had a very confident relationship with European theatre, a confident relationship with the experimental, that also has very strong roots in popular and community performance, that has a very intense relationship to site and to place. Those are all in the theatrical tradition as well as in whatever you might think of as the culture of the country.
Your last production – Raw Material: Llareggub Revisited - was about one centenary. Mametz is about another? Both Dylan Thomas and World War One have had intense focus elsewhere. Is there any anxiety about audience fatigue?
As long as the work that you're making is uniquely itself… There are an awful lot of pieces of theatre about dysfunctional family relationships. That doesn't mean that we stop watching them because we've seen too many. In terms of programming you do make decisions that respond to those kinds of questions. Ultimately you go, artistically it is always to make an urgent piece of work... that will say something that otherwise won't be said in quite the same way.
How important is it for the work of NTW to be seen outside the borders of Wales?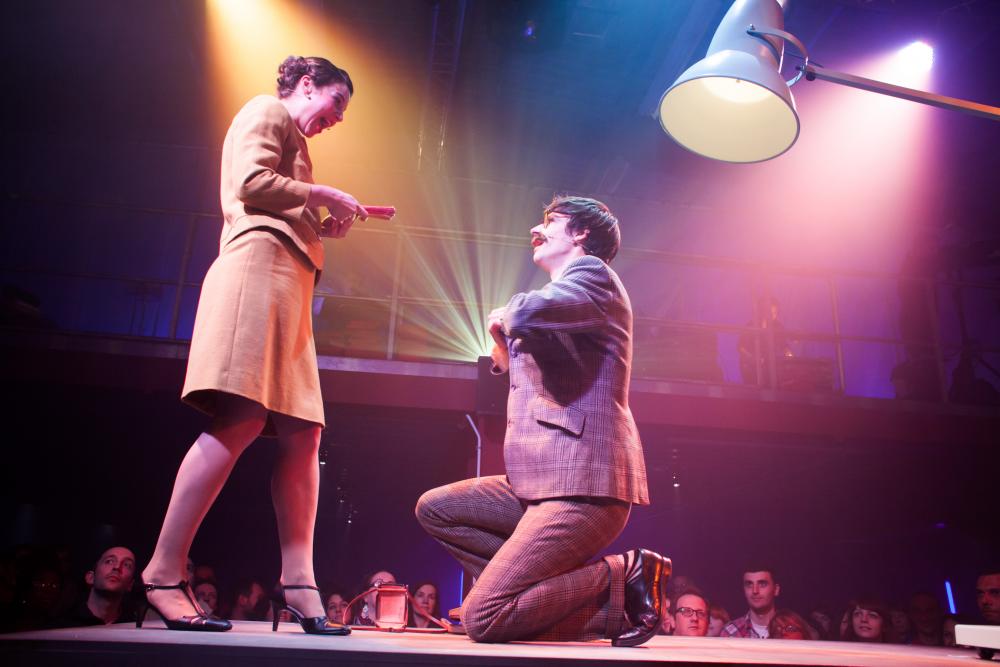 I think it's increasingly important for the future. That is a challenge for a company that hasn't primarily made touring work so it doesn't as easily go to places. But the next show we'll do after Mametz is taking Praxis Makes Perfect (pictured left) to Berlin to a festival there. I think that our work probably sits more comfortably in a festival context than in a standard touring context because there is that sense of an event around it that often works well in festivals. Some of our shows are only for one place and can only be in that place but a lot could be in other places if we find other sites to play the role of the site.
NT Scotland and the National Theatre of Great Britain are collaborating this year. You've collaborated with many companies, but is working with the NT in London something that may happen some time or would you like it to happen?
I think collaborations should always be with the right partner. This is going to sound like a political answer but it is the true one: if you're partnering up with someone, you want it to be a piece of work that neither company can do by themselves. That should be the distinction, not that you're transferring to somewhere else. And that to me is the ideal - always to be co-producing and making work together that feels like it's a unique product of the company or artists that are making it. Our other big adventure was being commissioned by the National Theatre of Japan in Tokyo to make a piece or work that existed only in Tokyo. So what our relationship would be with National theatre or Great Britain is really open. I think it probably would be very different to the one that Scotland is about to have.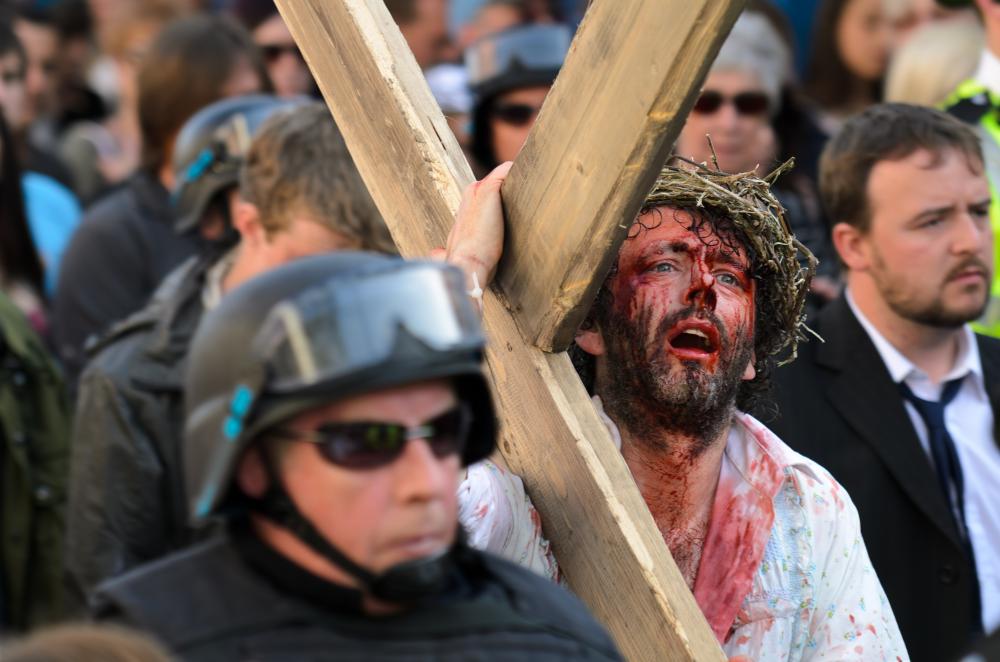 The Passion of Port Talbot has been, outside Wales, your calling card whether you like it or not. Has it ever felt like you created a rod for your own back with that show? That it was such a vast success that it cast the rest of your work into the shade?
I think it would have been much more a rod for our own back if it had been a touring show that had toured for ever. What it created was a huge sense of possibility for the company - the fact that it was on the scale it was on, the fact that it reached the number of people it did, that it was so owned by that town, and the people within the town still speak of it with such affection and pride, which is not always the case when big things happen to towns and places. Sometimes there's a sense that something is done to you, and that wasn't the case. That was just to do with the thoroughness with which Michael [Sheen] addressed it. It also staked out a theatrical language. We'll do work that's big, we'll do work that's small. It's probably going to be a long time before we do a big piece of work that looks significantly like The Passion of Port Talbot.
It had a big element of gigawattage to help it. There are other big names in Wales. Do you have occasional conversations with the usual suspects about luring them home to do something?
We have ongoing conversations with most of the usual suspects a lot of the time. Michael took a year out of his shooting schedule to do it. That was a lifetime project for him and that's very different to being cast in a show. But we are a thespian nation.
Overleaf: the complete history of NTW - browse a gallery of images
Click on the thumbnails to enlarge

I like to think about theatre buildings as existing somewhere, as having a history, as being a particular kind of space
Explore topics
Share this article