The Passion of Port Talbot, NTW/WildWorks |

reviews, news & interviews
The Passion of Port Talbot, NTW/WildWorks
The Passion of Port Talbot, NTW/WildWorks
Michael Sheen's three-day street epic is a transcendental triumph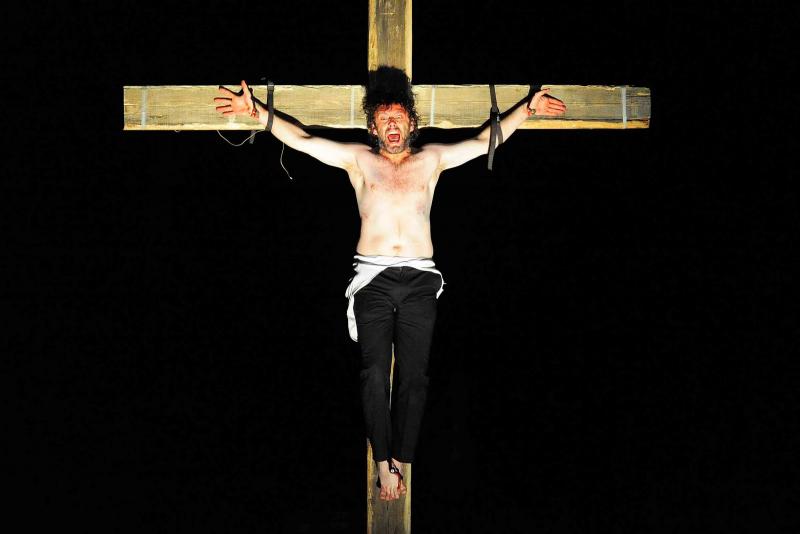 The Passion of Michael Sheen: His home town of Port Talbot is resurrected
To begin at the end, this was an astonishing creation, a piece of street theatre of transcendental power which no one who was there at the death last night could or will ever forget. Those witnesses included what felt like the whole population of Port Talbot who filled the streets in their many thousands - 5000?
Double it and then some - to witness one of their own drag a cross for two gruelling miles from the town centre to a traffic island on the sea shore, there to be crucified, there to achieve a genuine miracle: the resurrection of a condemned town. After this breathtaking act of theatrical magic,
Michael Sheen
can book himself in for local sanctification.
Nowhere in these isles can have seen anything like The Passion of Port Talbot in many a long year. In November 2009, when theartsdesk gave a comprehensive rundown of National Theatre Wales's inaugural season of work, it was announced that the year would close with a 13th production in which Sheen would revive an old Port Talbot tradition, the passion play which used to be put on over Easter at nearby Margam Park. No one could have envisaged that 13 would turn out to be quite such a lucky number. There was not a drop or a spit, nor even a cloud to dampen or darken three days and nights of a promenade production which recast an entire town in an extremely sunny light.
Come rain or shine, that was always the idea. Sheen (pictured right, photograph by Rich Hardcastle) has passionately advocated the merits of his home town while others have doubted. Even within a small country which itself sometimes feels marginalised, Port Talbot has always looked somehow shunned. From the motorway which flies over, the only things visible are the dockyard cranes and steelworks' smokestacks belching fire and brimstone. As someone said, this would be the perfect place for a second coming.
Not that the play made any such explicit references to the greatest story ever told. Levitating skilfully between pantomime and parable, Owen Sheers's three-day play was set instead in a dystopian near future in a town toiling under the exploitative grip of commercial developers, which has lost a sense of what it is thanks to that motorway which passes literally over.
From this town a local teacher had disappeared 40 days previously. An interview with his worried mother soon cropped up on YouTube. Footage of a bedraggled wanderer, captured on video or CCTV, went viral. Then on the morning of Good Friday he reappeared on the long white strand at Aberavon, to be greeted by a dune dweller called the Stranger (Nigel Barrett) and treated to a marine cleansing (pictured below, photograph by Ian Kingsnorth).
His memory wiped, the Teacher became an empty vessel to be filled with stories of the town and its people. "Tell me your story" was the refrain of this story. The portrait which emerged was of a town full of colourful individuals whose past was even now being erased by malign outside forces, a company called ICU headed by a nameless Company Man (Hywel Simons) who later that evening to a chorus of jeers announced a second flyover to pass over the town. On Saturday the Teacher emerged from the crowd in time to dissuade a suicide bomber called Barry (Jordan Bernarde) from violent insurrection, and thus became the focus for peaceful resistance.
By Saturday evening, the Teacher had gathered about him a group of followers and headed to the Seaside Social and Labour Club for the last night of revelry before impending closure. As they sat at tables, shared sandwiches and toasted their new friendship – their oneness – with lager, an MC teed up entertainers who turned out to include Britain's Got Talent's popular tenor Paul Potts and the so-called house band, the Manic Street Preachers singing new, dramatically apposite words to iconic tunes. That no one was to be spared participation in this drama was freshly underlined when the Manics were manhandled by police cadets in berets and thrown out (pictured above, photograph by Rich Hardcastle). They couldn't quite suppress a guffaw or two.
The production was full of beautifully accurate tableaux familiar from the Renaissance masters – the Last Supper (pictured below, photograph by Rich Hardcastle), disciples sleeping through the Agony in the Garden. But with religion being swept under the carpet even as the story clung faithfully to the iconography of the Gospels, at times you wondered whether The Passion of Port Talbot risked making a mockery of itself. Why were they ripping those sandwiches in half at the Supper if not to evoke the Eucharist? How were they going to get a partisan crowd, playing their part to the hilt, to condemn a local hero to execution? (Simple: rather than ask everyone to choose, ask a willing young girl instead). The actor playing the Father as some kind of celestial roofer at the Garden of Gethsemane (David Davies) didn't help matters by forgetting his lines at the moment the play worked to conjure up its own lay justification for the supreme sacrifice.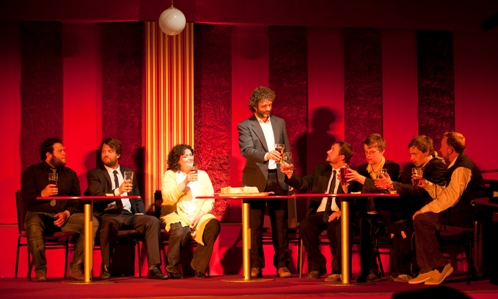 But a bit of roughness round the edges was to be expected, even celebrated. Sheers's task was to offer easy narrative sight lines for those joining at any time while also delivering a story of symbolic power. Now and then it veered right off the known path, spiriting up a highly apocryphal long lost daughter for the Teacher. Meanwhile, in the interests of directness, the villains of the piece were drawn a little too gauchely. But as the Trial on Sunday afternoon made way for the Procession, the strands of this hugely ambitious project started to take on a kind of unstoppable tidal power.
The town – the buildings, the squares, the glowering mountains – played its part perfectly, none more than the Aberafan shopping centre, beautifully shrouded in white polythene, where the Teacher's mother (Di Botcher in a blue anorak) tended to his wounds while a celestial choir sang in the gallery. The townspeople put in a performance too, morphing unselfconsciously into part of the drama, breaking into the Welsh hymn "Calon Lân" and even "Guide Me O Thou Great Redeemer" on the road to Calvary, doing all those things that probably happened when the real saviour embarked along the stations of the cross - complained about the wait, over-imbibed, gawped (though maybe not tweeted and filmed on their phones).
Near the end of the snail-slow three-hour procession, as Sheen dragged his cross through streets lined with rock bands, the long column headed by a drum troupe and followed by a brass band, it became increasingly difficult to make out a distinction between performance and reality (not to mention irrelevant). The only chink came as he rounded the corner onto the sea front and slipped into a house for a loo stop. (Photo below by Geraint Lewis)
Darkness had long since descended as the Teacher, to the mournful sound of a brass band, was raised on the cross. And here, as in sudden silence his howls were amplified across a sea of people, arrived the moment of maximum drama. "I remember!" he screamed. "I remember!" And out came a litany of the things about Port Talbot that he did indeed remember: villages, streets, pubs, sweet shops, schoolfriends, clubs, mountains. With every freshly recognised name, cheers and even gales of laughter rose from the crowd. You didn't have to be a local to find this intensely moving.
Another hush descended and, in a final design coup, a thick wall of water behind the cross sprayed upwards to form a projection screen on which fleeting images of his past were flashed. The deposition was faithfully enacted, then the pietà before, in one last theatrical sleight-of-hand, Sheen disappeared from under the shroud to emerge above, risen again, like the town itself.
There will be those fulminating from pulpits in non-conformist chapels lining the road to Golgotha who see the whole show as a damnable blasphemy. The supreme irony, of course, is that while God the Father and God the Son were not wanted on this version of a familiar voyage, the almighty power of this story will surely send some back to the welcoming bosom of church and chapel. Meanwhile, anyone stricken to have missed this secular enactment can rest easy: the director Dave McKean was there with cameras galore, shooting the movie. There is also a trim novelised pamphlet by Sheers called The Gospel of Us, and a two-part behind-the-scenes documentary on BBC One Wales which will be available on iPlayer.
In the meantime, praise be to all involved: above all to Sheen, whose charisma got this thing off the ground and continued to radiate like a kind of halo in his still, mesmerising performance; to Bill Mitchell and the Cornish site-specific miracle-workers WildWorks, to the professional cast of 14 working in taxing conditions, to sound designer Mike Beer, lighting designer Paul Jarvis, and musical director Clair Ingleheart (who supplied a haunting ambient soundtrack); to the cast of thousands including choirs and bands, amateur acting, dance groups and ordinary people who thronged the streets in the three days' traffic of the stage. Finally to National Theatre Wales. They announce their second season on 26 May. If it's half as good as the first, that will indeed be good news.
Anyone stricken to have missed this secular enactment can rest easy: there were cameras galore, shooting the movie
rating
Share this article