10 Questions for Actor Jason Hughes |

reviews, news & interviews
10 Questions for Actor Jason Hughes
10 Questions for Actor Jason Hughes
Theatre is once more the lure for the Welsh star of Midsomer Murders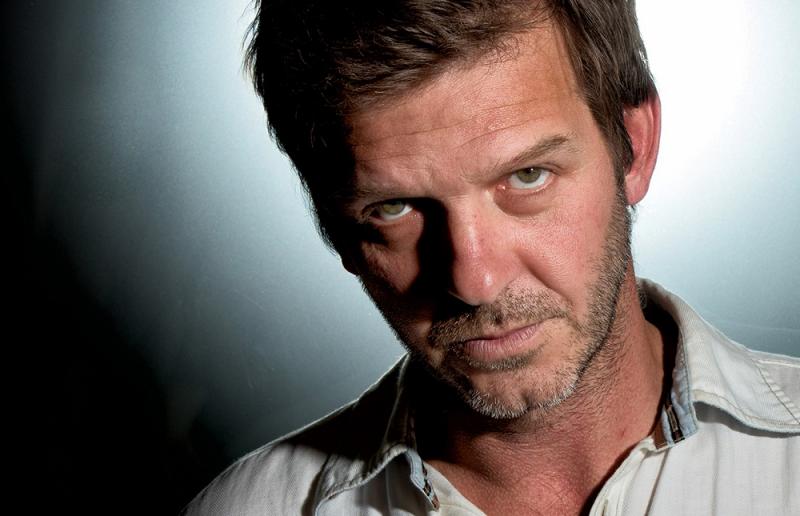 Jason Hughes: 'Once you can see through the eyes of your character, you know you've got them'
Jason Hughes belongs to an influential generation of actors who emerged from South Wales in the 1990s. A promising rugby player as a teenager, his head was turned by theatre. Ruth Jones and Rob Brydon were only a few years above him at school in Porthcawl. In the National Youth Theatre of Wales he met Michael Sheen.
The name may be less familiar, but the face is known from two very different Joneses whom Hughes has created on television: Warren Jones, the young gay lawyer in
This Life
, and Ben Jones, John Nettles's sidekick in
Midsomer Murders
.
His seven-year stint solving murders in Midsomer gave Hughes no time for theatre, but this year he has thrown himself back onstage. In Gary Owen's acclaimed Violence and Son (pictured below) at the Royal Court Theatre Upstairs he was compelling as Viol, a drunken patriarch who uses violence to enforce his own sense of fair play. At Chichester he went to the other extreme as a victim of bullying in Alan Ayckbourn's Way Upstream. And now he is back at the National Theatre, where he last acted in Look Back in Anger, as foil to Michael Sheen's Jimmy Porter.
That was back in 1999. He returns in the revival of Our Country's Good, Timberlake Wertenbaker's hymn to the improving properties of theatre in Britain's newly established Australian colony. Hughes takes the pivotal role of Second Lieutenant Ralph Clark, the officer charged with corralling a group of demoralised, cynical convicts into a cast capable of performing Farquhar's The Recruiting Officer. He tells theartsdesk about rehearsing a play about rehearsing a play.
JASPER REES: How have your rehearsals compared with those of the convicts over which your character has charge?
JASON HUGHES: I forgot that the six-week rehearsal process is really unusual for most theatre, so it's been a process of getting used to the amount of time that we have. Within the world of The Recruiting Officer they've had to schedule rehearsal around convicts being punished, convicts being sentenced to death, the heat, and there is a constant battle that gets worse for my character Ralph. The officers don't want the play to go on. The second-in-command goes out of his way to disrupt rehearsal. There comes a point in the play where I go to the governor and say: "I can't do it anymore. Half of the cast are in chains."
Can theatre change society?
I think that it can. In its way. How radically and how drastically I don't know, but I feel like it's integral and it's part of people's lives. There is a line in the play about the Greeks making people go to the theatre, to sit and concentrate and debate and discuss plays.
Why did acting overcome rugby as the passion of your youth?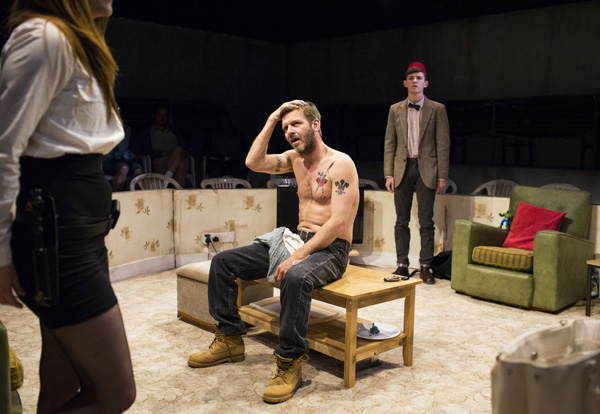 I had a teacher who was really inspiring and it was always something that I was interested in from about the age of 11 or 12, when I went to comprehensive school and started to do these drama classes and found them liberating. Once you weren't self-conscious any more, when you stopped putting yourself in the way, there was this tremendous freedom that I found. We were doing real stuff. Our teacher was not doing musicals. We were studying Bond and Pinter and Brecht and Shakespeare. That just became part of the fabric of my experience of life. There was a crossroads where I was either going to have to become a lot bigger to go into first-class rugby, and I didn't have that backing to help me go down that route. The other option was trying to get into a drama college and that was very supported. I got a place in National Youth Theatre of Wales and was inspired by all the other kids there. It just swept me along.
There is quite a generation of actors from your corner of South Wales. Lest we forget Cerys Matthews supplies the music for Our Country's Good. Was there something in the water?
For me growing up, it was Tony Hopkins. If anybody was an inspiration it would have been him. I thought he was one of the great actors and the world considered him to be one. I met Michael [Sheen] at the National Youth Theatre and Ruth Jones and Rob [Brydon]. You think: "If they can do it, I can." There were a lot of people that came out of that little area. There was a fantastic West Glamorgan youth theatre. There was a lot of passion, great humour. I remember they did Carousel when Rob and Ruth were in their last year. I just thought it was utterly brilliant. I remember that making a huge impression when I was 12.
You acted with Michael Sheen in Look Back in Anger at the National and Caligula at the Donmar. What was your experience of seeing those sparks fly?
You know you're performing with a really great actor and it makes you work harder. You can engage on a really deep level. I guess there's a familiarity there that you maybe don't have with people you're meeting for the first time. He's a very old friend of mine. We created a show when I was still at school. It's very comfortable being around him when we work together.
How did your character in This Life have an impact? (Pictured: the cast of This Life. Hughes is on the far right)

It was quite a shock. When we shot the first series and waited for it to come out, nobody expected the reaction that it got. The best thing about that whole experience was the amount of letters I got from young gay lads who saw the show and said it gave them strength and the courage to tell their parents that they were gay. I found that deeply touching. I must have brought some kind of truth to the role, which is what you're constantly trying to do. I remember meeting gay men afterwards who just assumed I was gay and got a bit of shock when I said I was with a woman. When I told people I had a wife and a child, gay men used to be taken aback.
What did you get out of Midsomer Murders?
I had had a second child, and I went off to Ireland to shoot a film and every penny of that went into paying a tax bill. I was skint. I had nothing. And I just felt terribly irresponsible and felt like I was letting myself and my wife and children down. I was in a very bad place. Then my agent said: "Look, there's this meeting for Midsomer Murders." I hadn't seen the show. Stupidly, I didn't realise Midsomer was the name of the town, not the time of the year it takes place in. I said: "This can only be three or four months of the year." Then my agent told me it was going to be 10 months of the year. They told me how much I was going to make and I thought: "This is a gift from the angels." After two years I had got so used to the pay cheque that I just signed another two-year contract. In terms of acting, you learn to learn lines and the format of scripts very quickly; you also learn a technical language. That was incredibly useful.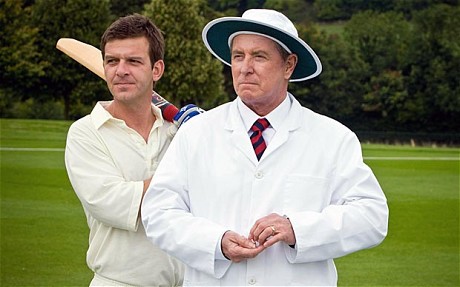 Why did you decide to leave in 2013? (Pictured, Hughes with John Nettles)

I was utterly exhausted. I got into a car one morning for the first episode of a new season and thought: "I don't know if I can do this much longer." And that never went away. I was just burned out.
In Our Country's Good, the convict actors are encouraged to remember their better nature. In a wider sense, actors have to imagine they're someone different. Is it a stretch, for example, as a Welshman to imagine you're English?
No! Once you are that person then you are that person. It would be a pretty weird thing to stand inside your character and moralise. I've never done that. I think it was Michael Sheen who said: "Once you can see through the eyes of your character, you know you've got them." There's no room for you, you're gone, you don't exist anymore. You are a conduit for the character that you've created and you have to keep yourself out. That's the only way a character can come truly into existence.
You seem hugely different from the Valleys bully you played in Violence and Son, who was all coiled menace. How on earth did you find that character?
That's what my job is all about. I don't know whether I'm masochist, but I love that process. The show I was doing while rehearsing Our Country's Good was Way Upstream in Chichester. I was playing a downtrodden, bullied, scared, intimidated Middle England guy. You couldn't get two more polarised characters. There is something about stretching yourself and having to push yourself that you discover things you didn't know you had. Viol was a dark, dark place, but I loved it. That's what makes me feel I'm alive. You're switched on and you're awake. You're pushing yourself into a place that you don't go as yourself. I was particularly proud of myself in that show because there was no trace of me. I felt I got rid of everything. I just did not want to be visible in this character.
Is there something of you in Ralph?
My idea and Ralph's idea are expressed differently. They feel the same. Fortunately I have Timberlake Wertenbaker's words to express it, not my fumbling vocabulary. Ralph and I feel the same way. But it's not me.
Our Country's Good at the National Theatre until 17 October. Our Country's Good is a Travelex show where almost half the seats for every performance are £15, with the rest at £25 and £35

Stupidly, I didn't realise Midsomer was the name of the town, not the time of the year it takes place in
Explore topics
Share this article