10 Questions for Actor Conleth Hill |

reviews, news & interviews
10 Questions for Actor Conleth Hill
10 Questions for Actor Conleth Hill
He's George to Imelda's Martha, Varys in 'Game of Thrones', and an acting genius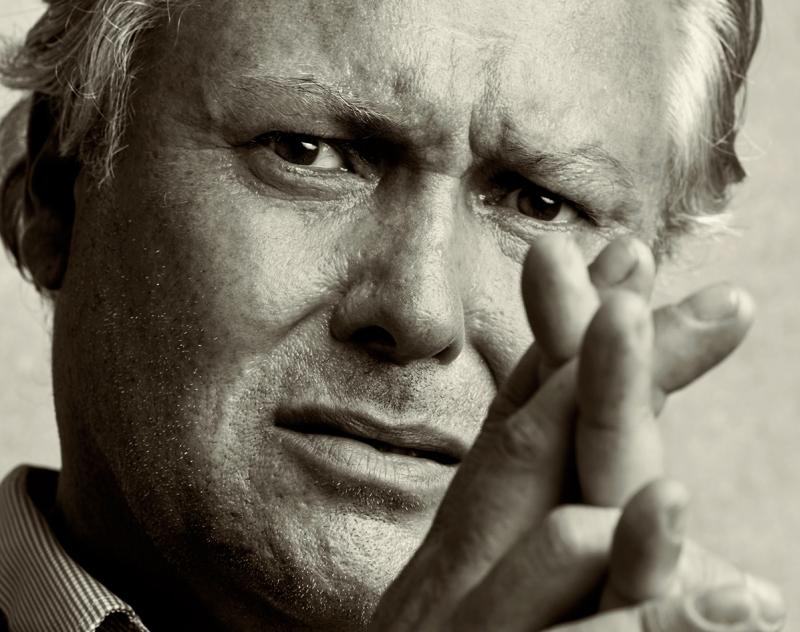 Conleth Hill: 'It's very important that you don't have an opinion on your character'
Some know him only as Lord Varys the scheming eunuch, spymaster to the king of the Seven Kingdoms. Game of Thrones fans may be less familiar with Conleth Hill's other career as a nimble. light-footed stage actor of staggering range and skill whose name, mystifyingly, is less celebrated than his talents deserve. That is about to change.
Hill is George to Imelda Staunton's Martha in a new
West End
production of Edward Albee's
Who's Afraid of Virginia Woolf?
Staunton has sufficient clout at the box office that she was allowed to nominate her sparring partner. She chose wisely. Hill was a jobbing Northern Irish actor - he still lives in Ballycastle in County Antrim - whose first moment in the spotlight was in Marie Jones's tragicomic two-hander Stones in His Pockets, about two men from rural Ireland who plays extras in a visiting Hollywood movie. Hill and his co-star Sean Campion transformed themselves with skilful ease to populate a teeming canvas of characters. The production began in Belfast in 1996, and embarked on a long odyssey to Edinburgh, Dublin, London and New York.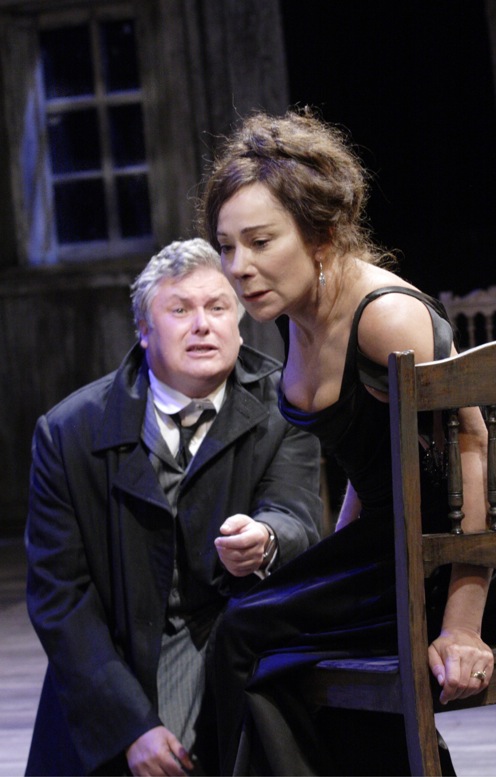 Other than the East German spy at the heart of the Bonn government in Michael Frayn's Democracy, there have been few other outright leads in London theatre. Hill has thrived instead as a company man, often at the National: in Conor McPherson's The Seafarer, in Howard Davies's productions of The Cherry Orchard (pictured left Hill as Lopakhin with Zoë Wanamaker), The White Guard and Philistines, as Parolles in All's Well; in the West End he's played Roger DeBris the camp director in The Producers, and tried not to show up Rowan Atkinson too much in Quartermaine's Terms.
A year ago Hill used his time off from Westeros and Essos to fly to Berkeley and appear in Macbeth opposite Frances McDormand. It can be taken as a dry run for what comes next. He refers to Staunton as "the guvnor". If anyone can match her it's Hill. He talks to theartsdesk about George and Martha and Varys.
JASPER REES: Who is your George?
CONLETH HILL: He's a non-self-promoting type of guy, an associate professor in a New England college. He seems to have been happy with his lot for a long time in that he's not ambitious either academically or socially. A very colourful wife with a drink problem and one of the manifestations when she drinks is she just rips him new orifices. That's where we start with two guests in the middle of this relationship.
Do you have to think of it as a new play which has never been performed?
In a purely selfish way unless you've done a play that's how you would approach every play. You just have to go at it as if you're going at it for the first time. I've never seen it live onstage. I saw the film but if you worried about predecessors you would never come out of the house. Great plays have been done many times for a reason. It's brilliantly punctuated as daft as that may sound. It's almost like a musical score in the precision.
Have you acted with Imelda Staunton before? (Pictured right: Hill with Imelda Staunton. Photo by Johan Persson)
We did Victoria Wood's last television piece, That Day We Sang. She's a brilliant actress and a brilliant human being. She can do anything and she's extremely generous and very egalitarian. She thought of me for this so I'm forever in her debt that way. The day that Imelda and I talked I was jumping up and down and the day that I don't do that in response to something is the day I'll retire.
You are doing this play not long after the death of the author. Is that significant?
One of his last acts was to approve of Imelda's and my casting and I think he died the next day. America is in a very interesting place at the moment. It seems to be more polarised and more in a state of flux than it's been in a long time. It's relevant for that reason alone. It's a great study of hierarchy within a system, which happens to be academia here.
You tend to disappear within the role. Is it a goal of yours to ensure that the character has nothing to do with you? Or do you need to find something of yourself which tallies with the character?
I don't really come into the equation. You'll use experiences that you've had that may be applicable but not really. It's usually on the page. That's all the audience ultimately are going to hear. I'm not pissing on lots and lots of research - if it helps the actor that's fine, but I don't really go in for that. It's very important that you don't have an opinion on your character, that you don't commentate on them or apologise. It's their story not yours, and it's not your story through them. I'm quite journalistic. My father was a news cameraman.
What made you want to act?
I think it was more when I was very very small more performance-oriented. The circus used to come to the field next to the house I lived in when I was a child until I was about seven. That would have been my first experience of lights and performance. And I kind of liked the idea that one family could be very several different acts even as a kid. I would be a liar if I said I loved Shakespeare. At secondary school we did lots of Gilbert & Sullivan and went to art college for a year, took a year out, went to drama school and then started work. I've been working for 31 years now. I probably had one three-month period quite early when I was in a bedsit in King's Cross lying to my parents that I had lots of meetings when I didn't.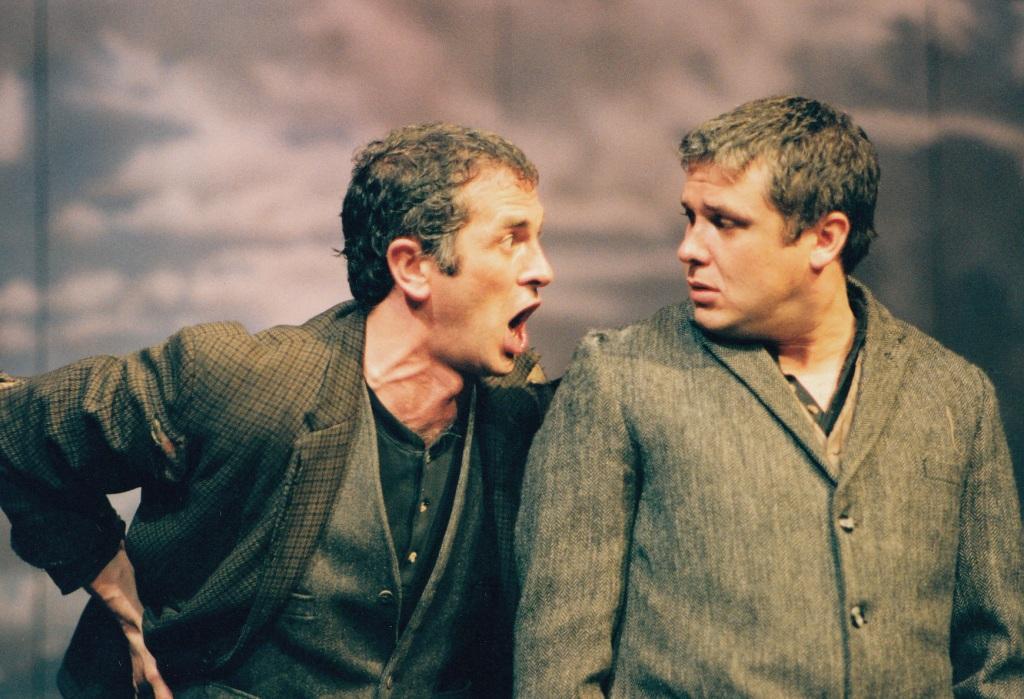 How important was Stones in His Pockets for you and why did it work?
It was very important. I'd been working a long time before it came along and that was my first West End or Broadway or long run in a play. Marie Jones's play would have meant that for the first time I went into meeting and they didn't go "who?" for the first time. I think it was two actors just creating a world and once people got the premise they jumped in. It definitely led on to Democracy because I played a person who had several personalities: he could be invisible in order to find things out that he needed to find out. I guess it was harder to typecast me after that. It was hard for casting directors to say, "Oh he couldn't do that," because the range that I had in that showed that I could do most things.
Did you have any anxiety about joining Game of Thrones?
There have been so many occasion in my life when I've gone, "This is as good as it gets, this is amazing, I'll never top this." The experience of being in that show for eight years is incomparable. It's just been life-changing for me, and that's not a soundbite. I resisted it for so long. Like a lot of people who haven't got into it I went, "Oh God, dungeons and dragons, swords and sorcery, that's now really my thing." My agent at the time said, "Look, they're in Belfast, will you just go and meet them?" I originally went up for a different part and didn't get and they came back and said, "Will you play this part?" I didn't run at it and I hadn't a clue in that first season. I just adopted the Linda Gray approach. In the first series of Dallas she didn't have many lines and made the most of the screen time she had. There was a scene where Varys didn't have any lines but they cut away to him and I just gave a couple of filthy looks, just to make the most of it. If it's non-verbal it doesn't mean it's non-communicative.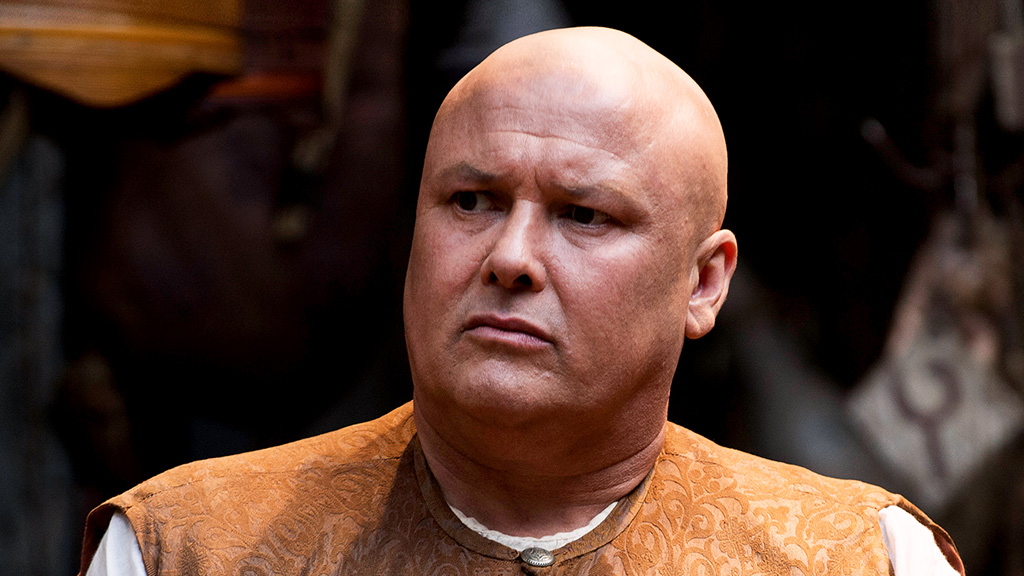 Does it ever feel like a gilded cage?
No. No, because they film for six months but I'm very lucky, my character is never in any huge battles which take days or weeks to film. So my fellow actors are up their oxters in mud and I just to sit around a nice place and bitch with Peter Dinklage.
How do you get into character of a eunuch?
Well, you don't. I'm not that method for starters. I happen to believe that everybody is more or less the same. Male, female, gay, straight, black, white. We all have the same emotions. He still feels like everybody else feels. He still hurts. Do I not bleed?
When you played Macbeth in Berkeley, California a year ago opposite Frances McDormand, it was a rare lead stage role. Theatregoers have known you for years and it feels strange that you aren't more above-the-line celebrated.
It was a huge responsibility to get through it all without stabbing anybody or being stabbed. I suppose it was more of a leading role than I'm used to most times. I felt a bit more responsibility than I usually do. I'm not really a celebrity. I just like doing my job. I'd rather have the brand of versatile and not that well-known than limited and very well-known. Not being well known allows me to do the diverse roles. I don't get recognised in the street much and that suits me fine.
Who's Afraid of Virginia Woolf? is at Harold Pinter Theatre from 22 February to 27 May
I resisters Game of Thrones for a long time. I went, 'Oh God, dungeons and dragons, swords and sorcery, that's now really my thing'
Explore topics
Share this article