Tosca, Royal Opera |

reviews, news & interviews
Tosca, Royal Opera
Tosca, Royal Opera
Still a show worth revisiting, despite some serious casting issues
Tosca (Amanda Echalaz) faces off against Scarpia (Roberto Frontali)
To say this latest revival of the Royal Opera's Tosca peaks early would be an understatement. The shockwaves rippling out from the brass and timpani in the first few bars set the auditorium rumbling, tumbling the strings into motion. Conductor Emmanuel Villaume seizes his audience and refuses to let go, dragging us in to join the dance of the Sacristan's sleekly self-satisfied music with its sacrilegious whiff of the Palm Court.
To say the evening doesn't get better than this is both to applaud such galvanising energy and orchestral character, and to say that it's all downhill from here.
The issues seem to stem from the cast – the second of the two booked for this seventh revival of Jonathan Kent's classic production. Neither Amanda Echalaz's Tosca nor Najmiddin Mavlyanov's Cavaradossi seem at ease, dragging against Villaume's tempos throughout (last night the entire Act I love scene sat almost half a beat behind the orchestra) and both lacking sufficient gas in the tank for the Act III climax.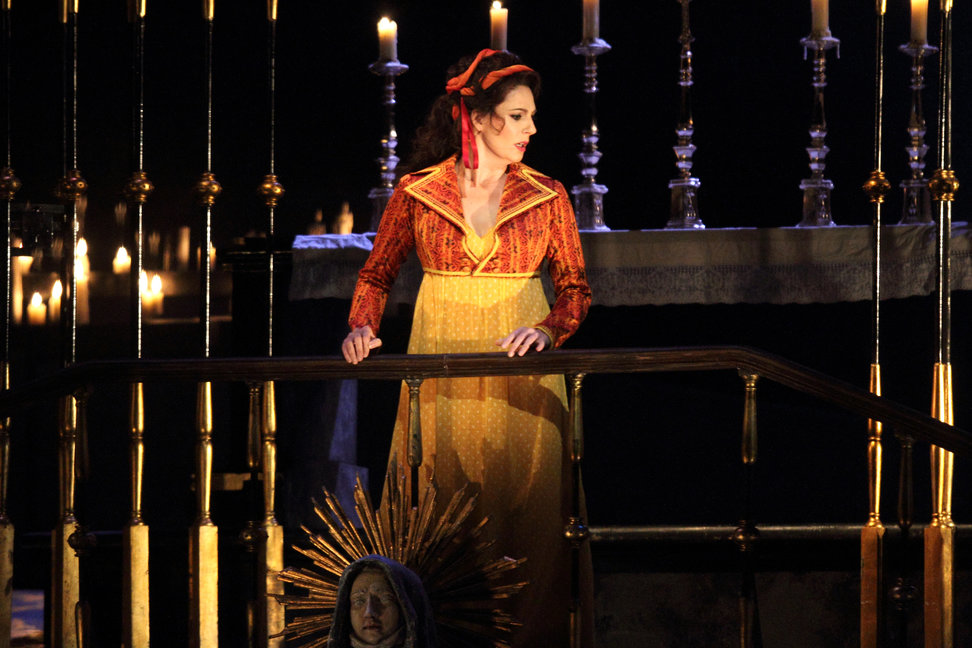 In the case of Mavlyanov, making his Royal Opera debut, it's perhaps understandable, but far less so for Echalaz – a familiar figure both in this role and this production. Of the two it's her vocal issues that dominate, forcing her to cut off top notes abruptly, seemingly unable to sustain them, and gripping uncomfortably at the top of her register. Though by no means a heavy voice, Echalaz has all the vocal ticks of one manipulating a large instrument, consistently lagging behind and swooping more for convenience than expressive intent. Her Tosca manifests as matronly, lacking those flashes of vocal agility that must colour this diva's magnificence if she isn't to turn from temptress to headmistress.
Whether through poor direction or simply a lack of rehearsal, Act II suffers from some of the least convincing staging we've seen at the ROH. Echalez (pictured above right) brandishes a candlestick at Roberto Frontali's Scarpia with all the menace of an umbrella, while he in turn aggresses her with implausible chastity, hands placed decorously and with care. Fortunately Paul Brown's sets are still handsome and atmospheric, anchoring this rather flimsy drama.
Although occasionally giving flashes of something worth coming back for ("Vittoria! Vittoria!" was a punch of pure vocal muscle), Mavlyanov never quite shook the dust sheets off the voice, projecting dully and lacking ring. What seemed initially like a daring long-game approach to "E Lucevan" turned ultimately into an underpowered performance. More successful was Frontali's Scarpia, bitter and edgy rather than richly dark, more a character-villain than one of beauty.
Unexpectedly poor intonation blotted the Act III cello quartet, but otherwise the orchestral playing is as richly upholstered as the sets. The visual spectacle of Kent's production retains its wonder 10 years on, coming into its own for the Act I Mass thanks to Brown's elegant designs. It's still very much a show worth revisiting, though perhaps only, on this occasion, in the hands of Angela Gheorghiu and Cast 1.
Tosca at the Royal Opera House until 5 February