Tosca, Royal Opera |

reviews, news & interviews
Tosca, Royal Opera
Tosca, Royal Opera
This revival is about a soprano, a tenor, a baritone - Opera with a capital O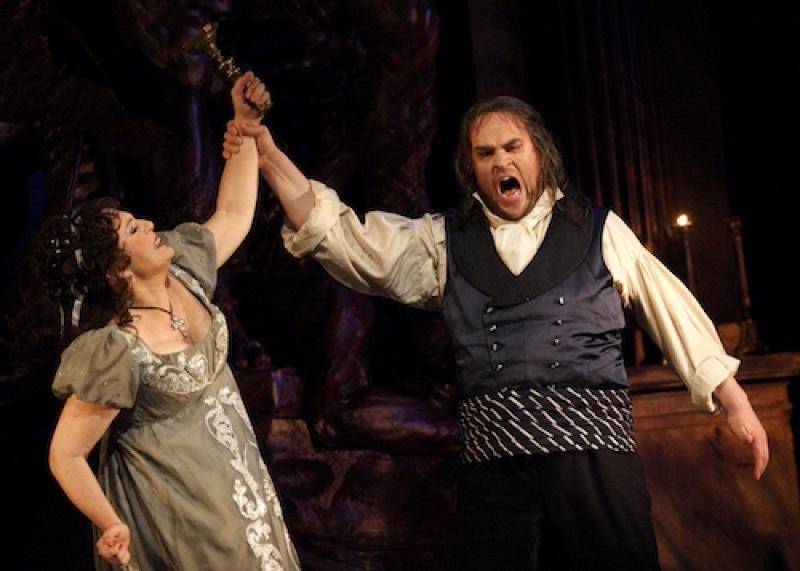 A high-priced commodity: Serafin's wholesome, nice Tosca and Uusitalo's greasy, subtle Scarpia don't fit together
Tosca-at-Covent-Garden is a commodity, like bacon-for-breakfast - a pricier commodity, to be true, at officially up to £229.50 a seat, but in both cases people want to get what they expect.
For the final performances next month in this summer revival, with the megastars Angela Gheorghiu, Jonas Kaufmann and
Bryn Terfel
, all seats are sold, with touts on eBay offering a pair of
amphitheatre
seats at bids over £300. Clearly
Tosca
ain't art so much as the Royal Opera House's ATM, and therefore I have to suspend my disappointment as an opera lover in the opening of the run last night, with a different cast, since this show is all about banging those bucks and not springing any surprises whatsoever.
I, like those excitable people who wrote the fascinatingly vivid programme notes about the backstory and original Tosca play, should just take Prozac and calm down. Last night's production isn't about ominous, bloody events on the day that Rome's fate is handed over to Napoleon as revolution blazes over French borders. It isn't about a jobbing opera singer who mistakenly thinks that she has royal protection against murder and rape, and who trusts in Catholicism even while the Pope is being overthrown. It isn't about a successful religious painter of woolly liberal sympathies who fails to see that being aristocratic is no defence in anarchical times. It's about a soprano, a tenor and a baritone, and a couple of nice big Rococo sets and rivers of violins washing seductively under the tunes. It's about Opera with a capital O.
Paul Brown's set and costumes also come with the capital O. There is a cramped split-level Act I, showing the back view of the high altar and the crypt below it, all gilded bars and railings, nice idea, but not enough space to deliver it; a stunning Act II panelled study for Scarpia, with a monumental Cellini-style David and Goliath bronze statue 20ft high, and a torture chamber behind the only book shelves with any books on; but Act III is a disappointingly unvertiginous flatness under a starry sky. There's a plethora of candles, setting Mark Thompson the challenge of providing candlelit glows as well as celestial rays, which he expertly surmounts.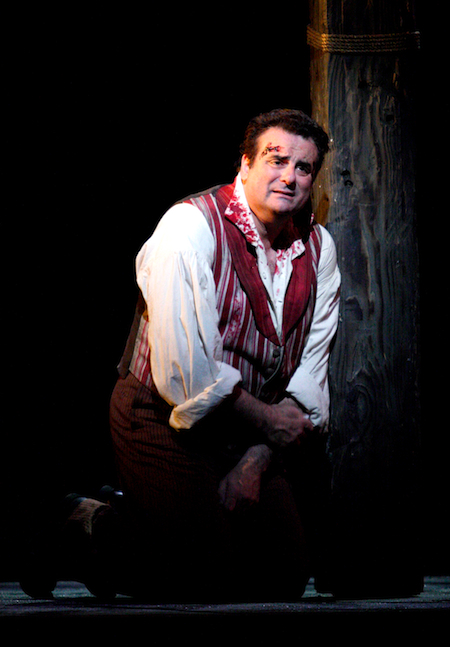 Cavaradossi has an ice-cream seller's pink-and-white striped waistcoat, Scarpia a vastly over-ornate coat, and Tosca's gala dress is all boobs, frogs and puff sleeves - on a generous figure I'd think other styling would be possible.
The present cast in this new run of Jonathan Kent's 2006 production is a warm-up act for the big one in July with Gheorghiu, Kaufmann and Terfel - which will be filmed for cinema release in winter - and it has a few unexciting virtues. Martina Serafin sings Tosca extremely well with a warm, soft-grained Italianate voice and a cuddly femininity that strikes with wholesome innocence and niceness. I find her voice lacks the tragic predilection, the edgy frailty that makes so much more dramatic sense of Tosca's jealousy, volcanic unreliability and gullibility. Serafin offers a sweet smoothness throughout the voice that last night delivered mixed messages - not least, a very beautiful but disconcertingly gentle "Vissi d'arte" that hardly fits the high-wire horror of the moment she faces.
Actress she doesn't try to be, at least not for such an intemperate female persona as Tosca. Still less of an actor is her Cavaradossi, Marcello Giordani (pictured left), a rotund old-fashioned Italian tenor with welcome old-fashioned Italian tenor virtues, but with nothing in his imagining of the character to make one see anything about Cavaradossi's life as a court painter with dangerous friends. Giordani simply concentrates on singing firmly, loudly and with good tone, and not moving about too much.
Astonishingly for this day and age, the production director Duncan Macfarland allows the two stars to stay physically cool and uninvolved, not to say awkward with each other. Serafin sings erotically (and blasphemously) in the chapel of a night of lovemaking she and he might enjoy, and Giordani walked behind her and clutched her feebly through the balustrade of the steps she was sitting on. I snorted with disbelief. In the last few moments God gives them on earth in Act III, they expressed love 12ft apart, turning away from each other as if simply to vary the static look. This truly is antediluvian opera direction, and I can't imagine Gheorghiu and co will obey the floorplan so docilely.
The Scarpia is a more interesting case - Finnish baritone Juha Uusitalo makes his Covent Garden debut in challenging circumstances, warming the costume up for Terfel, for whom one supposes the long Napoleonic wig and a hugely ornate coat are designed. Uusitalo's voice is much lighter in timbre and weight, he is built smaller, and yet he had the sketch of something rather more interesting last night than the other two principals. For one thing his Scarpia felt like a real character - he looked smelly, his hair had a greasy look, the coat was ill-fitting, he swaggered in it clumsily like an ugly man trying to big himself up by dandifying himself. He made you suddenly notice his confession of inadequacy as he menaced Serafin's Tosca: "I have waited a long time for the love of a diva" - none of Gobbi's immaculate, villainous sexiness here, but a validly repellent reading. (Pictured right, Uusitalo with Hubert Francis as Spoletta)
Between Uusitalo's dramatic subtlety but lightweight voice, and the other two's big, decent voices but tepid acting, one's attention was easily drawn to the pit where Antonio Pappano was whipping up a Technicolor melodrama that very nearly made up for the onstage lacunae. Pappano is a richly emphatic colourist in this music, an urgent orator of swoons, starts, tortures and raptures (bouquets to the haunting clarinettist for "E lucevan le stelle"). And yet, when it comes down to why last night's show was underwhelming, it's got to come down to him to sort it out.
Serafin's very beautiful but disconcertingly gentle "Vissi d'arte" hardly fits the high-wire horror of the moment she faces
Explore topics
Share this article