The Passenger, English National Opera |

reviews, news & interviews
The Passenger, English National Opera
The Passenger, English National Opera
Holocaust opera with impeccable artistic credentials in first-class UK premiere
Tuesday, 20 September 2011
Auschwitz inmate Tadeusz plays Bach in Weinberg's 'The Passenger'
No two creative artists have a stronger right to make a valid statement about Auschwitz than a Polish-born composer who escaped his family's fate by fleeing to Russia, only to fall into another anti-Semitic trap, and a Polish writer whose clear-eyed transmutation of her three years in the camp inspired the opera. Neither, of course, guarantees the end result of great art.
But Mieczysław Weinberg, Shostakovich's dearest disciple who died in 1996 without having seen his most cherished project staged, and novelist Zofia Posmysz, an elegant 88-year-old who having attended the Bregenz Festival world premiere last summer was with us again yesterday evening, could only have applauded the integrity of David Pountney's production on its London transfer.
Is The Passenger, then, one of the 20th century's neglected masterpieces? After two viewings of the Bregenz production on DVD and now a first experience of what it can achieve in the opera house, I still don't know. There are, certainly, masterly scenes and memorable musical ideas on board a sometimes perilously freighted vessel. The visual metaphor for an action that is anything but symbolic reflects that. Johan Engels's set, colour co-ordinated with Marie-Jeanne Lecca's costumes, gives us the gleaming white ocean liner on which former SS overseer Annaliese Franz and her German diplomat husband are about to undergo a very bumpy ride, and beneath it the railway tracks, ovens and barracks of the camp where she once wielded control over the spiritually indomitable Marta - now (or is she?) a fellow-guest on the ship to Brazil.
What starts out as Liese's dilemma slowly devolves to Marta. Those who try to forget are bound to crumble in the end; those who hold on fiercely to loving memory will prevail so long as there's breath in their bodies and tongues to bear witness. It sounds simplistic, but it works above all thanks to two superb lead performances and a host of telling ensemble contributions.
A finer, more secure voice than Michelle Breedt's hasn't been heard at ENO. Since Bregenz, she's tried to further humanise the young camp overseer whose rejected need to be loved or admired by her charges warps into subtle psychological sadism. Breedt has always been totally in command of Liese the older woman with a conscience that won't let her evade the truth, hard as she tries. Giselle Allen, tackling the vocally unyielding role of tender-strong Marta for the first time, has a dramatically easier task, spirit-guided by the celesta which Weinberg uses to let her soul range free. She's strong enough to sustain the big memorial song Weinberg sets to bittersweet verses in Act II, and the Brittenish epilogue, Marta's final quiet triumph (pictured above with Allen and Breedt) many years later by the banks of a wide river, is as moving as it can be.
As, indeed, are the many solos in the women's barracks, realistic in the sense that prayers and ballads would indeed have been sung by the inmates to keep each other's spirits alive. Simple as the text by Weinberg's preferred librettist Alexander Medvedev may be, its reiteration here of the human wish to imagine freedom rings true. The xylophone-accompanied scene in which naive but intuitive French girl Yvette (Rhian Lois) tries to teach old Polish believer Bronka (Rebecca de Pont Davies) the conjugation of 'to live' in her language hits its plaintive mark, and the silent heart of the opera, partisan Katya's unaccompanied Russian folksong, is beautifully if not totally idiomatically delivered by Julia Sporsén. Carolyn Dobbin, another voice of warmth and distinction, lights up the stage with the reassurances of Salonikan Jew Hannah (pictured below left with Allen's Marta).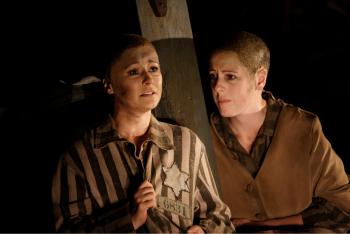 There's a correspondence here with the superb ensemble work of the Sovremennik Theatre's all-women scenes in its adaptation of Ginzberg's Into the Whirlwind. No doubt the intrusions of brutality are real enough, too, though you sometimes feel Weinberg is nailing one Shostakovich-indebted piledriving climax too many.
Conductor Richard Armstrong does all that's required in terms of controlling the extremes - for Weinberg's style here is not so much a musical-dramatic unity with drive as a collage matching the right sounds to the right characters, never resorting to false pathos and always trying to honour his subjects. The pared-down moments are usually his most effective, with two exceptions: the soaring lyricism of Hannah's meeting with fiancé Tadeusz (baritone Leigh Melrose, strong as usual) down among the violins that need sifting for an instrument fit to play before the Kommandant, and the keynote scene in which Tadeusz, commanded to deliver the SS officers' favourite waltz, launches instead into the mighty Bach chaconne - keenly projected by Tadeusz-double Gonzalo Acosta.
Otherwise, the men don't come off too well in Weinberg's world - nor, we guess, is craven diplomatic husband Walter (Kim Begley, rock-solid in another vocally overcooked part) supposed to; the tone of his exchanges with guilty Liese on the ship becomes increasingly, and rather uneasily, parodied by a contemptuous Weinberg. The male chorus's lugubrious "wall of death" chants feel a bit second-hand, evoking the Shostakovich of the memorial "Babi Yar" (13th) Symphony; but there's much, much more to The Passenger than just the voice of Weinberg's overwhelming master.
His own voice still remains unclear to me; but what a feat this was in mid-1960s Soviet life, and what a debt of honour to the family ghosts who presumably never gave Weinberg a moment's peace. ENO have done him, and Posmysz - whose novella still cries out for English translation - very proud indeed. Honour them in turn by going to see a genuine labour of love.
Weinberg offers masterly scenes and memorable musical ideas on board a sometimes perilously freighted vessel
Share this article