The Mastersingers of Nuremberg, English National Opera |

reviews, news & interviews
The Mastersingers of Nuremberg, English National Opera
The Mastersingers of Nuremberg, English National Opera
Focused joy, and a great philosopher-hero, as Richard Jones's Wagner reaches London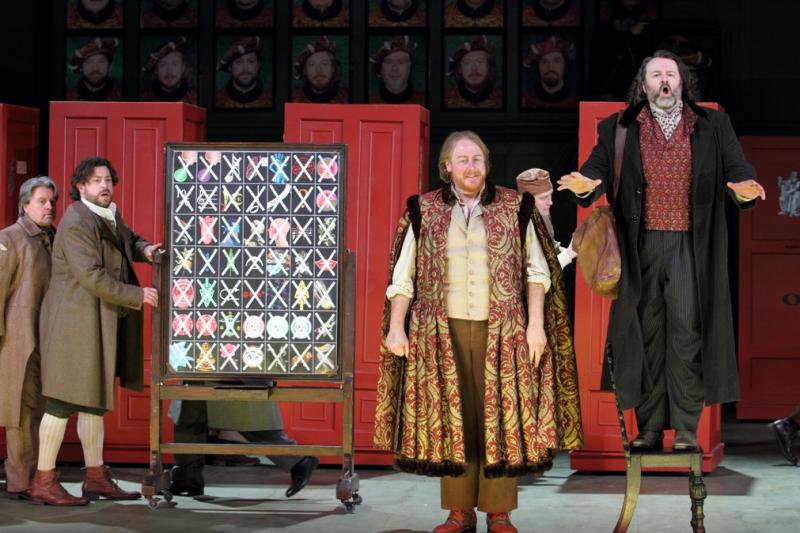 Iain Paterson's Hans Sachs (second from right) eggs on novice Walter (Gwyn Hughes Jones, standing on chair) in his new song
After seven glorious Welsh National Opera performances in the summer of 2010, it looked like curtains for Richard Jones's Mastersingers (or Meistersinger, as it then was, sung in German): no DVD, no co-productions. The director seemed happy with that, as philosophical as Wagner's operatic characterisation of 16th-century cobbler-mastersinger Hans Sachs.
Such, he implied, was the ephemeral nature of the true theatrical experience, rare at a time when nearly everything gets documented. Now that a syndicate of passionate Wagnerians has helped to bring it back against all odds, even those who love to say, "You should have seen Bryn Terfel's Sachs", will, I hope, be running round like me declaring, "But you'd be mad to miss it this time."
The heart leaped almost as much to see once more Paul Steinberg's dropcloth collage of 103 game-changing German artists from Bach to Bausch (pictured below as reproduced on WNO's original postcard) as it did to be enveloped in the warmest C major ever, that of Wagner's tradition-conscious Prelude (the faces glow brightest in Mimi Jordan Sherin's lighting when the celebrated triple counterpoint after the climax genially unfolds). Edward Gardner took no time at all to strike the authentic warmth from the ENO Orchestra, sustained with voice-friendly elegance for the conversational passages and the perfect mix of slower tempi with tender introspection for the great monologues and little love scenes. His ENO Rosenkavalier might have led one to expect as much, but this was even finer than anticipated.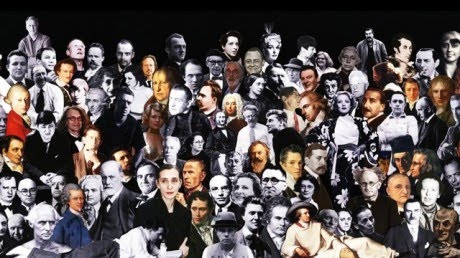 Everything in the production moves with similar ease and charm. Act One, laying down the rules of civic musicians which are there to be bent or broken, is all ordered society with odd folk stepping or moving out of line (and Jones loves knocking his straight lines out of kilter). First, there's goldsmith's daughter Eva magnetised by knightly outsider Walther as he moves slowly past the congregation in which she's singing a Lutheran chorale. Later, when her father Veit Pogner – James Cresswell, as noble a merchant as you're likely to hear – welcomes the company of Mastersingers, Iain Paterson's Sachs arrives late and scant of breath, and never quite becomes one of the group – renaissance finery unbuttoned, cap not only undoffed but unworn. Jones is a master of body angles to set the naysayers or the questioners apart: there's a beautiful symmetry in the midsummer day song contest of the last scene when Malvolian competitor for Eva's hand, town clerk Beckmesser (Andrew Shore), mangles the prize-song text and Sachs alone faces forward, bleakly unamused by the latest predictable act of headlong folly.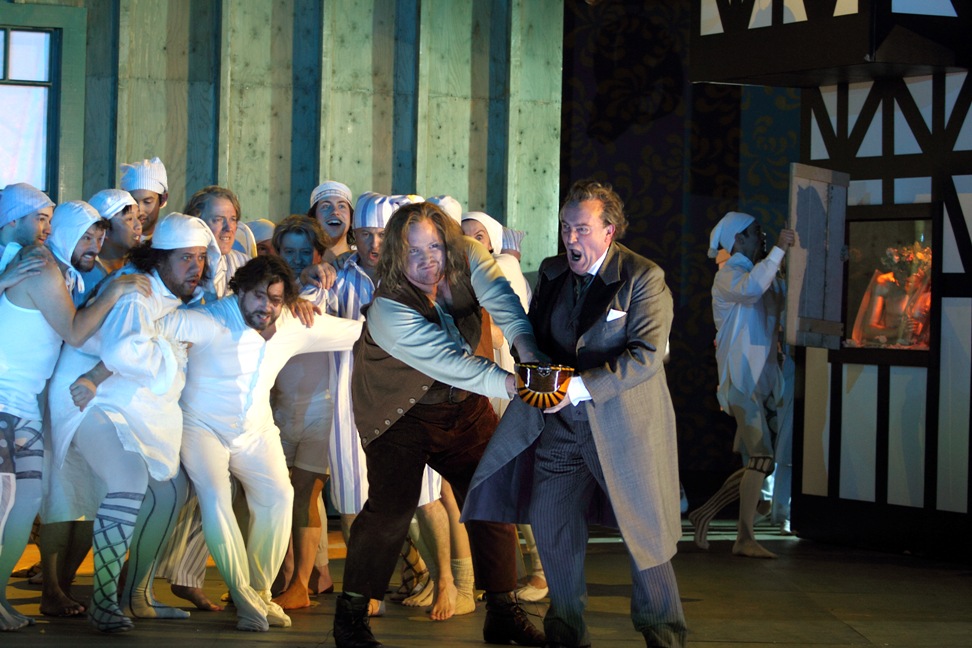 Though Jones makes it easy for his Sachs to be simpaticissimo, we soon realise that Paterson is not going to play second fiddle to the memory of Terfel or Norman Bailey before him. What he lacks in bass-baritone gravitas at the bottom end of the register he makes up for in spades in his shining, secure top, the intelligent, lyrical phrasing and vocal colour which make so much of Sachs's Act Two musings under the scented elder – ENO horns especially exquisite here – and the anger behind his cobbler's song to try and exorcise his feelings about the flirty girl who's much too young for a rough widower.
Though the production is mostly clean and clear, Jones introduces a characteristic quirk when Walter hallucinates a procession of box-headed markers, chalks held aloft, on the attack in a dream-replay of the day's earlier defeat at the song school; it's a lovely tableau when Eva cradles his collapse. As in the WNO original, the crowd riot provoked by Beckmesser's insistent serenade is kept to a minimum so the chorus can keep time with Gardner; all the more violent action is in David's thwacking of the singer he thinks is wooing his girl (pictured above). The image before curtain-fall I don't remember from before: the town clerk backing off, starkers, with only his mandolin to cover his privates: a funny-sorry sight, as if wound up by his music to succeed, and unable to stop mouthing the words in near-insanity. Shore, a master of understated tragicomedy, plays it just right.
If these are scenes in Act Two you won't forget, the ones in Wagner's massive but never otiose last act surpass them. Three stretches are absolutely the best I've ever heard them played and expressed. In this, the English translation undeniably helps with the direct sense (though it feels rather antiquated in its slavish attempt to follow Wagner's Sachsian rhymes and would fill the marker's slate with errors of stress). The first of the big moments is the easily lilting dialogue in which Sachs gets his pupil to interpret his dream and the Prize Song melodies come to light, Walter lying on the daybed in Sachs's jumbled widower's room (top marks again to Steinberg) as the cobbler plays proto-Freud to write it all down. It's a situation which now has a parallel moment in Jones's Glyndebourne Rosenkavalier to keep it company – and there the Herr Professor Doktor actually appears.
The second highlight is the most beautifully sung Quintet to hit the stage, at least in my experience. The lustre of mezzo Madeleine Shaw's Magdalene, not to be overshadowed by her mistress Eva, at first outshines Rachel Nicholls's rather less focused Wagnerian soprano. Nicholls (pictured left with Paterson's Sachs in Act Two) doesn't quite pull off the main reason for having a heavier voice as the ingénue, the apostrophe to "Sachs, my friend", which makes her lead in the Quintet, and the way everyone keeps it down to make this the highest point of time suspended, all the more miraculous. There's even a righting of a faulty stage picture on WNO's opening night: the bright idea we missed then turns out to be a magnesium flare on the single page of manuscript paper, symbol of true art, pegged high above the wondering five.
For the third coup, the ENO Chorus pulls out all the stops in its eulogy to Sachs, not to be outdone by the Welsh voices which helped to make the original last scene such an Eisteddfod, and Paterson's great man responds with tones of infinite tenderness, bringing the personal back into the public arena. We're reminded that the depression which nearly made him bolt at the beginning of the act is never far away.
The tenors come close in the right order to the evening's hero. Gwyn Hughes Jones (pictured right with Paterson's Sachs in Act Three) is vocally a rather feminine Walther if you're looking for Wagnerian beef but he has no problems at all through the range, stays the course like Paterson - sheer stamina can't ever be a given in Wagner - and delivers the Prize Song each time as the great beauty it is. Nicky Spence's apprentice David ran into a couple of problems with the higher phrases in Act One last night, but his set-up of the Masters' rules – often a sticking point – bowls along charmingly with deft visual illustrations of the types of song and the guide to good delivery, wheeled around on cabinets by the energetic apprentices.
Ultimately, though, it's the collective celebration of great art in chapter and verse which matters as the company, decked out in Buki Shiff's cod-Renaissance finery, one by one turn out placards of the pioneering 103, capped by Paterson in a playful line-up of principals at the front holding up the one we didn't get on the dropcloth – Hans Sachs (1494-1576) himself. I defy you not to want to roar with joy at the end, and never mind Sachs's last-minute ambiguous defence of a Germany under fire which Jones just about papers over (shame Wagner felt obliged to tack that on, but there's no need to flag up the Nazis; it's still all about the power of art). For all ENO's peripheral troubles, this great ensemble show – one of many over the past year – should make anyone who cares about the art of opera production ashamed to wish any kind of plague upon this noble house.
If there are scenes earlier which you won't forget, the ones in Wagner's massive but never otiose last act surpass them
rating
Explore topics
Share this article