L'Étoile, Royal Opera |

reviews, news & interviews
L'Étoile, Royal Opera
L'Étoile, Royal Opera
Chabrier's pretty music for an absurdist comedy needs more sparkle
Tuesday, 02 February 2016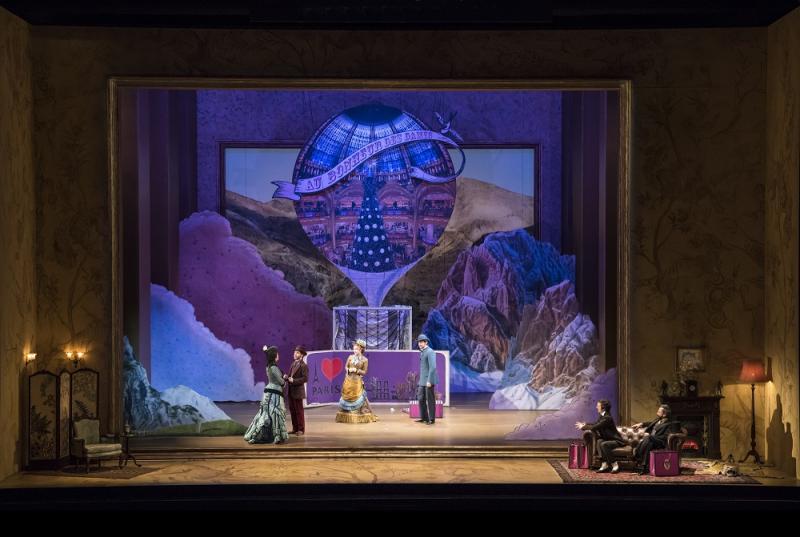 Royals disguised as departmentalists arrive in the kingdom of Ouf
Why have all attempts to make French comic opera funny to British audiences fallen so flat, at least since ENO's 1980s Orpheus in the Underworld?
That company's
La belle Hélène
simply curled the toes, while Opera North managed to make a pig's-ear "special edition" of Chabrier's
Le roi malgré lui
.
L'Étoile
in its first staging at the Royal Opera fares better, not least because it's mostly performed in impeccable French, but does it ever reach the potentially hilarious pitch of Gilbert and Sullivan?
The case for Chabrier's Star twinkling again is made by his first (1877) steps in a very personal brand of wry harmonic twists, rhythmic vivacity and piquant orchestration which gives the woodwind department almost as delicious a role as it has in Bizet's Carmen (premiered two years earlier). This is exactly the sort of music Tchaikovsky raved over as "the pretty, le joli". Tickling, sneezing and a bit of snogging are as dramatic as it gets. The numbers are slight, without a rollicking highlight like the "Fête polonais" in Le roi. The singers seem to have the measure of it, but why, then, does the orchestra drag ever so slightly behind? The blame must lie with Mark Elder, never much of a bouncer in any kind of music, and encouraging a laid-backness which really doesn't help the second or third verses of the many couplets.

Visually, director Mariame Clément gets ingenious designer Julia Hansen to throw every sight gag in the book at each musical number, from beguilingly animated Moghul/Persian miniatures for the court of King Ouf – Ubu in the chrysalis – to naughty postcards and appropriate paintings including Ingres' harem bathers and even Millais' Ophelia (not a bad idea since, amazingly, Chabrier owned that Manet masterpiece A Bar at the Folies-Bergère).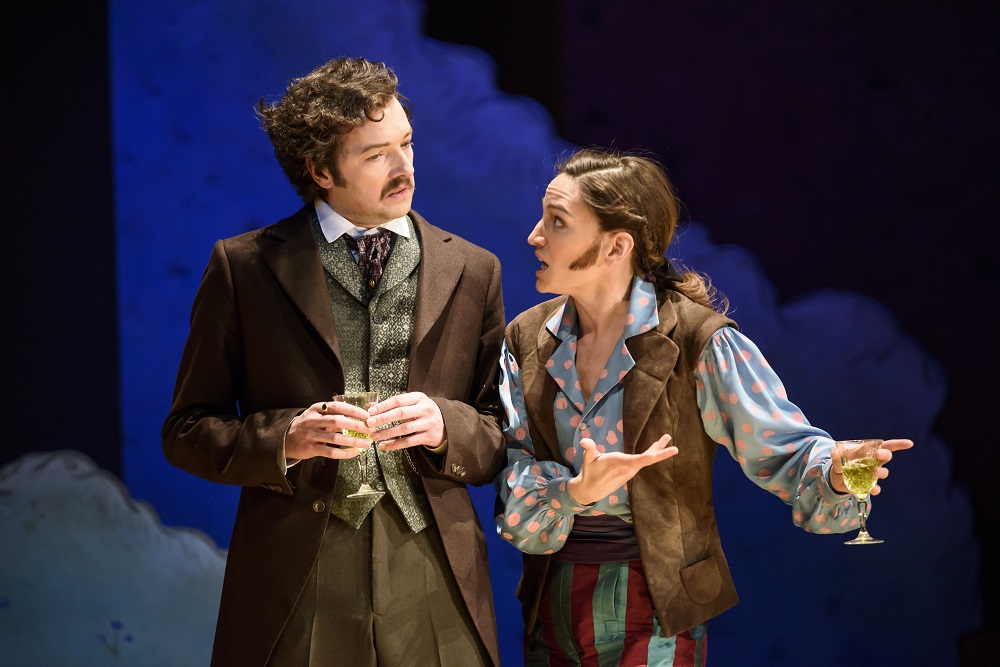 Ouf's unspecified kingdom is invaded by other royals disguised as department-store salesfolk whose relationships to each other, addled by disguise, really aren't so complicated that we need an interpolated Englishman (comedian Chris Addison, pictured above on the left with Kate Lindsay's Lazuli) to ask another extra character, his pal Dupont (Jean-Luc Vincent) to explain them. Though we're ultimately happy to see the pair incarcerated in a giant Chartreuse bottle, there are a few laughs to be wrung from their interjections, not least Mr Smith as Mr Holmes channelled via Benedict Cumberbatch, using his "mind palace" to find out what's happened to the missing hero.

Who's played, in true French-opera style, by an attractive mezzo in trousers, Kate Lindsay. Her character, Lazuli, gets the lion's share of the solos, and the little song to the star is almost a melancholy hit; whatever the slightly underwhelming results, Lindsay – a superb Composer in Glyndebourne's Ariadne auf Naxos whom we haven't seen enough of since – delivers with panache and a nice line in chest voice, several passages (I'm guessing) taken ad lib down the octave.
There's a pretty quartet in the second act, not much enriched by embraces in the dark, and a dull, repetitive one in the first when the royals arrive by balloon. The ladies – Hélène Guilmette as Princess Laoula, to be married to Ouf but quickly in love with Lazuli, and Julie Boulianne as companion Aloès – fare better than the men; both François Piolino as the splendidly named Hérisson de Porc-épic ("Hedgehog of Porcupine") and Christophe Mortagne's Ouf suffer from short tops.


Nothing can quite paper over the flailing absurdist drama as the action, or lack of it, totters onwards and the production begins to read as one big ad for Chartreuse (pictured above). At least that explains the cowled monk doing deus ex machina things throughout. Threats of execution, by an infernally designed armchair, and proposals of short-lived sex or marriage float in and out, with nothing like the backbone they give to G&S's The Mikado, composed eight years later. The finales go nowhere; the weak ending of Act Two has a half-hearted can-can with little evidence of choreographic work from Mathieu Guilhaumon. The numbers in Act Three tail off; it can't end too soon by then. Yes, Chabrier is a master of miniatures, but in trying to join the dots this hard-working production leaves us undernourished as a comic workout.