La Verità in Cimento, Garsington Opera |

reviews, news & interviews
La Verità in Cimento, Garsington Opera
La Verità in Cimento, Garsington Opera
A Vivaldi premiere may just be the dark horse of this season's summer opera
With so many of the premieres and rediscoveries of the summer opera season coming from the bel canto repertoire, it's lovely to see Garsington Opera striking out in a different direction. Following on from last year's L'Incoronazione di Dario (and culminating aptly next year in L'Olimpiade), the company this year offer up that exotic rarity La verità in cimento – a middle-period Vivaldi opera, behind the veil of whose unfamiliar title are hiding a harem of flashing-eyed arias and seductive orchestral writing.
Confounding any Orientalist expectation of palm trees and turbans in his designs, Duncan Hayler chooses instead to take his inspiration in Robin Snell's elegant new opera pavilion. Its glass walls become the frame for another glasshouse, dominated by a sprawling tree at its centre, branches stretching out through broken panes. Yet there is something uncanny about the scene; trees and plants are frozen white and silver, benches are swathed in bearskin rugs, and the only living flowers are cut and bound in neat posies. Framed in the lush greenery of the Wormsley estate, the icy tableau is all the more striking, playing off against both content and context with gorgeous visual assurance.
The plot of La verità in cimento is even sillier and more convoluted than one might expect, and hardly worth the effort it takes to follow. Sultan Mamud (Paul Nilon, pictured below) has both a wife (Rustena) and a favourite concubine (Damira) who gave birth to sons on the same day. Switching the babies at birth so that the son of his mistress (Melindo) might one day rule, the Sultan is later smitten with guilt. He exposes his actions on the eve of Melindo's marriage to the princess of a neighbouring kingdom (Rosane) and a battle of wills ensues between Melindo and his half-brother Zelim, their mothers and the misguided monarch.
In practice all the intrigue offers a fairly unobtrusive scaffolding to support some of Vivaldi's most appealing set-piece arias and ensembles. There is an unusual musical variety on display, including a shimmering trio ("Aure placide") for Zelim, Melindo and Rosane, an almost Mozartian quintet in Act II,  Rustena's touching aria "Fragil fior", as well as some inspired touches of orchestration for horns, recorder and bassoon.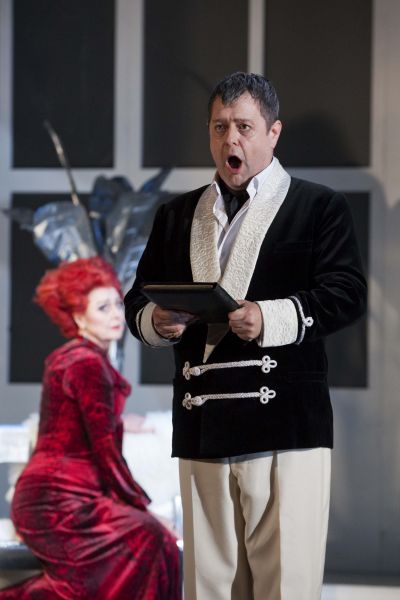 Even if you couldn't see his elaborate cuffs and ruffles quivering in the pit, there could have been no doubt that it was Laurence Cummings directing proceedings. Rejoicing in the syncopated tensions that underpin so much of this opera of polarities, he drew the Garsington Festival Orchestra into elegant frenzies, pulling rhythms every which way without ever losing fluidity. Pace did drag occasionally from the stage, but with Cummings whipping his band forward at every opportunity (and some judicious cuts) this was a rare Vivaldi opera that didn't outstay its welcome.
Swedish soprano Ida Falk Winland (winner of the Kathleen Ferrier Song Prize 2008) was a delicious discovery as the minxy Rosane. A little stiff dramatically (perhaps owing to the perilous heels and lack of skirt she was forced to negotiate), her voice balances its weight with a brilliance of colour that sets off the crispness of her coloratura. Showcased in some of the finest writing of the opera, she unfortunately eclipsed both her countertenor lovers by some margin.
While James Laing's Zelim grew in assurance through the evening, he lacked the vocal poise of the women of the cast, snatching at his runs and failing to sustain much by way of line. Yaniv D'Or's (Melindo) is a voice I simply cannot get on with – all character and no beauty – though his brooding leather-and-long-haired look made for a striking presence on stage. Redeeming matters more than somewhat, however, was Nilon's Mamud, displaying some of the most musical singing of the evening, and amply partnered by solid performances from both Diana Montague as Damira and Jean Rigby's Rustena.
Elegant, musically satisfying yet not unduly weighty – La verità in cimento is the dark horse of this season's summer opera. I'm not sure that David Freeman's direction makes the best use of Hayler's set, nor that his icy concept really stands up to scrutiny (the sudden flames of the finale drew a laugh on opening night) but these are ills well worth overlooking for the quality of the score and the bewitching visuals. Unaccountably the only opera not entirely sold out this season at Garsington, take advantage of unfamiliarity and grab a ticket to what is about to become a hit.
"Amato ben, tu sei la mia speranza" sung by Simone Kermes