Il ritorno d'Ulisse, Longborough Festival Opera review - gods and grunge on the long journey home |

reviews, news & interviews
Il ritorno d'Ulisse, Longborough Festival Opera review - gods and grunge on the long journey home
Il ritorno d'Ulisse, Longborough Festival Opera review - gods and grunge on the long journey home
Monteverdi in the round - a grungy, messy, very human Odyssey
Tired of waiting: Lucia Cervoni (Penelope)
They showed Clash of the Titans the other night – not the wretched remake, but the original 1981 sword-and-sandals cheesefest, complete with Ray Harryhausen's Kraken, Ursula Andress as Aphrodite and that rip-roaring Laurence Rosenthal score.
And, of course, Sir Laurence Olivier playing Zeus and keeping it old school as he and his nightdress-clad fellow deities debate mortal destinies in Shakespearean tones, from an Olympus that resembles nothing so much as the old
Blue Peter
set plus Ionic columns. We don't do the classics like that any more, and especially not in opera where Graeco Roman
mythology
throws numerous problems at a director, but none greater than the challenge of making a narrative shaped by arbitrary, all-powerful beings sympathetic, let alone credible. Even without the nightdresses.
Polly Graham's Longborough Festival Opera production of Monteverdi's Il Ritorno D'Ulisse in Patria – her first full production as director since she became artistic director at Longborough in 2018 – addresses the issue in various ways, some more successful than others. The drama is updated to a grungy urban present: a decrepit fridge, a filthy bath, and the human cast apparently dressed from the 50p bin of a slightly seedy vintage shop. Penelope (Lucua Cervoni) drifts glumly about in her pajamas, at the ragged end of what seems to have been a 20-ear duvet day. Ulisse (Tom Randle) wears grimy combat fatigues – more of that later – and Llio Evans, as Melanto, is a party girl who's got dressed in the dark, singing with impulsive, unnerving passion in a miniskirt and a midriff baring top.
The gods, on the other hand, have very definitely got their look together. Nettuno (Matthew Buswell) (pictured below with Alexander Sprague) is a Matrix supervillain in a black leather trench coat, letting his rage roll out in a gloriously sepulchral bass. Minerva is a tattooed Riot Grrrl in chunky DMs, hair tied back for action but tumbling down as she watches the final triumph of courage and love, and Claire Wild – singing with flashing, sensuous expression – manages to make her simultaneously compassionate and formidable. Giunone (Rosie Lomas) makes an even brighter, more otherworldly sound as she enters in pink ballgown and Marigold gloves to direct the grisly clean up operation after Ulisse slaughters the suitors. And then there's Giove (Alexander Sprague): a rhinestone cowboy in a gleaming white Stetson, but also the voice of reason, laying down his lines with dignified eloquence enhanced by the natural mellowness of Sprague's tenor.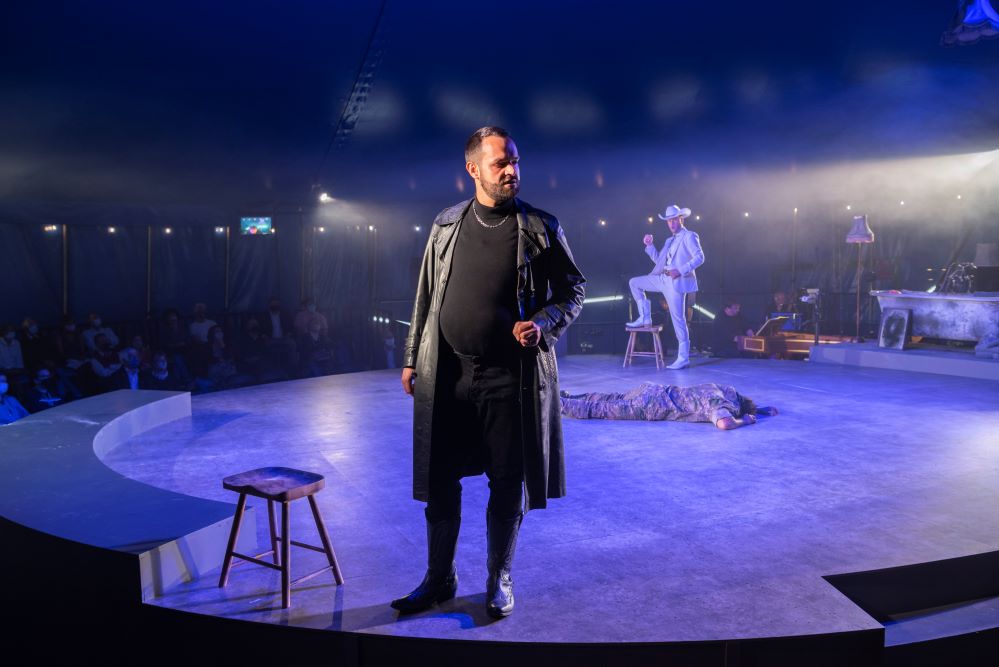 But in truth, we're not really there for the deities, and Graham shears away Monteverdi's entire allegorical prologue, tipping us straight into Penelope's anguished opening narration. Cervoni commanded sympathy from the outset and continually drew the audience to her, with singing that could swing on an instant from raw pain to tender longing, but which as at its most powerful as she wrestled, visibly, with her oscillating emotions. The theme is established early on; to coin a phrase, it's war and the pity of war, explored not through open violence (the single gunshots that echo from the distance as Ulisse despatches the suitors are more gangland execution than a Kill Bill-style rollercoaster of revenge, and are all the more chilling for it) but through the messy, damaged human detritus on its fringes.
Telemaco (Andrew Irwin) appears traumatised from beginning to end. Iro (Oliver Brignall, rocking a Mohican) howls and crawls like an animal, and goes to his death clutching a frozen pizza; in fact, Ben Johnson's soft-toned, Jack Daniel's swigging shepherd Eumete gave the impression of being the only character who was entirely at ease with where he stood. Throughout this long, hot (literally – the heatwave had just arrived in Gloucestershire) and grimy evening, Randle's Ulisse (pictured above) conveyed both the craftiness and the courage of his character (the way his voice opened out and blazed as he prayed to Minerva for aid was one of the most thrilling sounds in a an evening filled with terrific singing), while still suggesting an inner struggle – a man of action, incapable of laying down arms until exhausted, grimy, and finally alone with Penelope, the mask finally cracked, then fell, and he wept.
That human drama – that sense of individuals fighting through brutality and squalor to some sort of hope – was the real journey in this Ulisse, and Graham steered it with relentless, unsparing honesty and determination. If it didn't really leave much agency for the gods, well, perhaps in 2021, we don't really want (or deserve) that anyway. They looked and sounded fabulous: meanwhile, on earth, damaged, messy people worked out their own path home. I've not seen a Ulisse in which Penelope's final "Si, si!" (three centuries before Joyce) felt so thoroughly earned, by audience and characters alike.
This all takes place in the round, in the circus tent that LFO is using instead of its matchbox theatre for this socially-distanced season. For what it's worth, it worked well and sounded lucid; the big top creates a sense of an enclosed, self contained world, and the acoustic is better than it has any right to be, placing Robert Howarth's inventive and bold continuo playing, and the spirited six-piece period instrument ensemble of La Serenissima in a supportive but far from subdued relationship to the singers. This is a powerful and engrossing evening of music theatre, passionately sung; it'll be interesting to see what Graham does in future seasons, once LFO is back indoors. If the gods will it, of course.
The theme is established early on; to coin a phrase, it's war and the pity of war
rating
Explore topics
Share this article