Ariadne auf Naxos, Longborough Festival review - appetising energy and wit |

reviews, news & interviews
Ariadne auf Naxos, Longborough Festival review - appetising energy and wit
Ariadne auf Naxos, Longborough Festival review - appetising energy and wit
Strauss's chamber masterpiece brilliantly staged, finely played and sung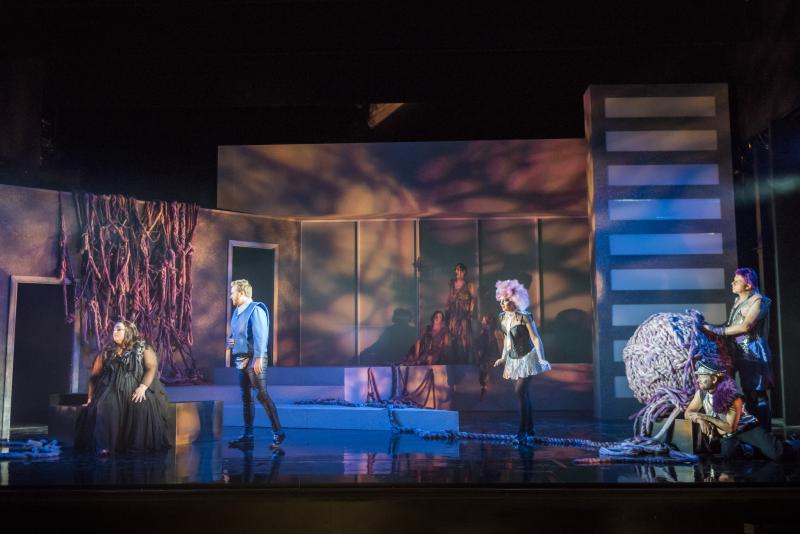 Ariadne (Helena Dix) avoiding conversation with Harlequin, Zerbinetta and co
Much as I love Strauss's Ariadne in its final form, I have a sneaking nostalgia for the original version (attached to Hofmannsthal's adaptation of Molière's Le bourgeois gentilhomme), which had Zerbinetta and her companions popping up after the final love duet and gently letting out some of its gas.
Even in
Alan Privett
's sparkling new production for Longborough, the too protracted revised ending threatens to die on its feet, and is kept alive only by the fine singing of the two principals, Helena Dix and Jonathan Stoughton, neither of them exactly sprightly actors, and by superb orchestral playing under Anthony Negus. Zerbinetta's two-line interjection about "the new god" (alias Mr. Right) falls flat, as it usually does.
But for all the work's hybridities and oddities of balance, this is a highly enjoyable evening in the theatre. Privett's brilliant stage management of the Prologue, with its Feydeauesque comings and goings and its not-quite serious handling of the age-old battle between Art and Mammon, prompts irreverent thoughts of how Zerbinetta and co might have livened up his production of The Ring here a few years back.
The updated setting (functional designs by Faye Bradley) is in no sense a "concept," like Daisy Evans's Hollywoodisation of La Traviata, but simply a practical interpretation of the score's actually very vague specification of period. It works a treat. The movement (by Michael Spenceley) is quick, alert and, for once, clear, and it beautifully reflects the mercurial texture of the music, with its rapid polyphony of motives and marvellously transparent chamber orchestration. For once the stage doesn't get in the way of the music but supports it. And there are good laughs, not least for Anthony Wise's dry, anglophone Major Domo (the opera being sung in German), and of course for Zerbinetta's reductio ad absurdum of the Ariadne story. One emerges from all this invigorated and ready for one's own supper before the more serious business on Naxos itself.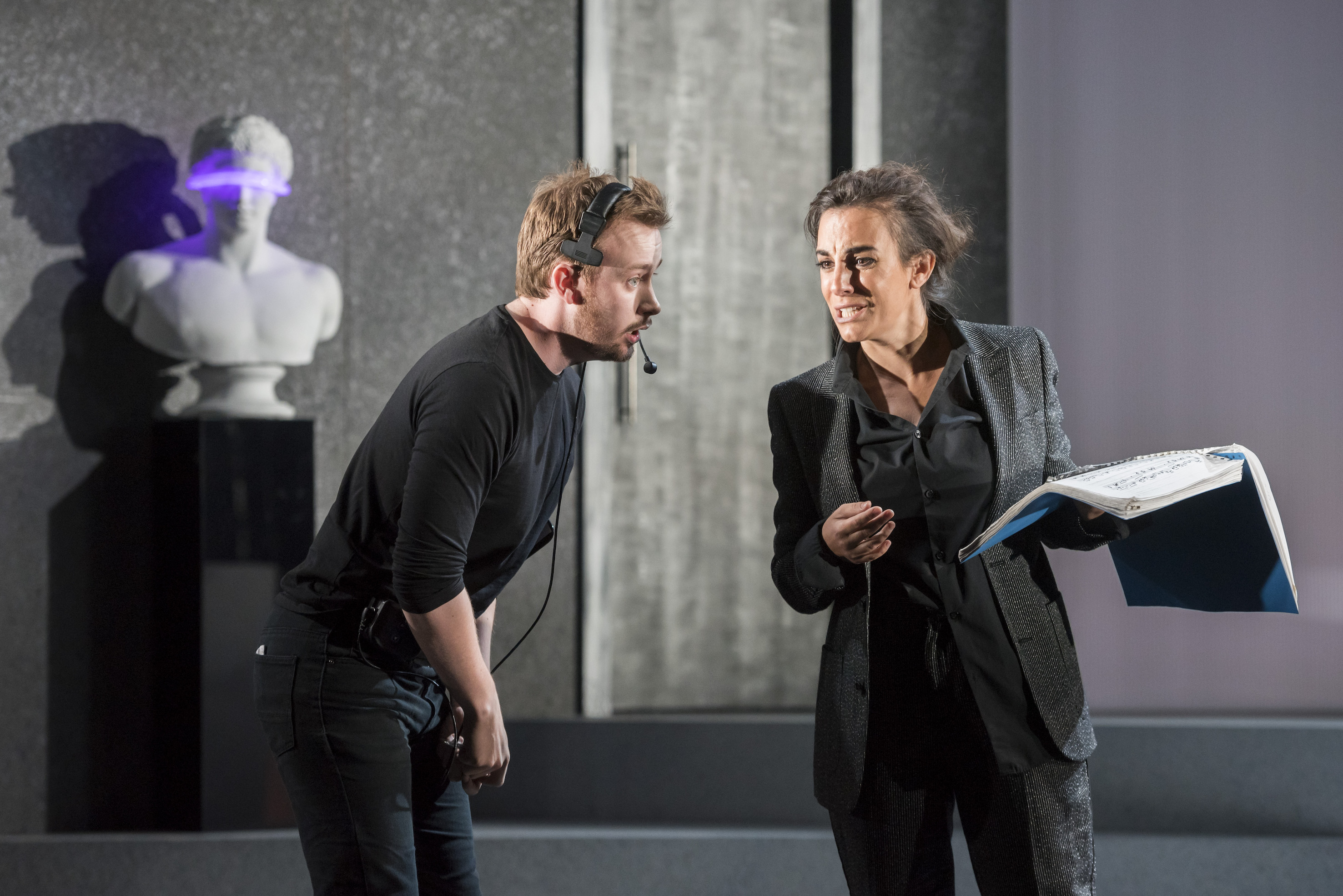 This is naturally a more stately affair, with its Naiads, its morose and not altogether sylph-like Ariadne - a necessary contrast, perhaps, with Zerbinetta, who has to dance as well as sing (I tried to imagine these roles reversed, but failed). Zerbinetta's "Grossmächtige Prinzessin" is too long for the dramatic context (as it is in Ariadne's opinion), but is so stunningly dispatched by Robyn Allegra Parton that one wouldn't shorten it by a single quaver; and the same goes for the ensuing scene with the four comedians, indescribably dressed as something akin to Nazi chauffeurs in silver lamé and see-through pantaloons, and performing immaculately as a team, Julien van Mellaerts's Harlequin and Aidan Coburn's Brighella are especially memorable.
The cast generally has no weakness. Dix may be statuesque for the wrong reasons, but she is a well-focused soprano, more lyric than dramatic, and with a nice hint of self-parody as the Prologue's prima-donna-ish Prima Donna. Stoughton can't bring Bacchus to life as a character, but he can do the Heldentenor with a fine sweep, a pocket Siegfried who can let rip for twenty minutes without fear of the next two acts.
Clare Presland (pictured above with Samuel Oram's lackey-technician) is deeply touching as the Composer, both in her scene with Zerbinetta and in her climactic "Musik ist eine heilige Kunst" ("music is a holy art'), after which she bows out (what a shame Strauss couldn't bring himself to somehow include this character in the opera, being afraid, I suppose, that it would be identified with him).
It's a pleasure to hear Negus in something other than WagnerPresland sings radiantly apart from a tendency to croon on high sustained notes. And all the minor functionaries in the Prologue are incisively portrayed and strongly sung, notably Harry Nicoll as the comedians' director (Dance Master) and Darren Jeffrey as the Composer's Music Master. The Norn-like Naiad, Dryad and Echo in the opera (Suzanne Fischer, Flora McIntosh, Alice Privett) sing sweetly and even have a Wagnerian rope, perhaps for boating as much as destiny-control. After all we are on an island, there are nets and fishing tackle, but alas, as usual in marine operas, no sign of the sea.
It's a pleasure to hear Negus in something other than Wagner, though Strauss admittedly failed to escape that influence as much as Hofmannsthal hoped. His weakest stretches are the most Wagnerian. But the best music also has a scuttling wit and intricacy, and a sort of late Verdi ellipsis, beyond what Wagner could usually manage, and here Negus shows a sense of pace out of a very different handbook. The accompaniment to Zerbinetta's big rondo is a model in this respect, every detail in place, where even slight errors of timing could undermine the whole effect. And the playing is by far the best so far at Longborough this season.
The movement is quick, alert and, for once, clear, and beautifully reflects the music's mercurial texture
rating
Explore topics
Share this article